Man City v Liverpool: Reds to go for it again - Robbie Savage
Last updated on .From the section Football

In his regular BBC Sport column, Robbie Savage looks ahead to Monday's big game between Manchester City and Liverpool and also explains how he prepares for being a pundit on Match of the Day.
New-look Liverpool face first big test
The first really big game of the season takes place at Etihad Stadium on Monday night, between last season's top two - the champions Manchester City and runners-up Liverpool.
It is very hard to make a call on how that game is going to go but l don't think Liverpool manager Brendan Rodgers will take a cautious approach.
He believes in his attacking philosophy and he believes in his team, and I think he will go for it.
Savage's Liverpool team to face Manchester City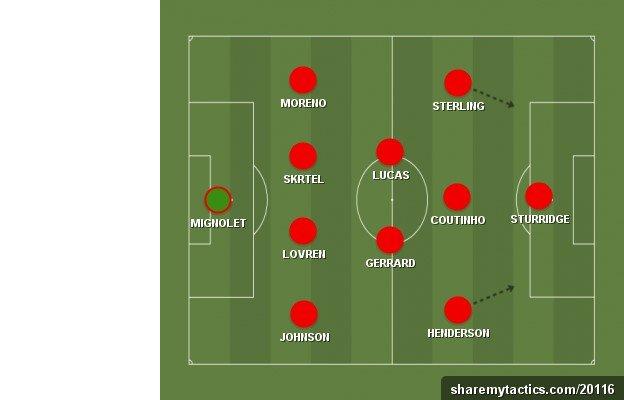 The Reds looked a bit nervous in their win over Southampton last weekend but I was again impressed by Jordan Henderson, who played on the right of their trio of attacking midfielders.
He spent most of last season playing next to Steven Gerrard in a deeper role but he is playing in that advanced role, and getting up and down the wing, while Adam Lallana is injured.
I already saw Henderson as one of the most improved players in the Premier League over the last 12 months and Liverpool missed him massively when he was suspended right at the end of last season - their defeat against Chelsea and draw with Crystal Palace that cost them the title came without him in the team.
I would be the first to admit that, earlier in his Anfield career, I thought he was a waste of money but he has proved me wrong.
He showed against Saints that he can bring energy to Liverpool's midfield wherever he is operating, and he was a real threat with his runs forward as well as providing a glorious pass for Raheem Sterling's goal.
Henderson and Sterling will be playing wide again against City and making darting runs inside.
If City play with a high defensive line then Liverpool will be looking to Steven Gerrard to get his head up and put the ball through to them from deep positions.
The midfield is going to be a fascinating battle because I was very impressed by City's new signing Fernando in their win over Newcastle, and it was very interesting to see where he played.
Touches on the opening weekend of the Premier League season

Fernando for MCFC v Newcastle

Henderson for LFC v Saints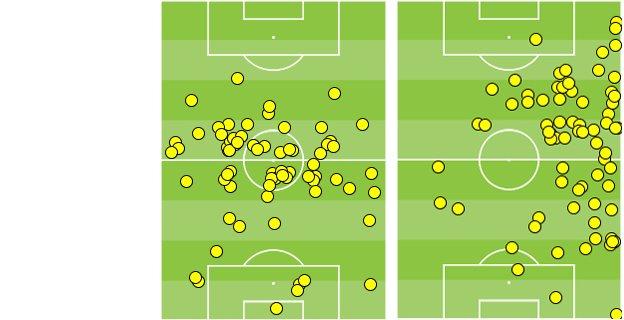 Something I looked at in this column last season was how Fernandinho is a box-to-box midfielder for City, just like Yaya Toure. He likes to go forward, which is no bad thing, but it does not really free up Toure when they play together.
But when I watched Fernando at St James' Park, when he had the ball, he did not think about trying to get forward once. He just sat and protected his centre-halves, Vincent Kompany and Martin Demichelis, and never went near the Newcastle area.
Knowing that gives Toure more confidence and freedom to go forward and join attacks and it also means City will be more solid at the back.
Liverpool look to Lovren as defensive leader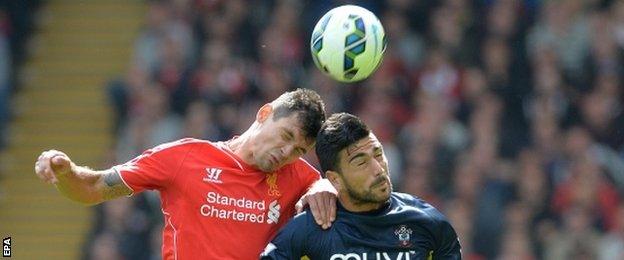 For all the goals they scored, Liverpool's weakness last season was their defence - they conceded at least twice in 16 of their 38 Premier League games and, out of the top eight, only Tottenham (51) shipped more goals in total than the Reds (50).
Rodgers was, understandably, focused on getting the best out of his prolific attack, but whether it was in a four or a three-man defence, whatever he tried at the back, Liverpool were never really that convincing.
Liverpool's centre-halves in the Premier League 2013-14

Who played together?

Games

Won

Lost

Win rate

Conceded per game

Agger-Toure

2

2

0

100%

0

Agger-Skrtel

13

11

1

85%

1

Toure-Skrtel

6

4

0

67%

1.5

Sahko-Toure-Skrtel

5

3

1

60%

1.4

Sahko-Skrtel

11

6

3

55%

1.64

Skrtel-Toure

1

0

1

0%

3

Data: Opta
One of the things they were missing was somebody to give them the leadership in that department that they got from Jamie Carragher until he retired in 2013.
When I played against him, Carragher was always screaming at his partner at centre-half and the full-back on his side to push up.
At time in crucial matches last season, that was what Liverpool lacked. I remember their defence dropping deeper and deeper in that 3-3 draw against Palace when their title challenge fell apart.
Rodgers is obviously looking to his new £20m signing Dejan Lovren to solve that problem, because he has already called him the "new" Carragher.
To be that player, he must have the authority to take control and adapt no matter what formation and players Rodgers uses at the back.
Liverpool's summer signings mean they now have lots more options across their entire backline.
The full-backs are massively important too, no matter what formation Liverpool line up in, because of the way they always try to get forward.
If another new signing, Alberto Moreno, comes in at left-back on Monday, Glen Johnson can switch to the right to link up with Henderson and they will have lots of energy down that flank.
So Rodgers has some big defensive decisions to make, but he has not changed his outlook.
What will make his mind up about who plays on Monday is what those players can offer him in attack against the champions too.
MOTD memories
There is a special Match of the Day on Saturday to mark the 50th anniversary of the show. To be honest - and some people might agree with me on this - I cannot believe that I am on it.
It's a real honour. I grew up watching it and, as a player, I used to love tuning in to see myself in action.
But, each time I am in that studio sitting in that chair next to Gary Lineker and the theme tune starts, the feeling is something else.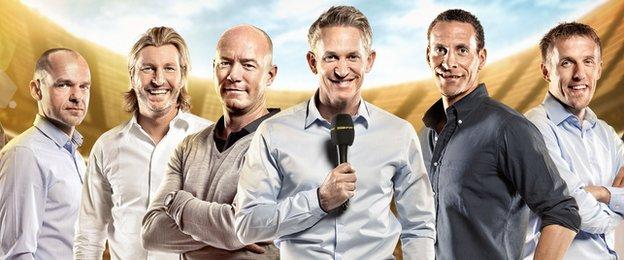 After a game has been shown, you hear the words "cue analysis" and it is your turn to talk. The first time I did it, the only other time I had felt so nervous was when I performed on Strictly Come Dancing.
You are trying to tell the viewer at home something they cannot see for themselves, and that is more difficult now because the public are so knowledgeable. Also, you have limited time to get your point across.
It is a highlights show so people want to see goals and a little bit of analysis, but what you say is so important, which is why I always start my preparation a few days in advance.
Studying the stats on the unhappy Hammers
At the start of this week I had to choose which of Saturday's 3pm games I will be talking about. I picked Crystal Palace versus West Ham.
I wanted to look at the Hammers to see whether the criticism that their manager Sam Allardyce has been getting is fair.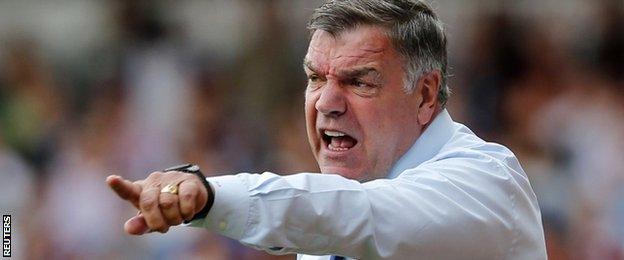 The club's owners have demanded "more entertainment" and they have brought in Teddy Sheringham as an attacking coach. So as part of my analysis on Match of the Day, I will be looking at whether they have improved and, if they have, what has changed?
I have been looking into that all week, in order to be able to speak about it for maybe two minutes after we show their match on the programme.
I got in touch with statisticians Opta, asking for figures showing things like West Ham's pass completion and the number of chances they created, so I could try to put a better picture together of how they played last season, and how that compares with the way they have started this one.
West Ham in the Premier League

Rank

2014-15

2013-14

Rank

1

Games played

38

17

0

Goals

40

14

17

0

Av goals per game

1.05

14

1

14

Shots (not blocked)

326

16

17

28.6%

% Shots on target

37.4%

20

17

0%

% Goals to shots

12.%

11

12

414

Total passes

12,364

19

7

83.1%

Overall pass completion %

73.9%

18

12

115

Passes in final third

4537

12

6

70.4%

Pass completion in final third %

57.9%

20

9

28%

% Passes in final third

36.7%

1

7

15.1%

% Passes long

16.7%

1

Data: Opta
As you can see, West Ham's attacking statistics were poor in 2013-14. They were among the lowest passers, and hit more long balls than any other team in the Premier League.
Their pass completion in the final third was the worst in the top flight, and they also got the smallest percentage of their shots on target. I can understand why their fans have been complaining, and why their owners were concerned.
Have things got any better? Well, they have obviously only played once this season, their last-gasp defeat by Tottenham last weekend, but some of the statistics from that game are interesting.
They had more shots than any other team in the opening round of fixtures, and their passing in the final third of the pitch - and overall - was a lot more accurate than it was during their previous campaign. It appears that part of their game is something Allardyce has been working on.
I will be looking out for all of this when I watch them on Saturday, although you cannot pre-judge things before the show. What I say about West Ham on Match of the Day will depend on their performance, and playing style, at Selhurst Park few hours earlier.
My Match of the Day memories - as a boy
The theme tune is something I grew up with, from when I was a young boy living in a little house in Wrexham.The walls were that thin and the house was that small that, when I was lying in bed, I could hear the TV as if I were in the same room.I used to hear the music at the start of Sportsnight or Midweek Sports Special and know I would never be allowed downstairs to watch them. I had to sneak down and sit on the bottom of the stairs.Match of the Day was different. Because it was the weekend, when I heard that music start I knew I would be allowed to stay up.
But I know from the phone-ins I've hosted on 606 that, whatever their result, how they play and whether they have improved or not will be a talking point.
A lot has been going on at Crystal Palace this week too, of course. It looks like they will still be manager-less on Saturday. What happens next there is really interesting as well.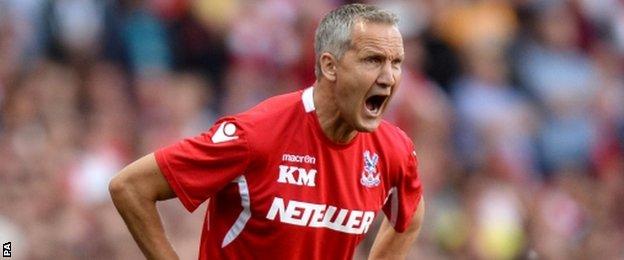 All in all it should make a nice piece, but I always know that will not change the fact that, if that game is rubbish, it could be moved down the running order and even shown last.
If that happens, I will be left scratching round for something else to say about a different match. Whether the one you pick out beforehand is any good is down to luck, really.
Sometimes you might think one of the pundits on the show is not saying as much but, if the game you are watching is dull and the other guy has a much better 3pm game then they will end up doing more analysis.
We are encouraged now though to get our view across, so it's not just one person talking. While I might have not seen much of, say, Chelsea's game against Leicester, I can have a view on any incidents, for example a penalty decision or if a goal should have been disallowed.
All the pundits also watch so much football that we will all have a view generally on the way teams play, or can point out some stats or tricky fixtures coming up.
My Match of the Day memories - as a player
To be on as a player was tremendously exciting but I remember one show for the wrong reasons.I was playing for Leicester against Liverpool in September 1999. We drew 2-2 and I had a great game. Back home, I had friends and family crowded around my TV to watch.
I was waiting for the pundits to give me some praise but before that could happen, the commentator John Motson asked Foxes boss Martin O'Neill a question: "Well, Martin, you must have been delighted by the performance of Robbie Savage?"
I will never forget O'Neill's reply. "Robbie lacks just one thing," he said. "Ability." I was crushed. I sat in my front room and went bright red.
If I've got a 10-second chat to Gary then I try to get a little snippet like that in there.
Alan Shearer is the other pundit on Saturday's show and somebody I really enjoy working with. We bonded after sitting on 45,000 seats each at Wembley for Sport Relief in March!
So while Alan might lead on the early game, because it's his old club Newcastle against Aston Villa, and also on the late match, because I will be presenting 606 on 5 live when that is on, I will still be offering my opinion on what I spot in both games.