Barcelona: Can Enrique integrate Suarez, Neymar and Messi?
By Andy West
Spanish football writer in Barcelona
Last updated on .From the section Football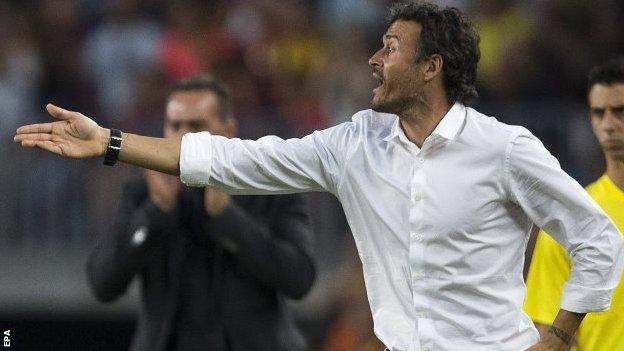 As Barcelona prepare for Sunday's La Liga home opener against Elche, the Nou Camp outfit can certainly reflect upon a busy summer.
The similarities between Enrique and the man who ushered in Barca's recent golden era, Pep Guardiola, are striking: a former playing hero with a renowned tough streak, riding to the rescue in times of trouble having earlier started his coaching career with the club's B team.
Although Enrique has attempted to play down comparisons with his old friend and team-mate Guardiola, whose four-year managerial spell yielded a staggering 14 trophies, his arrival has sparked renewed optimism amongst supporters.

Enrique's never-say-die attitude made him a hugely popular figure during his playing days at the Nou Camp between 1996 and 2004, and his return as manager has delighted fans who were dismayed at their team's limp surrender of the La Liga title to Atletico Madrid in May.
More than anything else, Barca fans want Enrique to instil the same kind of fighting spirit he exhibited as a player.
Just like Guardiola six years ago, Enrique has a major task on his hands, beginning with the recruitment of a batch of summer signings in a much-needed attempt to reinvigorate the squad.
Barcelona's key summer purchases

Name

From

Fee (estimated)

Luis Suarez

Liverpool

£75m

Ivan Rakitic

Sevilla

£18m

Jeremy Mathieu

Valencia

£15.8m

Thomas Vermaelen

Arsenal

£15m

Andre Ter-Stegen

Borussia Monchengladbach

£10m

Claudio Bravo

Real Sociedad

£10m

Total: £143.8m
The most high-profile arrival, of course, is Luis Suarez, who has finally started his process of integration after the Court of Arbitration for Sport last week ruled that the former Liverpool striker can commence training with his new team-mates.
But Suarez is far from the only new boy at the Nou Camp, with Barca carrying out significant surgery in every area of the pitch and also ensuring they made their reinforcements while Fifa's transfer ban was still suspended during the appeal process.
Goalkeepers Claudio Bravo and Marc-Andre ter Stegen are competing to replace the departed Victor Valdes, with homegrown Jordi Masip also in the frame.
At the back, Jeremy Mathieu and ex-Arsenal man Thomas Vermaelen are battling to become the new central defensive partner for Gerard Pique following the retirement of club captain Carles Puyol.

In time, the most important summer arrival - more so than even Suarez - could prove to be Ivan Rakitic, the classy Croatian who has been recruited from Europa League winners Sevilla to breathe new life into an ailing midfield.
The man to make way for Rakitic will almost certainly be living legend Xavi, whose magnificent passing skills have provided the team with its identity for the past decade but who is now approaching his 35th birthday and is past the peak of his powers.
For much of the summer, in fact, it was widely assumed that Xavi, who has made more appearances and won more honours for Barca than any other player, would be leaving the Nou Camp for a pre-retirement payday in the Middle East or the United States.
Barcelona's key summer sales

Name

To

Fee (estimated)

Alexis Sanchez

Arsenal

£35m

Cesc Fabregas

Chelsea

£30m

Bojan Krkic

Stoke

£3m

Jonathan dos Santos

Villarreal

£1.5m

Ibrahim Afellay

Olympiakos

Loan

Gerard Deulofeu

Sevilla

Loan

Victor Valdes

N/A

Released

Carles Puyol

N/A

Retired

Total: £69.5m
However, shortly before pre-season training got under way Xavi had a sudden change of heart and decided to stay on, although he will have to come to terms with being a squad player rather than the team's heartbeat as his influence continues to wane.
Amidst all the changes, however, the key to Barca's success will continue to be a man not yet mentioned: a certain Lionel Messi.
Perhaps perturbed at being a peripheral figure in his club's summer activities, Messi needed less than three minutes to issue a reminder that he is still top dog when he made his only pre-season appearance in Monday night's friendly against Club Leon, scoring the opening goal in a 6-0 victory.
Messi also provided a smooth assist for Neymar during a bright opening 45 minutes before the pair were substituted, and Enrique will hope that is a sign of things to come because the South American duo showed little mutual understanding during their first season together, which was disrupted by various injuries to both players.

Indeed, the greatest task facing Enrique is implementing a team structure which allows Messi to shine without forcing Neymar and Suarez to subdue their own considerable talents.
That was palpably not the case last season, when Neymar looked more comfortable, confident and productive during Messi's absences and the team in general lacked fluency or cohesion, often appearing to have no gameplan besides waiting for Messi to conjure something out of nothing.
Enrique's arrival could even signal a change in Messi's playing position, with the Argentine star showing signs that he now lacks the necessary physical endurance to successfully occupy the 'false nine' deep-lying forward role he has made famous over the past few years.
It is a relentlessly demanding position, requiring more sustained and aggressive movement than a traditional centre forward or 'number 10', and Messi was physically equipped for that task earlier in his career.
But now, even though he is still only 27, Messi's 'football age' is considerably older because of the fact he has been a first team regular since the age of 17 and has suffered considerable additional wear and tear during his frequent transatlantic trips with Argentina.
With 550 career appearances under his belt, Messi has already played more football than most players in their 30s, and his physical efforts over the course of a decade in the limelight are taking their toll.
Barca's front three - stats last season

Messi

Neymar

Suarez (for Liverpool)

League appearances

31

26

33

League goals

28

9

31

Champions League appearances

7

10

0

Champions League goals

8

4

0

Other goals

5

2

0

Total goals

41

15

31
No longer able to close down opponents with such consistent ferocity or make dynamic bursts into the box with such regularity, the consequence is that Messi will have to modify his playing style over the remaining years of his career.
Specifically, the most compelling suggestion is that Messi will become a more traditional playmaker, sitting behind one or two out-and-out strikers and attempting to occupy space 'between the lines' of the opposition midfield and defence.
Enrique certainly has plenty of weapons at his disposal if he decides to go down this route with both Neymar and Suarez capable of playing centrally or on the flanks, while additional attacking options are provided by the reliable Pedro and rising star Rafinha, who has returned from a successful loan spell under Enrique's tutelage at Celta Vigo.
The new boss is also contemplating other tactical tweaks, including ending Javier Mascherano's days as a converted central defender and reintroducing him into the midfield, where he would provide additional muscularity and ball-winning abilities alongside Sergio Busquets in front of the back four.
Another option, and an approach with which Enrique has experimented during pre-season, is following the current fashion for a 3-5-2 formation, and this would perhaps be the most convenient way of accommodating Messi as an attacking playmaker behind Neymar and Suarez.
Whichever playing system Enrique settles upon, the most important thing is that it brings the best out of Messi.
Barca's key player was a marginal figure towards the end of last season, exerting little influence in his team's most important games such as the Copa del Rey final defeat against Real Madrid and the La Liga decider against Atletico.
Messi was similarly subdued during the latter stages of the World Cup finals, and he enters the new campaign under pressure to show that his difficult 2014 is a temporary blip rather than the onset of a permanent decline.
Considering the sheer volume of new arrivals, the departure of stalwarts Valdes and Puyol and the relegation of Xavi into a peripheral role, a new era has clearly dawned at the Nou Camp.
The greatest question for the leader of that process, Enrique, is whether Messi can continue to be the centre of attention.