Graham Westley: Stevenage are bullied by authorities
Last updated on .From the section Football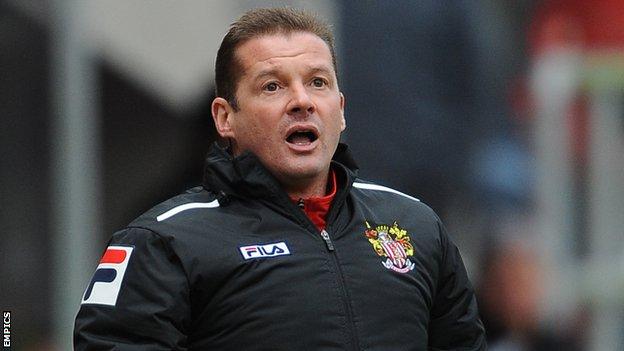 Stevenage boss Graham Westley has said he feels bullied by what he believes is unfavourable treatment by officials towards his side.
"We need to get a focus on it. We need to get the eyes and the ears of the powers that be looking at this and saying 'why oh why does a small club like ours get bullied?'," he said.
"Because to me it's bullying when this type of thing is going on."
Westley was angry with referee Kevin Johnson's decision to award Plymouth a penalty in the eighth minute of injury time, which Deane Smalley converted to deny Boro their second win of the League Two season.
Westley on bullying
"The authorities have the power to bully you. I'm not here to be bullied, I've never been bullied. And I'm not having the power of the authorities bully me because of who we are."
He was also adamant that his side should have had two penalties, that Argyle defender Kelvin Mellor should have been sent off for a handball, and that his team received too many bookings.
"I'm so furious that all those decisions have gone against us that I better not say too much, because we all know in these situations that you're obliged to keep your counsel," Westley told BBC Three Counties Radio.
"Was it any surprise when eight minutes of added time were played? We're a small club and we find ourselves bemoaning these decisions.
"But really, something needs to be done to avoid this type of situation. It's crazy that we suffer what we suffer.
"We've got a small squad and I can't be taking cards like confetti. It's just not fair and it's just not right,
"Honestly, I feel bullied. You've got no power to deal with these situations."
Westley, who led Boro to back-to-back promotions from the Conference to League One in his previous spell in charge, also said he felt unprotected by the officials.
"In the first half I went to get the ball to give to our player to take a throw-in. Their player charged into me. I had to push him off, fearing for my safety," he said.
"And the referee talks to me - a person who has the ball in his hand to give to a player - and I get charged into and the referee talks to me."