Jefferson Montero: Can the unknown shine for Swansea?
By Tim Vickery
BBC Sport's South American football expert
Last updated on .From the section Football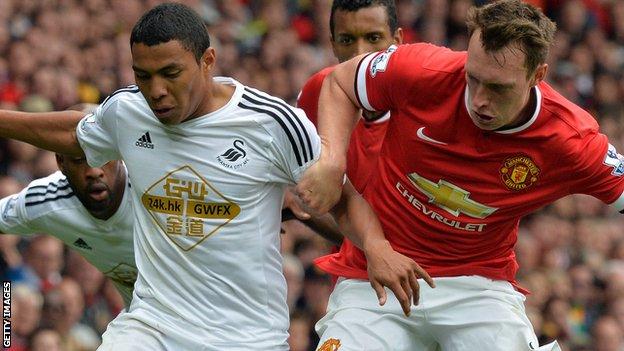 Jefferson Montero could hardly have made a better start to his time in the Premier League.
Just seconds after coming off the bench at Old Trafford last Saturday he set up the goal that gave Swansea their first ever league win at Manchester United. It was a moment which highlighted why many have been waiting more than seven years for him to become an overnight success.
One of the highlights of covering South American football is the opportunity to catch young talent on the way up, to have a sneak preview of players who in a few years will be household names all over the world. There have been too many to mention over the course of these last two decades. Montero was one of the more surprising.
I first saw him playing for Ecuador in the 2007 Pan-American Games, the local equivalent of the Commonwealth Games. Not yet 18, he was gliding past his marker on either side with ridiculous ease, running faster with the ball than his opponent could without.
From Ecuador to Wales

Jefferson Montero is one of 10 Ecuadorians to have played in the Premier League.

The first Ecuadorian in the Premier League was Southampton striker Agustin Delgado, who scored one goal in three injury-hit years on the south coast.

There are three involved this season - Montero, Antonio Valencia at Manchester United and new West Ham striker Enner Valencia.

The other players from the South American country to have played in the top flight are Ivan Kaviedes (Crystal Palace), Fernando Guerrero (Burnley), Ulises de la Cruz (Aston Villa, Reading), Segundo Castillo (Everton, Wolves), Felipe Caicedo (Man City) and the late Christian Benitez (Birmingham).
He was the star turn as Ecuador claimed the gold medal - a hugely significant moment for football in the country. Winning a title was enough to promote coach Sixto Vizuete, previously an unknown, to the post of national team boss, and he took Montero with him, throwing the teenager into the World Cup qualification campaign.
"He's the ace up our sleeve," Vizuete told me early in 2008. A year later, still not 20, he was tearing Diego Maradona's Argentina to pieces.
So why, then, has he not made even more progress? A few days short of his 25th birthday, how come such a talented player as Jefferson Montero has yet to establish himself with a major club?
All the ability is clearly there, and maybe if he were from Brazil rather than Ecuador more opportunities at club level would have come his way.

He nearly joined Cardiff a year ago before eventually making his way to the Premier League with Swansea this summer. In flashes - such as making the winning goal at Old Trafford - he can come across as a player of Real Madrid calibre.
But he remains a source of frustration. The goal against United was created by a well struck left-footed cross. But he is naturally right-footed. Later he wasted a chance to clinch the match when he cut inside onto his right - and not only let slip a shooting opportunity, but also played a poor pass infield which allowed United to launch a counter-attack. There is still considerable room for improvement in his decision-making and final-ball delivery.
In the last few days he has been embroiled in a row about Ecuador's recent World Cup campaign. On the one hand there has been dissent about the bonuses paid to the players for qualifying for Brazil. But, in what seems to be a separate issue, Montero has claimed the team's progress was undermined by internal problems.
He has yet to specify what these might have been, and a number of senior players in the squad have said that they have no idea what he is talking about.
Part of the problem may lie in a strained relationship between Montero and Reinaldo Rueda, the Colombian coach who took Ecuador to the World Cup. The team's key game in Brazil was always likely to be the opener against Switzerland, where with the scores level at 1-1 in the second half Ecuador were on top and Montero was looking the most likely match-winner.
However, he was taken off with 15 minutes to go in a game which the Swiss went on to win in stoppage time.
Swansea manager Garry Monk
"Jefferson's got very good pace and quality about him. And for a player who's so young, he's got experience as well. The World Cup's been a great experience for him. If he can bring the momentum he's got from that into the Premier League it'll be great."
A few months earlier Rueda had told me that the winger was one of his key hopes for a successful World Cup - "But," he said, "it will depend on his mental frame of mind. Does he want to play for Ecuador, or for Jefferson Montero? This question is still not easy for him."
Looking back on the tournament - where Ecuador were the only South American side in the last two World Cups to fail to make it out of their group - Rueda commented that he had always wanted Manchester United's Antonio Valencia to be more selfish, and Montero to be less so.
This was almost certainly a clash between a serious, methodical coach and an instinctive, gifted player. Montero may well not be the easiest in the world to handle; just 10 years older than Montero, Garry Monk's man-management skills are going to be tested at Swansea.
It is probably just as well that Swansea's assistant manager, Josep Clotet, is Spanish - though it is also worth noting Montero spent three years in Spain with Villareal (including loan spells at Levante and Betis) without consistently living up to expectations.
Is he now ready to do better in England, and build on that sensational start? The next two matches will be very different from the debut in the Theatre of Dreams. Swansea are at home to Burnley and then West Brom when there should be more opportunities to attack - but presumably less space to do so against opponents likely to get men behind the ball.
Then comes a break for international matches - where it probably works to his advantage that his old mentor Vizuete has been placed back in temporary command of Ecuador - before another dip in the deep end with the trip to face Chelsea on 13 September.
If he fails to turn on the style on a regular basis it will be the Premier League's loss. After seven years of watching him develop, I hope last weekend's cameo was a glimpse of things to come. Either way, this is a story worth watching.