Coventry City apologise to fans for Ricoh Arena row
Last updated on .From the section Football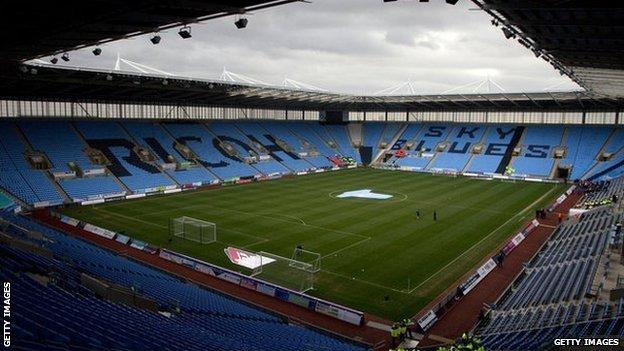 Coventry City have apologised to fans for their long-running dispute over rent at the Ricoh Arena which led to them playing games at Northampton Town.
The League One club have agreed a two-year deal to resume playing in their home city, with the first match against Gillingham on Friday, 5 September.
"I get the frustration and anger that's been shown by the fans," said Sky Blues development director Steve Waggott.
"I apologise sincerely for everything I may have inflicted on them."
The deal to return to the Ricoh Arena sees an end to a stand-off between stadium operators Arena Coventry Limited (ACL) and former Sky Blues owners Sisu, which dates back to April 2012.
The club has been playing home games at Northampton Town's Sixfields ground since August 2013, with many fans deciding not to go and City attracting the lowest 'home' average attendance in League One last season.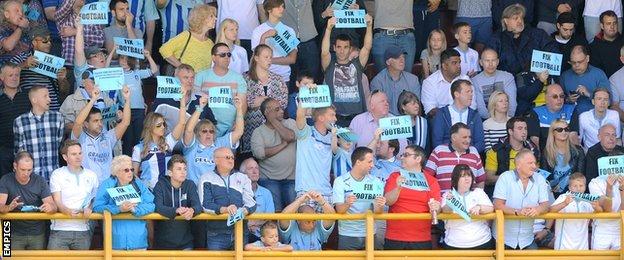 Ann Lucas, leader of Coventry City Council which part-owns the stadium, said long and secretive negotiations were necessary despite being "really frustrating" for fans and businesses.
"To anybody who's lost out, I'm so sorry," she said.
The apologies have followed a reconciliation in part brought about by the Very Reverend John Witcombe, Dean of Coventry.
Chris Robinson, chairman of Arena Coventry Limited, which runs the Ricoh Arena, said discussions were conducted "with great spirit".
Waggott would not confirm or deny that legal proceedings, ongoing throughout the row, would be dropped and said the deal "focused on things on the pitch rather than off the pitch".
He reiterated his wish for the club to ultimately own its stadium and said this deal was "one step towards" this.
Details about the two-year agreement have not been released and tickets for games are not yet available.