Oxford boss Appleton pleased by Portsmouth resurgence
Last updated on .From the section Football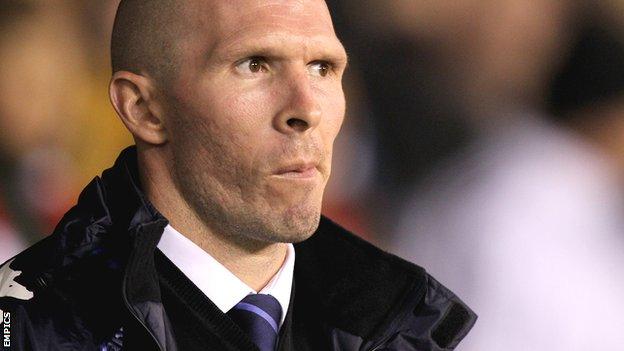 Oxford United manager Michael Appleton says he is pleased to see the revival of his old side Portsmouth ahead of Saturday's meeting between the two.
Appleton says despite the tumultuous 12 months he had at Fratton Park he still has fond memories of his time there.
He left to take over at Blackpool in November 2012 before joining Blackburn, where he was sacked in March 2013.
"I had a fantastic 12 months down there in terms of relationships I built up with people," Appleton told BBC Oxford.
"Obviously the trouble we had on and off the pitch was difficult but it's a fantastic football club. They are in the wrong division and will be looking to go through the leagues as quickly as they can, but come Saturday I'm fully focused on Oxford."
During Appleton's 12 months in charge at Fratton Park, the club were placed into administration, were docked 10 points and eventually relegated. He also had to sell every senior player at the club in what was his first permanent job as manager.
"Under those circumstances you tend to build relationships with people and see the good, bad and ugly in people," added Appleton, who was named Oxford boss in July.
Appleton's year at Fratton Park - Played: 51 Won: 13 Drawn: 11 Lost: 27
November 2011:
Appointed Portsmouth manager
December:
Chairman Vladimir Antonov resigns from the club. Owners Convers Sports Initiatives enter administration
January 2012:
The Portsmouth Supporters Trust launch a bid to buy the stricken club
February:
Portsmouth enter administration and are docked 10 points. Thirty staff including chief executive David Lampitt are made redundant
March:
Appleton vows to "fight on until the end" as the club look close to being liquidated
April:
Administrators of the club reveal debts of £58m and make several more staff redundant. Pompey are later relegated from Championship
May:
Former Portsmouth owner Balram Chainrai makes an offer to buy the club
June:
The PST open talks with administrators of the club as Appleton starts fire-sale of all senior players
July:
Appleton takes a youth team and unsigned players on pre-season tour of Gibraltar. Football League announce a further 10-point deduction
August:
Liam Lawrence becomes the last senior player to leave Pompey
September:
Pompey earn their first League win in League One
October:
The PST are named 'preferred bidders' of the club. Appleton is linked to jobs at Burnley and Bolton
November:
Leaves Portsmouth for Blackpool shortly before his one-year anniversary
"It was difficult, there were problems every day but above all that the time I had with some good people was the overriding factor."
Appleton says he is pleased to see his old side doing so well as he searches for his first league win as Oxford manager. Pompey in contrast are unbeaten in the league this season.
"They've had a good start to the season, they are undefeated and I expect them to come at us and maybe that will play into our hands," he said.
"Because of the amount of trouble they have had it has just brought them all together, the community, the fans, the players and the staff and they are as one and it's good to see.
"They have a fantastic support who follow them home and away and Saturday will be no different. Hopefully it will be one of those games where we can turn the performance into a result."