Malky Mackay: LMA apologises for statement over text 'banter'
Last updated on .From the section Football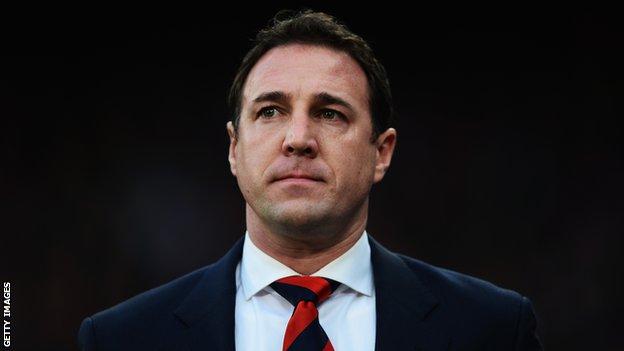 The League Managers' Association has apologised after describing offensive text messages sent by Malky Mackay as "friendly banter".
The LMA had provoked widespread criticism from anti-discrimination campaigners over its statement.
It said two text messages sent by ex-Cardiff boss Mackay were "disrespectful of other cultures" but had defended them as "friendly text message banter".
The Football Association is investigating Mackay's comments.
Reaction to the LMA's original statement
Ex-Blackburn striker
Jason Roberts
on Twitter: "LMA actually wrote this. They are actually being serious! Somebody drafted that... WOW!"
Former Brentford and Torquay manager
Leroy Rosenior:
"If the LMA are going back into the dark ages to support people then I might have to withdraw my support."
Ex-England striker
Stan Collymore
on Twitter: "Disgraceful. Institutional acceptance of the 'banter' of casual racism."
Daily Telegraph's
Henry Winter:
"The LMA look like bumbling dinosaurs. The statement is a missive that should be filed beneath contempt."
In a fresh statement issued on Friday, the LMA, which represents the interests of football managers, said it "apologises for some of its wording which was inappropriate and has been perceived to trivialise matters of a racist, sexist or homophobic nature".
"It is beyond argument that any comments that are discriminatory, even used in private, are totally unacceptable," the statement continued.
"The LMA remains absolutely aware of our responsibility to the game and to promote and uphold the highest standards of behaviour."
Mackay and former director of recruitment Iain Moody were sacked by Cardiff City last season and the Welsh club sent a dossier to the Football Association alleging misconduct.
Cardiff have called for the resignation of LMA chief executive Richard Bevan.
Several former and current players were also upset that the LMA referred to Mackay's comments as "banter", including ex-Brentford and Torquay manager Leroy Rosenior, who threatened to leave the association.
He said: "If the LMA are going back into the dark ages to support people then I might have to withdraw my support.
Text messages allegedly shared by Moody and Mackay (as reported in Thursday's Daily Mail)
"Go on, fat Phil. Nothing like a Jew that sees money slipping through his fingers." On football agent Phil Smith.
"He's a snake, a gay snake. Not to be trusted." Referring to an official at another club.
"Not many white faces amongst that lot but worth considering." Referring to a list of potential signings.
"In over 70,000 text messages I've sent I've never used inappropriate language and I'm sure neither have the vast majority of people."
Former Reading striker and anti-racism campaigner Jason Roberts wrote on Twitter: "LMA actually wrote this. They are actually being serious! Somebody drafted that... WOW!"
The original LMA statement said the organisation did "not condone any potential breach of equal opportunities laws" but that "out of over 10,000 text messages and 70,000 documents produced over a long period of time it may not be a complete surprise that some inappropriate comments can sometimes be made by employees".
Queens Park Rangers manager Harry Redknapp defended Mackay on Friday, describing him as a "fantastic man".
"Malky Mackay has made a big mistake, but he is a fantastic man and a top manager," Redknapp said.
"I am not condoning what he has done but he is not a bad person. Show me someone who has not made a mistake. He has not murdered someone. He has made a mistake but that should not finish his football career."
Former Professional Footballers' Association chairman Clark Carlisle, who played alongside Mackay for two years at Watford, said: "You will struggle to find anybody in the industry who has worked with or played against Malky who has a bad word to say about him.
"But everybody has to separate their opinions as Malky as an individual from the severity of the issue. There is no place for language or sentiment to prejudicial thinking in the game, and if Malky is found to have fallen foul of those standards then he needs to face the consequences."
Mackay, Moody, Cardiff City and Crystal Palace

Timeline of events

May 2010:

Malaysian multi-millionaire Vincent Tan joins the Cardiff City board as chairman.

June 2011:

Dave Jones is sacked as manager, with Malky Mackay appointed as replacement.

May 2012:

Tan controversially changes Cardiff's kit colour from blue to red, and replaces the bluebird emblem with a dragon.

April 2013:

Mackay guides Cardiff to promotion to the Premier League as champions, amassing 87 points from 46 games.

Oct 2013:

Head of player recruitment Iain Moody is suspended by Cardiff for an alleged overspend of £15m on transfers the previous summer.

Oct 2013:

Mackay and Tan hold a five-hour meeting amid rumours their relationship is becoming increasingly strained after Moody's departure.

Nov 2013:

Moody appointed sporting director at Crystal Palace.

Dec 2013:

Mackay is sacked by Cardiff City following a 3-0 defeat against Southampton. Cardiff are 16th in the Premier League, one point above the relegation zone.

Jan 2014:

Ole Gunnar Solskjaer is appointed Cardiff manager on a 12-month rolling contract.

April 2014:

Cardiff complain to the Premier League following claims that team news was leaked to Crystal Palace ahead of their meeting.

May 2014:

Cardiff's relegation is confirmed after a 3-0 defeat by Newcastle.

May 2014:

Mackay and Moody apologise to Vincent Tan over the issues that led to their dismissals.

Aug 2014:

Cardiff make allegations of misconduct to the FA, and are asked to provide evidence.

Aug 2014:

With Mackay the frontrunner to take the Crystal Palace job, allegations of misconduct during his time at Cardiff are leaked. Palace withdraw their interest in Mackay. Moody resigns.
Mackay, who lost his job at Cardiff in December, was thought to be favourite for the vacant manager's job at Crystal Palace until the story emerged.
He says he will fully co-operate with any FA investigation and "looks forward to putting the record straight".
Moody resigned as Crystal Palace sporting director on Thursday, but has yet to comment on the story.
He was sacked as Cardiff's head of player recruitment last October after a row with owner Vincent Tan over transfer activity and joined Palace a month later.