Cardiff City unruffled by Malky Mackay text turmoil - Solskjaer
Last updated on .From the section Cardiff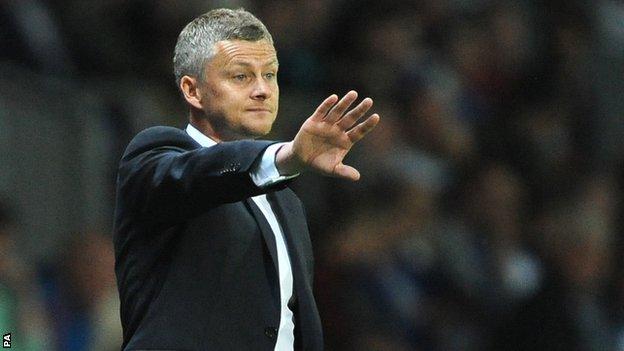 Cardiff City manager Ole Gunnar Solskjaer says the players have been unaffected by revelations concerning former boss Malky Mackay.
Mackay has apologised for sending two offensive text messages discovered during an investigation instigated by Cardiff owner Vincent Tan.
The Bluebirds are preparing for Saturday's trip to Wolverhampton Wanderers in the Championship.
"I don't think it will affect anyone's performance tomorrow," Solskjaer said.
"The boys have shown to me before that when we have off-field media it has not affected the boys on the field.
"We don't have any excuses now for not performing.
"We're just handling the situation as it is now, concentrating on football. I'm sure they're 100% focused on the game."
Mackay says he is no "racist, sexist, homophobe or anti-Semite" despite admitting sending offensive text messages.
In an interview, Mackay claimed only three messages of thousands recovered had been sent by him.
Cardiff issued a statement on Friday calling for League Managers' Association chief Richard Bevan to resign after its press release on offensive texts sent by Mackay.
The LMA said on Thursday that the texts were "two isolated matters... out of over 10,000 text messages and 70,000 documents" and were part of "friendly text message banter" - although the body issued an apology on Friday for the wording used after criticism.
Solskjaer replaced Mackay as Cardiff boss after the Scotsman was sacked in December 2013.
The Norwegian could not prevent the Bluebirds being relegated from the Premier League at the end of last season, but they have started this league campaign well with a draw and two wins to sit second in the Championship.
The allegations surrounding Mackay and Iain Moody, Cardiff's former head of player recruitment, have called into question the behaviour at the Welsh club.
But Solskjaer is adamant that there is no culture in the squad that condones racism, sexism or homophobia.
"I haven't had any problem with any of that inside my dressing room," said the former Manchester United striker.
"We can't control other people's opinions.
"I'd like my team and my club to be thought highly of, of course."