Paul Gascoigne: QPR boss Harry Redknapp offers coaching job
Last updated on .From the section Football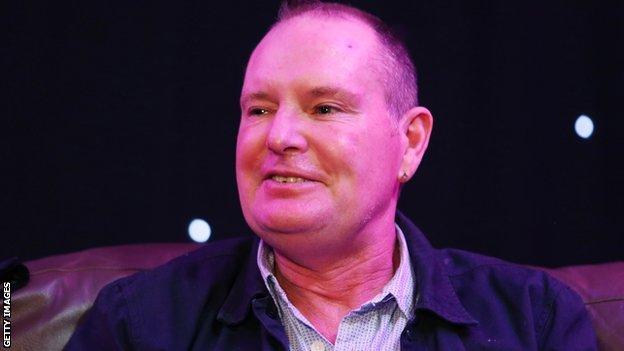 QPR boss Harry Redknapp has offered an open invitation to former England midfielder Paul Gascoigne to help out with coaching his young players.
Redknapp lives in close proximity to Gascoigne on the South Coast.
He said: "If he wants to do it I would pick him up every morning at 0545 at the end of his road and bring him in."
Pictures in several newspapers published on Friday morning showed Gascoigne looking gaunt and almost unrecognisable from his playing days.
Twitter users sent messages of sympathy and support to his daughter Bianca, which she retweeted and wrote in response: "Thank you for your kind words."
Redknapp added: "He is a great lad and it is just sad to see how he is looking at the moment.
"I saw him about a month ago and I said 'I will pick you up in the mornings Gazza, come training with me. Do a little bit of work with the kids.'
"I would love it if he would do that, that is an open invitation to him.
"I see Gazza around and I love Gazza, he has got a heart of gold.
"He has probably given his last penny away but that is just how he is. Everyone has tried to help him but the only person who can help him now is himself - everyone has tried."
Gascoigne was 17 when he made his Newcastle debut in 1985, before moving to Tottenham in 1988 for £2.3m - a British transfer record at the time.
Gazza's years of struggles
May 1991: While playing for Tottenham against Nottingham Forest in the FA Cup Final, he sustained a serious cruciate ligament injury after committing a wild and reckless challenge in the early minutes of the game.
June 1996:
An alcohol-related "dentist-chair" stunt in a Hong Kong bar during England's Euro 96 preparations puts Gascoigne on the front pages of the newspapers back in Britain.
January 1998: He was given a warning by the Scottish FA after miming "playing the flute" - a sectarian gesture - during an Old Firm game against Celtic.
August 1998
: Gascoigne's marriage to Sheryl ends after she is granted a quick divorce. The player left his wife with a black eye and badly bruised face and arm after he attacked her in a drunken rage in Gleneagles, Scotland.
October 1998: The 31-year-old is admitted to the Marchwood Priory hospital to receive treatment for stress and drink problems.
June 2001:
Gascoigne admits himself to an alcohol rehabilitation clinic in Arizona on his Everton manager Walter Smith's insistence.
March 2004: He talked about his problems in his autobiography, including his struggles with obsessive compulsive disorder, bulimia, depression and Tourette's syndrome.
May 2007:
Undergoes emergency surgery for a perforated stomach ulcer.
February 2008
:
Gascoigne is arrested in Newcastle and detained under the Mental Health Act.
August 2013:
He was fined £1,000 for assaulting a railway guard and being drunk and disorderly at Stevenage railway station in July.
August 2014: Several national newspapers report Gascoigne being taken to hospital by ambulance looking gaunt
He helped England reach the semi-finals of the 1990 World Cup and Euro 96, and also played for Lazio, Rangers, Middlesbrough, Everton, Burnley and Chinese side Gansu Tianma.
But he has suffered a string of personal issues since he last played professionally, for League Two Boston United in 2004.
On Thursday it was announced that Gascoigne was set to play football again after signing for Sunday League Division Four team Abbey FC in Bournemouth.