Malky Mackay: Former Cardiff boss faces fresh allegations
Last updated on .From the section Football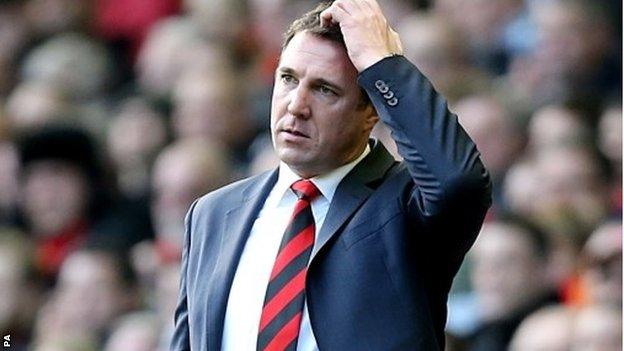 Malky Mackay is facing further scrutiny following fresh allegations about text messages he is claimed to have shared with Iain Moody while Cardiff manager.
Mackay has already apologised for sending three messages he accepts were "unacceptable" and "inappropriate".
But the Daily Mail newspaper alleges the Scot, 42, was party to further offensive texts and emails.
In one, it claims Mackay seemingly referred to Cardiff's Malaysian owner Vincent Tan as a "chink".
The Mail alleges the damaging text was sent from Mackay's phone on 5 June last year, when he contacted Cardiff's then head of recruitment Moody about a player they were trying to sign.
The message read: "Not taking no for an answer from the chink until the 20th time or unless somebody big blows us out of the water. Can you tell him that?"
The Mail was responsible for the initial revelations about Mackay that cost the Scot the chance to become Crystal Palace's new manager.
Mackay, who has also managed Watford, was sacked by Cardiff in December, following a 3-0 defeat by Southampton.
Moody, who worked as head of recruitment at Cardiff until he was sacked in October, quit his role as Palace's sporting director on Thursday, soon after the Mail's allegations came to light.
Mackay broke his silence on the controversy on Friday evening, before the latest allegations became public.
Despite missing out on the Palace job, he still believes he has a future in football management.
"I have values and I have resilience. I have a love for British football," he said. "I will come back from this."
Kick It Out trustee Garth Crooks, speaking on the BBC's Football Focus, expects Mackay to receive a fine and a ban if the Football Association, which is investigating claims of misconduct, find him guilty.
However, Crooks does not feel it would warrant Mackay being exiled from the game completely.
He said: "There has to be room for redemption. This is about education. We are keen for managers, players and coaches who fall from grace in this area to understand what is acceptable in a working environment."
Crooks also criticised the League Managers' Association over their initial statement, in which they described Mackay's text messages as "banter".
"A few managers are quite upset about the way the LMA has handled the issue," added the former Stoke City and Tottenham striker. "The statement was pretty poor. You don't defend the indefensible."