Amrouche describes reduced six match ban as an "injustice"
Last updated on .From the section Football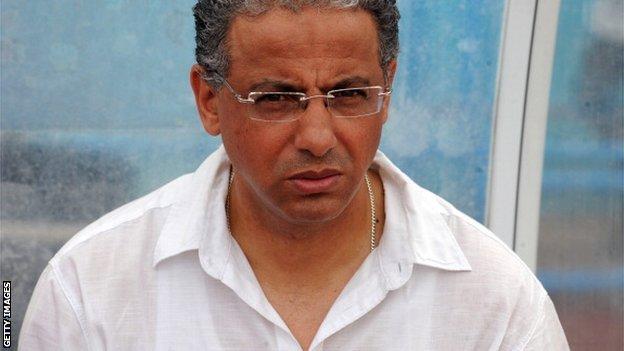 A one-year ban handed down to former Kenya coach Adel Amrouche has been reduced to six matches by the Confederation of African Football's appeals board.
Amrouche was originally punished for twelve months for allegedly spitting at a match official during Kenya's Africa Cup of Nations qualifier in Comoros in May.
But Amrouche, who has always denied the allegations, told BBC Sport he remains unhappy with the reduced punishment.
"It is unacceptable, and an injustice," Amrouche said.
The Confederation of African Football (Caf) heard Amrouche's appeal on Monday in Cairo, where they considered his own testimony, along with new video and photographic evidence, reports from the match officials and an eye-witness account from the Comoros coach, Amir Abdou.
Caf's appeals board concluded that there was "no certainty as to the facts alleged" against Amrouche, though the governing body of African football stated the Algeria-born Belgian "was not blameless", and highlighted his "attitude" and "anti-sporting behaviour."
They say they have therefore banned him from six Caf matches, and have fined him 10,000 US dollars.
Amrouche remains insistent he did nothing wrong. He said he is still unhappy that he is being punished and confirmed he intends to take the matter further.
"I Will go to Cas (Court of Arbitration of Sport)," Amrouche told BBC Sport.
The original year-ban as well as Kenya's aggregate defeat to Lesotho in the 2015 Africa Cup of Nations qualifiers led to Amrouche's dismissal as Kenya's head coach.
He has since been replaced by Bobby Williamson who signed a contract last week to take charge of the Harambee Stars.