Lord Attenborough: Chelsea pay tribute to life president
Last updated on .From the section Chelsea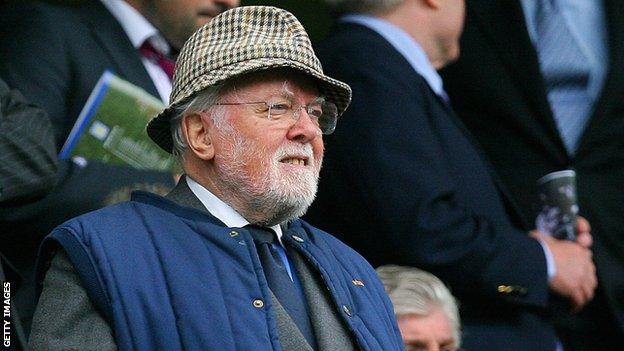 Chelsea have paid tribute to Richard Attenborough, who died on Sunday at the age of 90.
The Oscar-winning film director and Blues fan was the club's life president and served on the board at Stamford Bridge from 1969 to 1982.
The team will wear black armbands as a tribute to Lord Attenborough in their next game, at Everton on Saturday.
"Chelsea Football Club is deeply saddened to learn of the passing of our life president," said a club statement.
Chelsea captain John Terry's tribute:
"He had so much time for everyone, we truly have lost a great man. Whenever we won trophies or big games, we would get a phone call or an email congratulating us and it meant so much to us as a group of players to know he was supporting us. One memory which lives with me is when we first won the Premier League. He gave us a long, inspirational speech that this is what he wants to see - Chelsea winning things - and it was important for us as a group of players to keep doing that for him and keep a smile on his face. With that in mind that's our target this season - to do that for him."
"He led a long and successful life and always found time for the things in life he loved most, one of which was Chelsea FC.
"His personality was woven into the tapestry of the club over seven decades. He was a consistent force for good at the club, even in dark times."
Lord Attenborough started his career as an actor, appearing in films like Brighton Rock and The Great Escape.
As a director, he is perhaps best known for 1982 film Gandhi, which won eight Oscars, and 1993 blockbuster Jurassic Park, which he also starred in.
Lord Attenborough on attending Chelsea games:
"I can go to a game at the Bridge on a Saturday afternoon, with maybe a thumping headache or the cares of the world on my shoulder and at the end of the game, they're gone. I find it the most extraordinary period of relaxation. It has all its own tensions of course but I would give up anything to watch a marvellous football match, particularly if Chelsea are playing."
He became a regular visitor to Stamford Bridge after training with the club's players in the late 1940s in preparation for his role as young gangster 'Pinkie' in Brighton Rock.
He was a director at the club during the 1970s, a period that saw their first FA Cup win in 1970, and a first European trophy, the 1971 Cup Winners' Cup.
He also helped the club keep control of its ground after it was threatened by property developers in the 1980s.
The Chelsea statement added: "'Lord A' was a thoroughly lovely and talented man who used his fame and influence for the good of the many causes close to his heart. We will always be grateful that our football club was one of them.
"He will be greatly missed, and the thoughts of everyone at Chelsea FC are with his family and friends at this sad time."