Will Buckley: Sunderland boss Guy Poyet had doubts over winger
Last updated on .From the section Football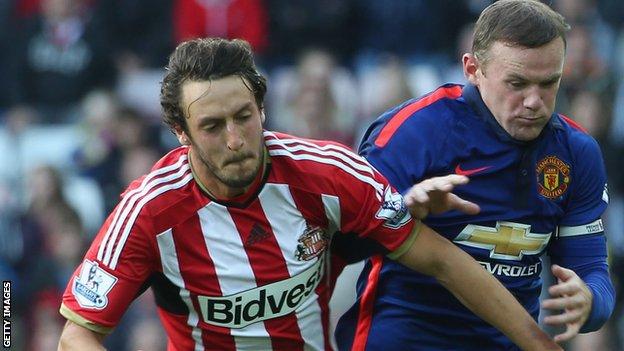 Sunderland manager Gus Poyet says he did not initially think new signing Will Buckley was good enough to play in the Premier League.
Buckley impressed on his first start for the Black Cats in Sunday's 1-1 draw with Manchester United.
Asked if he always thought Buckley would be a top-flight player, Poyet said: "When I first saw him, no."
Will Buckley in brief
1989:
Born on 21 November in Oldham
2006:
Joins Rochdale's youth set-up
2008:
Makes Rochdale debut
2010:
Moves to Watford for initial £200,000
2011:
Signs for Brighton in a then club-record £1m deal
2014:
Joins Sunderland for reported £2.5m fee
The Sunderland boss added: "But he was learning, listening. He is very quiet, shy, but with his feet when he is on the pitch and he's got the chance to attack you, he's a nightmare."
Poyet tracked Buckley's progress at Brighton for seven-and-a-half months after failing to sign him in January.
He added: "He is confident with the position that we play him, he knows what we want from him. When it's clear, it's supposed to be easy.
"He doesn't need to make too many decisions, apart from doing what he does best and being in position."