Atletico Madrid coach Diego Simeone banned for eight games
Last updated on .From the section Football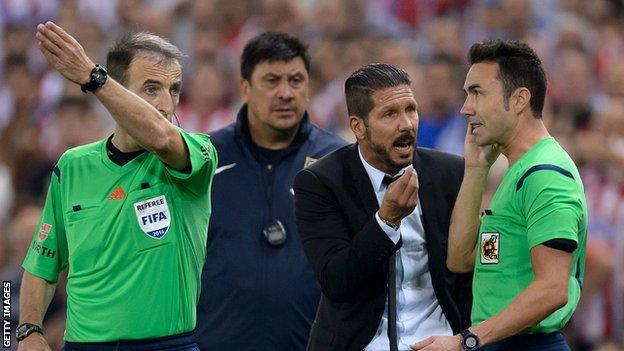 Atletico Madrid coach Diego Simeone has been given an eight-match ban for his behaviour in the second leg of the Spanish Super Cup.
The Spanish Football Federation (RFEF) banned him for four games for that act.
A further two games were for protesting plus one each for applauding a red card and not leaving the ground.
The Argentine was sent off midway through the first half for complaining that Atletico right-back Juanfran had not been allowed back on to the field quickly enough after receiving treatment for a facial injury.

Simeone subsequently apologised and says he overreacted.
He said: "When you commit an error you have to ask for forgiveness and I accept it was an error. I exaggerated in trying to get Juanfran on."
Assistant coach German Burgos will step in during the suspension, starting with Atletico's league opener against Rayo Vallecano on Monday night.
Simeone believes his number two will be a capable stand-in. He said: "German has the capacity and confidence; it gives me peace of mind that we understand football in the same way.
"He will sit on the bench and I will see it from another place."