Non-league's 'Mr Gibraltar' aiming to outshine Robert Lewandowski
Last updated on .From the section Football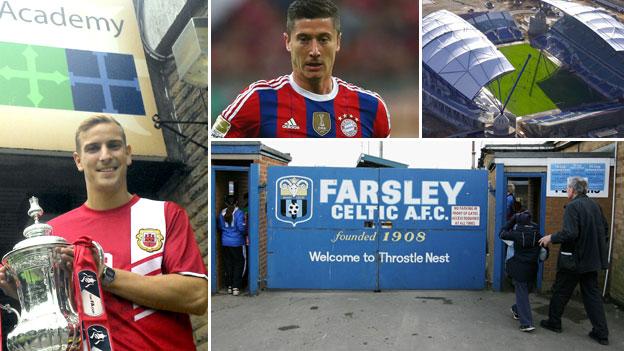 From facing Athersley Recreation in the FA Cup to Poland in a Euro 2016 qualifier, this promises to be quite a week in the life of non-league striker Adam Priestley.
It begins on Saturday at the humble surroundings of Farsley's Throstle Nest home as his West Yorkshire club side - who play in the ninth tier of English football - take their first step on the road to Wembley in the FA Cup preliminary round in front of around 200 people.
And it ends next weekend at the 30,000 Estadio Algarve in Portugal as the 24-year-old hopes to outshine Bayern Munich's Robert Lewandowski and score past Arsenal goalkeeper Wojciech Szczesny when Gibraltar make their competitive European debut.
Then, barely 24 hours later, his familiar 6am alarm call will signal a return to reality as the man his pupils call 'Mr Gibraltar' prepares to resume his everyday life as a teacher.

"It blows my mind every time I think about it," says Priestley, who qualifies for Gibraltar having been born there when his dad served in the RAF.
"I'll play in the FA Cup on Saturday, Sunday I'll pack my bags, then it is a flight to Portugal on Monday, train with the Gibraltar squad for a week, play against Poland on the Sunday night, fly back then I am up for school at 6am on Tuesday.
"It is going from one extreme to the other. One minute I am going to work and not knowing what the kids are going to be like and then all of a sudden I'm away living a professional footballer's life."
Priestley's life next week might well mirror that of Europe's elite footballers as they head off to join their international team-mates for the start of the Euro 2016 qualifying campaign.
The crucial difference is, though, they will not need permission to duck out of school to play.
"It is a staff training day when I fly out," adds Priestley, a cover supervisor at Leeds-based Morley Academy.
"But work are really good with it, they are really supportive and if I need the time off they give me it. It makes a good talking point with the kids.
"I think it helps me build up a rapport with a lot of the ones who are not particularly into sport. It still sparks conversation, even if it is just asking about where Gibraltar is and information about it.
"They call me Mr Gibraltar, so I have to keep reminding them it is Mr Priestley."

His role at the school means he never quite knows for certain what he is going in to teach - it could be PE one lesson, maths the next.
It is a work life that mirrors the unpredictability of his football career: he could be sharing a pitch with bankers and builders in one game and then World Cup stars in another.
He is still pinching himself at just how things have developed, considering just a few years ago he was playing Sunday League football with a bunch of friends for Yorkshire amateur side Sherburn White Rose.
But it all could have been so different had he not replied to an innocuous message on Twitter by a football blogger shortly after Gibraltar were officially recognised by Uefa in May 2013.
A couple of prolific years at Sherburn paved the way for a move to Northern Counties East League Premier Division side Garforth and then Farsley in 2012. There, a season in which he scored 27 goals caught the eye.
From Throstle Nest to the Algarve - the life of a non-league international
Saturday 30 Aug:
Adam Priestley and West Yorkshire side Farsley host Athersley Recreation in the FA Cup preliminary round
Monday 1 Sep:
Priestley catches a flight to Portugal to join up with his Gibraltar team-mates for a week of training
Sunday 7 Sep:
Gibraltar play Poland in their opening Euro 2016 qualifier
Tuesday 9 Sep:
Priestley is back at his West Yorkshire home and up at 6am to teach 11-16 year-olds at Leeds-based Morley Academy
"I was on Twitter and someone had tweeted saying 'Gibraltar-born Adam Priestley scored 27 goals for English non-league side Farsley'.
"I replied to their message asking if there was any way of getting in touch with someone at the Gibraltar FA and they gave me some contact details.
"So I sent off a few videos and they invited me over to train with the national team and I played in a friendly against Hibernian last summer and I must have done enough to impress."
Priestley, along with the likes of former Manchester United defender Danny Higginbotham and Preston defender Scott Wiseman, was called up to play in Gibraltar's historic first game as a Uefa member when they impressively held Slovakia to a goalless draw in a friendly last November.
Since then he has earned four more international caps and was in the side that beat Malta in June for their first win as a Uefa member.

But arguably the biggest moment for the Gibraltar players was when they discovered which European heavyweights they would face in qualifying for Euro 2016.
Representatives of the national team attended the draw at a glitzy event in Nice, while thousands packed out Gibraltar's main square to celebrate the occasion.
Huge cheers went up as Gibraltar were given a dream - if difficult - draw in Group D alongside Germany, Poland, Scotland, the Republic of Ireland and Georgia.
Priestley, though, found out his country's fate in quite different surroundings.
"I was on a friend's stag do paintballing when it happened," he says. "It was in the middle of nowhere and I had no signal at all but I managed to find somewhere that I had a bit and I rang my dad and asked who we had got.
"I was gobsmacked when he told me. I went back inside and was shot several times within 30 seconds. My head was all over the place."
While Germany smashed hosts Brazil on the way to winning this summer's World Cup, Priestley was back at home preparing for the new school term, as well as indulging in a bit of scouting.
"I went in to tidy my office a bit and was also in for GCSE results and met a few members of staff to see if everything was looking good for when school started again," he says.
"A group of us Gibraltar players were instant messaging each other during the World Cup about the players on television that we might be facing.
"It was crazy to watch the likes of Germany and think that we would soon be on the same pitch as them, but we also can't be overawed.
"Every footballer makes mistakes, even professionals. More mistakes might be made at non-league level, whereas the top players might just make them a couple of times a month.
"My mates would be criticising the Germany players and saying where they are weak, but I suppose they might be saying that about me in a few months!"

Ten months after making his Gibraltar debut, Priestley is still coming to terms with life as an international footballer, but can rely on his Farsley team-mates to keep his feet on the ground.
"We will give him a bit of stick in training. If he makes a mistake we'll say 'you better not do that against Toni Kroos or Robert Lewandowski," says Farsley captain Robbie O'Brien.
"It is just general banter though because we are really happy for him. He is not big time about it and it is good for the profile of Farsley too."
"Farsley have been really good with it all," adds Priestley. "The manager and assistant manager are really fantastic with it. When I get called up they told me it was an opportunity that is too good to turn down and they understand.
"They know I'll still give my all for Farsley, because if I'm not playing well for my club, I am not going to get picked by my country."
Priestley has still to score his first goal for Gibraltar, and getting off the mark by firing past Szczesny on 7 September would typify the crazy nature of his football career to date.
But, for now, he refuses to entertain the thought, instead taking each game as it comes.
First up, is Saturday's FA Cup tie with Athersley Recreation. He might well find himself trying to get the better of a 30-year-old electrician rather than Arsenal's number one but for Priestley it is no less of an important fixture.
"It is every kid's dream to play in the FA Cup final at Wembley," he says.
"At Farsley we know we won't get that far but if we have a good run then the financial implications for the club are massive.
"And for a player it is just unbelievable to be able to say 'I've played in the FA Cup.'"