Celtic did not deserve Champions League, says boss Ronny Deila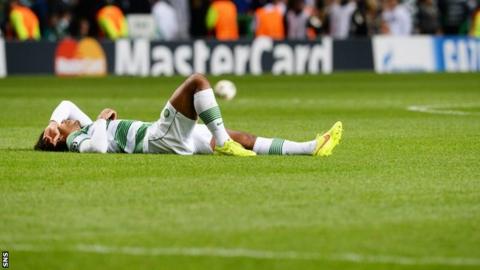 Celtic boss Ronny Deila said his side were "not good enough" after a 1-0 loss to Maribor saw them exit the Champions League at the play-off stage.
Marcos Tavares took advantage of poor defending for the Slovenian side and condemn Celtic to the Europa League.
"We did not lose because of the defending, we lost because we did not create anything," said Deila.
"We hope we can stand in the same position next year with a whole other feeling than I have right now."
It was Celtic's second chance to reach the group stage of the Champions League after they were reinstated into the competition when their second-leg defeat by Legia Warsaw in the previous round was reversed to a 3-0 win after the Poles fielded a suspended player in the last few minutes.
Callum McGregor nearly scored against Maribor but he hit the crossbar, while Efe Ambrose and Virgil van Dijk both headed wide from close range and the Dutch defender also had a late shot saved.
Despite those chances however, Deila was left frustrated by the lack of goal-scoring opportunities created at a noisy Celtic Park.
"The first half was not good enough," said the Norwegian. "In the second half we were more aggressive and had more chances.
"We need to have more tempo on the ball, more movement. That's the job, it has to start now.
"In the end there's only one thing to say - we have not been good enough, and we have not deserved to go to the Champions League."
Deila described exiting the tournament as "a hard feeling" and said "the players, the staff and the whole club" must use it as motivation to improve.
"I know that we're going to get a good team and that we need to get some signings," added Deila.
"We have some already but we have been a little unlucky with injuries on not only the new signings but also on Scott Brown and James Forrest. By autumn we'll have a bigger and better squad.
"It's very difficult to get the quality of players that the fans and I want to get with the salaries we have, but we are going to have a signing or two more."
Celtic, who will now miss out on the £14m they earned in the competition last season, drop into Friday's draw for the group stage of the Europa League, and, without the lure of the Champions League, Deila acknowledged he may find it tougher to sign the players he wants.
He said: "We want to be one place and that's the Champions League and hopefully we can get there next year.
"I think players want to play for Celtic. But players who are at the highest level want to stay there, so it will be a player who is still developing and wants to step up.
"I think we are a better team now than we were against Legia Warsaw but it's a long way to talk about Champions League level."