Man Utd's defeat by MK Dons 'borders on the disgraceful'
Last updated on .From the section Football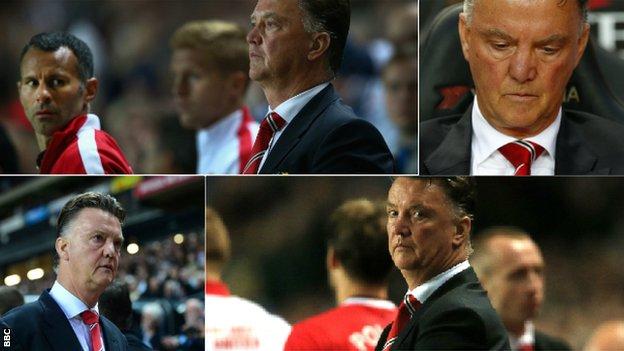 "Manchester United were so poor it beggared belief. Staggering in their ineptitude, they were beaten in every facet of this football game."
That was how BBC Radio 5 live pundit Steve Claridge described United's 4-0 defeat by League One side Milton Keynes Dons.
Just hours after breaking the British transfer record in signing Real Madrid's Angel Di Maria for £59.7m, Manchester United suffered a humiliating Capital One Cup second-round exit to a side two divisions below them.
With the help of the BBC live text commentary and punditry, we take you through where it went wrong for Louis van Gaal's team - and the reaction to the humbling defeat.
1-0 - Grigg's opening gambit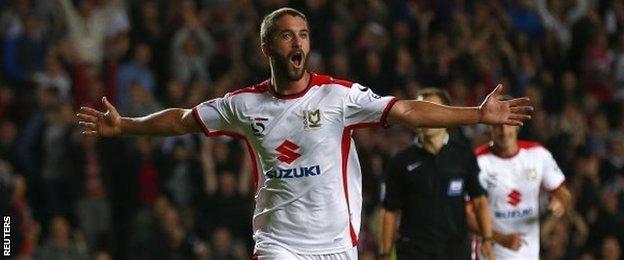 BBC Sport live text commentary: My word, this is not what Louis van Gaal wants or needs as Will Grigg gives MK Dons the lead. Jonny Evans passes the ball straight to MK Dons and Grigg gleefully sweeps home.
Claridge: "There are too many United players not doing their jobs - asking for defensive cover and they can't do their job themselves. Awful mistake."
2-0 - Chest majestic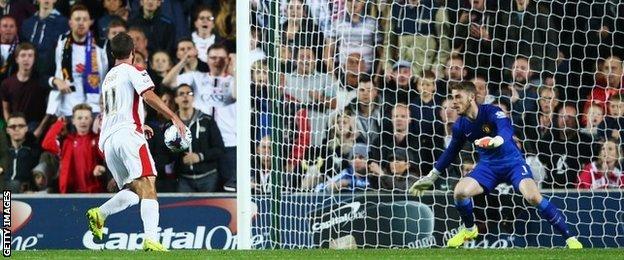 Disastrous stuff for Manchester United as they fall even further behind! They give the ball away just inside their own half and MK Dons break before Ben Reeves crosses for Will Grigg who chests home from close range. MK Dons are in dreamland.
Claridge: "Grigg has chested the ball in and who is the closest Manchester United player to him? Anderson. Three centre-halves and Anderson is the closest to a player scoring in the middle of the goal. That gives you some understanding about how they understand the system. Well done MK Dons but where are the three centre-halves?"
3-0 - Afobe off the mark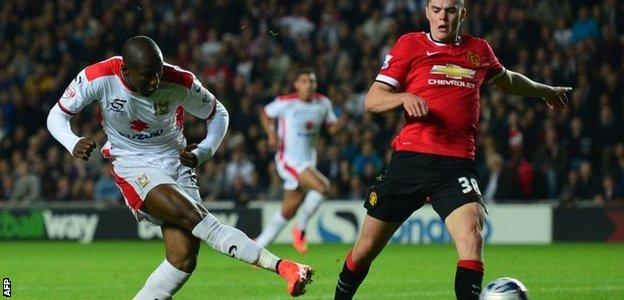 This is amazing. Utterly amazing. Benik Afobe has been on the pitch a matter of seconds and he has scored the goal that surely means there is no way back for Manchester United. Ben Reeves puts the player on loan from Arsenal through and he sweeps home
Claridge: "Manchester United are not being beaten, they are getting thrashed, incredible. These players are clearly not good enough. Why you would play them here and in this system beggars belief."
4-0 - Dons in dreamland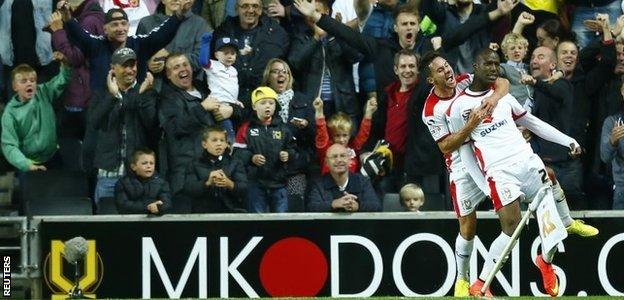 Fantastic stuff from MK Dons and fantastic stuff from Benik Afobe. The Manchester United defence are at sixes and sevens as they try to deal with the burly striker, but he powers his way through to the area and confidently slots home. Surely this is one of the all-time great upsets?
Claridge: "That fourth goal probably summed it up in a nutshell: Afobe just wanted it more."
The reaction
Jason Roberts on Radio 5 live: "Manchester United don't need to rest players and I was surprised at the team Louis van Gaal picked. They don't understand the system. When I played against Manchester United, there was a nasty streak to them - they would push each other.
"The confidence has eroded and they can begin to see the chinks in their armour."
Steve Claridge on Radio 5 live: "It's gallows humour from the United fans - they've been brilliant. But what they've watched beggars belief and borders on the disgraceful. I don't think we'll see too many of these players in a United shirt again if this is anything to go by.
"Louis van Gaal contributed by playing people out of position and a system that didn't suit them. They didn't know what they were doing, didn't know what they're playing."
Sticking the boot in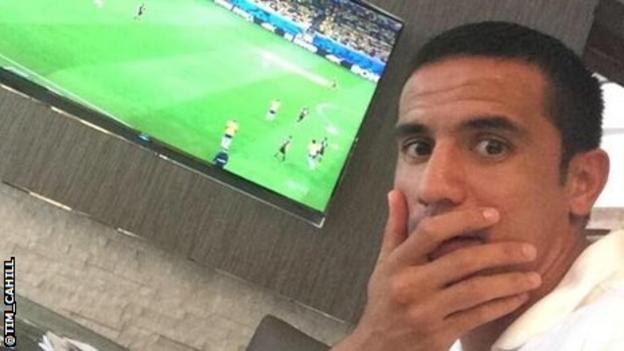 Former Everton forward Tim Cahill expressed his shock at United's defeat and suggested the return of former Red Devils manager David Moyes. "MK Dons #wow #BringbackMoyes

Manchester City striker Edin Dzeko said simply on social media...
Best of the rest:
Chelsea goalkeeper Petr Cech: "Football is full of incredible moments... Really anything can happen during one football game ... That's why I love it!"
Cricketer Kevin Pietersen: "Something cool about Van Gaal...signing autographs after a defeat like that! Takes some balls...believe me! Good on him."
Former Wales midfielder Robbie Savage: "I thought it was poor Shake Karl Robinson's hand before you sign autographs!"
BBC Radio 5 live pundit Steve Claridge: "If that is the attitude he [Van Gaal] came into the game with, that is the performance he deserved. If I was the manager I would be waiting to get at the players, not signing autographs. That is exactly why you get the performance he did."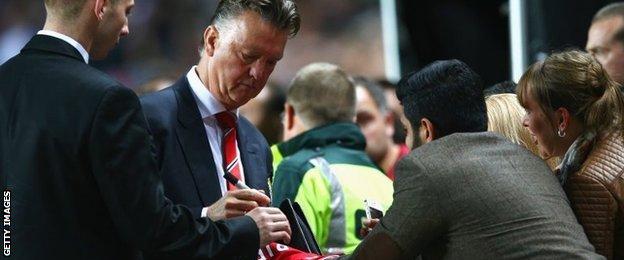 Media reaction:
Daily Telegraph: Shaming the shirt - Van Gaal's shambolic United thrashed by League One minnows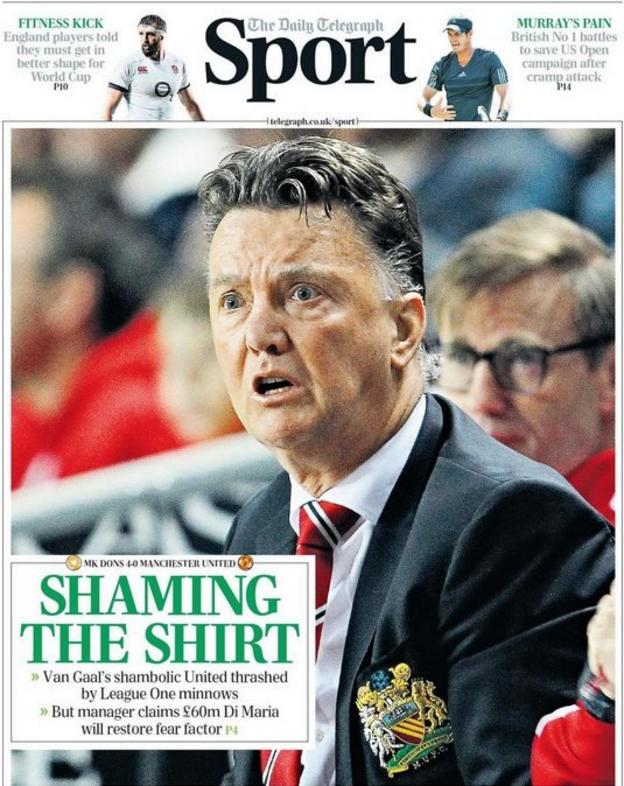 Independent: MK Dons 4 LVG 0