Casey Stoney: Why the hard work starts now for Canada 2015

By Casey Stoney
England women's defender
Last updated on .From the section Women's Football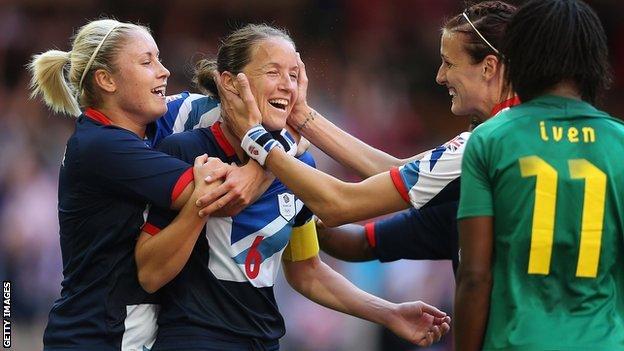 England and Arsenal Ladies defender Casey Stoney is writing a regular column for the BBC Sport website this season.
Reaching next year's World Cup in Canada with a 100% qualifying record is an amazing achievement for the England team and everyone involved but it also comes with a reality check for me.
As the top-ranked team in the group, we should have qualified, and the way we have played with so much belief and purpose has shown that the girls are determined to show that finishing bottom of the group at Euro 2013 was not a true reflection of our talents.
From a personal point of view, though, the hard work starts now as I have accepted that my role in the squad has changed.
The new head coach Mark Sampson has altered our system, brought in new faces and created a strong competition for places, meaning I have gone from being England captain and a regular starter to completing only one game in the qualifying campaign since Mark came in.
Am I confident of making the trip to Canada right now? Based on recent games, probably not. Yet there is no doubt that I want to be on that plane and I'm working hard every day to try and prove myself. I had to do the same under previous England manager Hope Powell when I was left out during Euro 2005 and I am determined to do the same again now.
I still feel I have a lot to offer the squad both on and off the pitch in terms of my knowledge and experience.
So between now and when the squad is announced, it is up to me to fight my corner, perform for Arsenal and take my opportunities when they arise. It shows you that, no matter your level or experience, you have to keep proving yourself in women's football and I am determined to do that.
The good thing about the squad is that whoever makes the starting XI, we are all together and, following our excellent qualifying campaign, there is a very positive vibe among us.

The recent 4-0 friendly victory over Sweden, ranked fifth in the world, added to that feeling, as has the news that England will be facing Germany at Wembley in November.
Our qualifying group was not easy, with Wales and Ukraine providing the toughest games, but playing the top teams in the world gives you a better barometer of where the team stands.
All about Casey Stoney
Born: 13 May 1982, Essex
Centre-back for Arsenal Ladies and England
Former clubs: Arsenal, Charlton, Chelsea, Lincoln
Considered international retirement after not playing at Euro 2005 in England but now has 117 caps
In February, became first major female player to speak about being gay and her partner is now expecting twins
It shows how the new 4-4-2 diamond system is working, how well we are doing individually and collectively, and how we are shaping up to take on the best in the world in Canada.
So to face European Champions Germany and have the chance to represent England at Wembley for the first time is massive for everyone concerned.
Many of the squad got the chance to play at Wembley while representing Great Britain at the London Olympics and it was an historic night. We beat Brazil 1-0 in front of 70,000 fans and, from a footballing point of view, it was the best night of my life. Hopefully we can create that sort of atmosphere again.
It might be unrealistic to expect the same number of supporters for the Germany game, but it is another proud moment for women's football and I'm not sure any of the players now care that they haven't played there for England since the new Wembley opened seven years ago.
In the past, perhaps the women's game wasn't quite ready to host an occasion like this but with qualification for the World Cup now sealed, and against a top team like Germany, it should be an evening to savour.
We should approach the game confidently as our record against the top teams in friendlies has been quite good over the past few years. Before the 2011 World Cup we beat the United States and we also drew with world champions Japan on home soil before Euro 2013.

But, of course, that means nothing if we can't produce those performances at the World Cup and we will want to try and improve on our past two showings where we reached the quarter-final stage.
Artificial turf war
There has already been a debate about the 2015 tournament taking place on artificial turf with the likes of United States star Abby Wambach accusing world governing body Fifa of sexism for going down this route. Her argument is that this decision would never be taken for a men's World Cup.
From my point of view, it is not ideal, you want to play on grass where possible. But I've spoken to some of the England squad, who played on the same pitches at the Under-20 World Cup in Canada recently, and they told me it did not cause them any problems.
They said the pitches were good and the ball moved quite quickly, which can sometimes be an issue with artificial turf. The reality nowadays is that we train on pitches of this kind day in, day out and we are used to matches too as Everton and Liverpool both play their Women's Super League games on an artificial pitch at Widnes.
I also doubt that Fifa is going to change its mind now, so we will just have to prepare in the right way by training on that surface beforehand. From what I've seen, the stadiums in Canada are fantastic and I'm sure it will be a great spectacle for women's football.
If I'm totally honest, though, my biggest concern right now is to make sure I am there.
Casey Stoney was talking to BBC Sport's Alistair Magowan.