Wayne Rooney 'the right choice' as England captain

By Phil McNulty
Chief football writer
Last updated on .From the section Football919
Wayne Rooney's appointment as England captain is the right choice by manager Roy Hodgson - not least because of a glaring lack of obvious alternatives for a post that still retains great significance and prestige.
England's World Cup captain Steven Gerrard and deputy Frank Lampard have vacated the international stage, while the claims of goalkeeper Joe Hart and defender Gary Cahill could not come close to someone of Rooney's status and importance.
Rooney's ascent to the captaincy is not simply a case of last man standing, it is well merited on the basis of his efforts on and off the pitch in that abysmal Brazilian summer.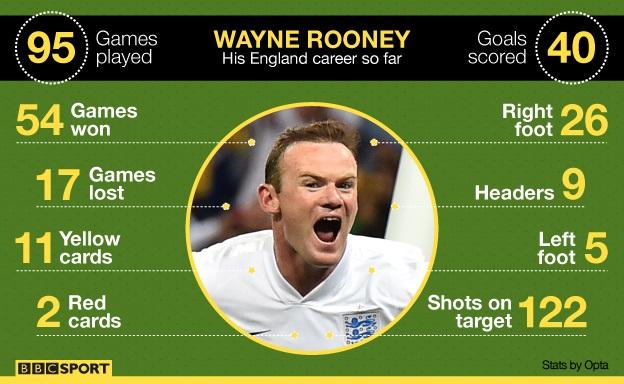 Inevitably, Rooney's past indiscretions and indiscipline will be raked over. The media will revisit the moments of his career he might prefer to forget - his smoking, the preparation for Euro 2012 in Las Vegas and the senseless red card in Montenegro that saw him banned for the first two games of the tournament.
In recent times, however, few could argue that Rooney has cut a mature and responsible figure on the pitch and spoken with authority off it.
Hodgson reflected this as he said: "I've had a long conversation with him and he's prepared to accept the pressures that the England captaincy brings. It's important that the players want to take on that enormous responsibility."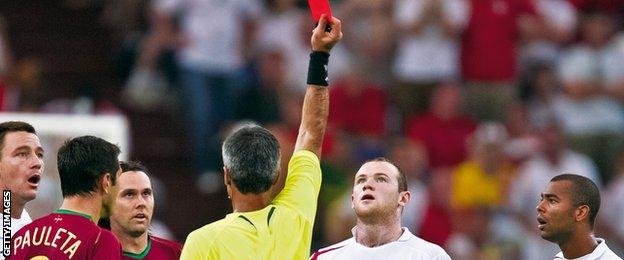 And on the striker's past, Hodgson added: "He has that baggage with him and he will have to accept that as a further part of the pressure.
"With his 95 caps, goals and all the things he has done, we've seen he is willing to take responsibility. All I can hope for is that he continues to play well and shoulders the responsibility as well as the captains before him."
At 28, this is the perfect time for Rooney to lead a new - and it should be said less than optimistic - era, having already persuaded Louis van Gaal he should be Manchester United's captain when plenty thought the Dutchman would take the easier option of fellow countryman Robin van Persie.
Rooney, in contrast to his preparations for Poland and Ukraine, took two fitness trainers with him on a personal holiday a week before England arrived for their pre-World Cup camp this summer, a plan aimed at ensuring he had recovered fully from a groin injury. Amid questions about his place in the team in Brazil, he volunteered for extra training at England's Urca base after the planned sessions had finished.
He may not have illuminated the World Cup but he was certainly among England's better performers (not a cause for widespread rejoicing, admittedly), working hard without complaint in a left-flank role in the defeat against Italy and standing out as the best player - as well as scoring his first goal at a World Cup finals - in the decisive loss to Uruguay.
Off the field, when presented at media conferences, he talked with measure and determination, especially after England's exit from the World Cup when he signposted the brighter days he wanted to experience by saying: "We want to make history. We want to make this country winners again."
Wayne Rooney England facts
Rooney became the youngest player to play for England when he appeared in a friendly against Australia on 12 February 2003. He was 17 years and 111 days old, a record which Theo Walcott has since beaten by 36 days.
On 6 September 2003, Rooney became England's youngest goalscorer when he was on target in a 2-1 European Championship qualification win over Macedonia.
On 11 October 2013, Rooney became England's highest scorer in competitive games, breaking Michael Owen's record of 26 goals when he opened the scoring in a 4-1 World Cup qualification win over Montenegro.
Rooney's goal in the 2-1 World Cup loss against Uruguay was his 40th in internationals, making him England's fourth-highest scorer alongside Owen.
The long process towards that goal starts with a friendly against Norway at Wembley next Wednesday, a game struggling to capture the post-Brazil public imagination, then more importantly a dangerous-looking opening Euro 2016 qualifier in Switzerland the following week.
As Hodgson pondered Rooney's appointment, there will have been many qualifications required for a post that still carries great responsibility and stature, despite some attempting to suggest the armband is a pointless decoration in the modern era.
Rooney is a natural leader and taker of responsibility in every game, even when fortunes are against him, and this is what Hodgson will need as he takes a new-look squad forward into games that will shape his own future as much as England's.
He has not been afraid to say his piece in the dressing room, acting as great support to his predecessor Gerrard, who gave him a glowing reference as the only candidate he believed should succeed him.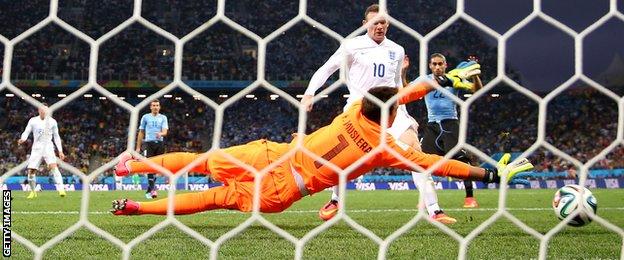 With Gerrard and Lampard gone, he is at the right age and has the England past that has earned the great respect he carries in the dressing room, as well as still being young enough to be part of the next wave by filling the void left by those two men of such vast experience.
Rooney will win his 96th cap against Norway and, after scoring his 40th England goal against Uruguay, is only nine behind Sir Bobby Charlton's all-time England scoring record in joint fourth place. The personal and professional incentives are in place.
There have also been two red cards and 11 yellows but Rooney's discipline has improved out of all recognition in recent years and Hodgson believes the captaincy will prove an inspiration as opposed to a burden.
Rooney will claim the instant respect of his England team-mates as the most decorated player in the squad. And after generating a host of headlines, good and bad, since making his England debut as a 17-year-old while with Everton, he is perfectly placed to offer advice to the new generation led by fellow Merseysider Ross Barkley, Liverpool's Raheem Sterling and Manchester United defender Luke Shaw.
Two of that trio are missing this time because of injury but Rooney's presence will be vital as they seek advice about the pitfalls and the positives of representing England.
For all that the likes of former coach Fabio Capello were mystified by the importance given to the England captain's armband in this country, in their current reduced circumstances it is perhaps even more important Rooney can hit the right tone with his approach and performances.
Capello patently did not get the fuss and yet it ended up defining - not to mention finishing - his reign in February 2012 after the FA stripped John Terry of the captaincy when he faced a court case for racially abusing Anton Ferdinand, a charge of which he was subsequently cleared.
The Italian had done the same two years previously amid allegations Terry had had a relationship with then England team-mate Wayne Bridge's ex-girlfriend, so the evidence itself gives the lie to suggestions the captaincy of England's football team is neither here nor there.
And, not least, Hodgson needs to get the decision right for himself because an acceptance bordering on apathy from England's fans about just how poor they were in Brazil - eliminated before their final group game against Costa Rica - may not survive a poor result in Switzerland.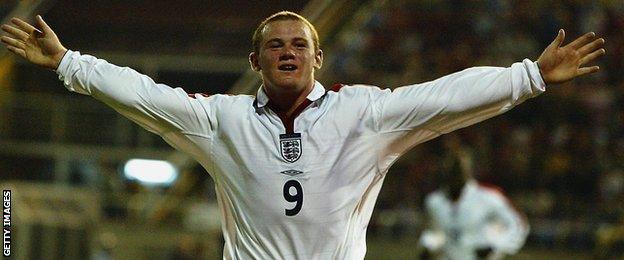 Hodgson has had an easy ride from a public who perhaps accepted the low expectations heading to South America. The same luxury will not be afforded should a favourable Euro 2016 qualifying group start to go wrong.
Rooney's own form and position will be under scrutiny too, as they were before the World Cup and after the opening game, although no evidence has ever been produced that England are better without him.
His role as captain will also surely mean he is now going to play in his favoured central role rather than be shunted out to the margins, as he was to accommodate Sterling against Italy.
This has been a pivotal decision for Hodgson, although the scale of the field was wafer thin, and he may count himself fortunate that among the retirements he had such an obvious selection.
And on all levels Rooney is the right choice.