Wayne Rooney: England name Man Utd striker as new captain
Last updated on .From the section England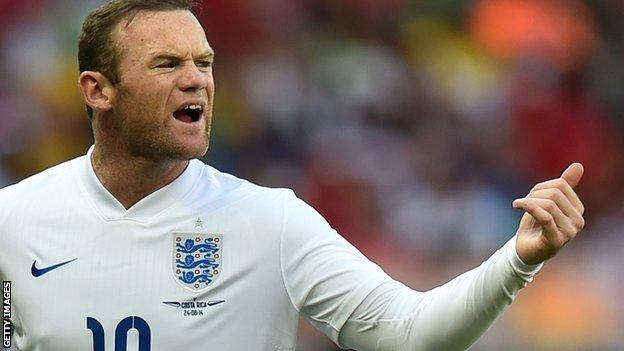 Manchester United striker Wayne Rooney has been named the new England captain by manager Roy Hodgson.
Rooney has 40 goals in 95 appearances, and was named club captain by United boss Louis van Gaal earlier this month.
"It is something I will take massive pride in doing. To be appointed captain is beyond my wildest dreams. " said Rooney on his official website.
England play Norway at Wembley on 3 September in a friendly before their Euro 2016 qualifying campaign starts in Switzerland on 8 September.
Hodgson has named four uncapped players in his latest squad, with Arsenal's 19-year-old defender Calum Chambers, and Newcastle's Jack Colback, Tottenham's Danny Rose and Aston Villa's Fabian Delph, all 24, in line to make their international debuts.
Former England captain Gary Lineker on 5 live:
"Rooney was the obvious choice. It might motivate him, get the best out of him, inspire him. Yes, he'll always be competitive but you don't want to take that out of his game because it's a fundamental part of it. It's not like a captain in cricket - you don't pick the team, you don't influence tactics, you don't have a say on substitutes. It's primarily a job off the field. You're the middle man between players and the management, the media and the public. That's where you could question whether Rooney is right, but his media side has improved and he handles that reasonably well now."
Speaking on Rooney's appointment, Hodgson said: "I gave it a lot of thought but Wayne is an obvious choice.
"He's the right man and he'll show enormous enthusiasm and responsibility."
Hodgson added: "I've had a long conversation with him and he's prepared to accept the pressures that the England captaincy brings.
"In the two years that we've been working together I've had no reason to question his character, desire to play for the country and wholehearted willingness to offer himself in every situation."
Rooney became the youngest player to play for England when he made his debut in a friendly against Australia on 12 February 2003, and scored his first goal later that year against Macedonia in a European Championships qualifier.
He has captained England twice - in a pre-tournament friendly with Brazil in 2009 and a World Cup qualifier against San Marino in 2012 - as well as having previously had a stint as vice-captain.
Wayne Rooney England facts
Rooney became the youngest player to play for England when he appeared in a friendly against Australia in 2003. He was 17 years and 111 days old, a record which Theo Walcott has since lowered by 36 days.
On 6 September 2003, he became England's youngest goalscorer when he netted in a 2-1 European Championship qualification win over Macedonia.
On 11 October 2013, he became England's highest scorer in competitive games, breaking Michael Owen's record of 26 goals when he opened the scoring in a 4-1 World Cup qualification win over Montenegro.
Rooney's goal in the 2-1 World Cup loss against Uruguay was his 40th in internationals, making him England's fourth-highest scorer alongside Owen.
Rooney added: "As a kid I always loved the occasion of watching a big England game on the television. Back then I had a burning ambition to play for my country. Now to be appointed captain is beyond my wildest dreams.
"I would like to thank Roy and the coaching staff for having the belief and confidence in me to do the job."
Chief football writer Phil McNulty:
"Rooney's ascent to the captaincy is not simply a case of last man standing, it is well merited on the basis of his efforts on and off the pitch in that abysmal Brazilian summer."
Read more
Rooney succeeds 34-year-old Gerrard, who revealed he had been left "broken" by the failure of a World Cup campaign in Brazil.
The United skipper says he will seek advice on the England captaincy from his predecessor.
He said: "I intend to speak with Steven about different aspects of the role. We had a great relationship from the moment we played together for our country right up to our final game in Brazil."
Former England skipper Terry Butcher on 5 live:
"Players respect Wayne Rooney enormously, they look up to him, and see him as figurehead already after the recent retirements of Steven Gerrard and Frank Lampard. From a players point of view, it has to be Wayne and from a coach's point of he is the best player, the number one star."
Ray Hall, who as head of Everton's Academy was first to discover Rooney's talent, said: "Wayne was never a captain at Everton because he always played in teams where players were two, three or four years older than him, but the irony now is that he has the experience and other players look up to him.
"He has a passion for the game and the shyness he had as a young player has gone. He also has responsibilities and a maturity off the field that comes with being married and having a young family."
Goalkeepers: Fraser Forster (Southampton), Ben Foster (West Bromwich Albion), Joe Hart (Manchester City)
Defenders: Leighton Baines (Everton), Gary Cahill (Chelsea), Calum Chambers (Arsenal), Phil Jagielka (Everton), Phil Jones (Manchester United), Danny Rose (Tottenham Hotspur), John Stones (Everton)
Midfielders: Jack Colback (Newcastle United), Fabian Delph (Aston Villa), Jordan Henderson (Liverpool), James Milner (Manchester City), Alex Oxlade-Chamberlain (Arsenal) Raheem Sterling (Liverpool), Andros Townsend (Tottenham Hotspur), Jack Wilshere (Arsenal)
Forwards: Rickie Lambert (Liverpool), Wayne Rooney (Manchester United), Daniel Sturridge (Liverpool), Danny Welbeck (Manchester United)