Michel Platini will not challenge Sepp Blatter for Fifa presidency
Last updated on .From the section European Football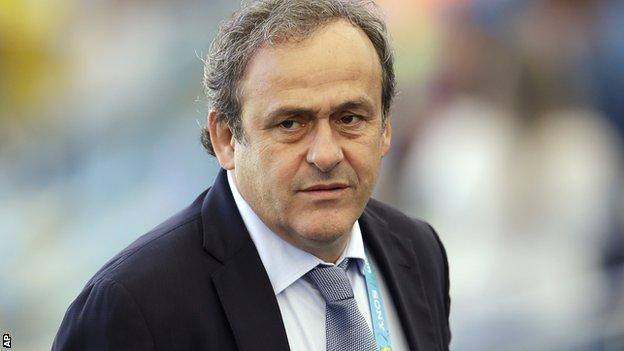 Uefa president Michel Platini will not take on Sepp Blatter for the leadership of football's governing body Fifa.
The 59-year-old former France player had considered running as a candidate in next year's presidential election.
But he told a meeting of 54 European football associations in Monte Carlo on Thursday that he wants to concentrate on leading the European administrative body instead.
Platini previously called for a "breath of fresh air" at the top of Fifa.
He said on Thursday that he will now push for Europe to be allocated more World Cup places - from 13 to 15 - for Russia 2018.
"What matters here is not me or my feelings," Platini told a news conference following his decision. "What matters is the future of Uefa, and of football. Uefa and European football have never been as strong and powerful as they are today and I have every intention of guarding this supremacy."
"We all want a more transparent Fifa that functions better, and above all we want more solidarity, and we would like Fifa to be more respected by football lovers. And I will try my best to work towards this at my own level."
Fifa executive committee member Michel D'Hooghe said of Platini's latest stance: "It was a very positive message - he said he would like to continue as Uefa president and I am pleased that it means that this time there will be no battle between Fifa and Uefa."
Blatter, 78, has been in power since 1998, but has been under pressure over the bidding process and subsequent decision to award the 2022 World Cup to Qatar.
However, he recently indicated he was to seek re-election for a fifth term.
BBC Radio 5 live sports news correspondent Richard Conway, in Monte Carlo:
"Platini's decision was, I'm told, greeted with applause by the 54 member football associations who have gathered in Monaco to listen to his plans for the future. The question now - given the thirst to see change within Fifa from European football chiefs - is if a token protest candidate will be put forward and whether this now marks the end of Platini's chances to lead world football.
"The next election after this one - in 2019 - will see Platini at the relatively young age for sports governance of 63. His ambitions may not be at an end just yet."
Alex Horne, general secretary of the English FA, said: "We've asked him for the last couple of years to think about whether he wanted to run for Fifa presidency - as have a number of other national associations.
"I have no doubt Michel would have made a fine candidate. In all honesty he was probably our front-running potential European candidate.
"We remain of the view that Sepp Blatter has served his time at Fifa. He said very clearly it would be his last term."
Platini's decision not to challenge the Swiss for the Fifa presidency means that, at present, there is just one candidate - former Fifa deputy secretary general Jerome Champagne.
Declarations for the elections are not required until January 2015 but Platini is now expected to wait until Blatter stands aside - possibly after another four-year cycle in 2019.
Five of Fifa's six continental bodies have already announced their support for Blatter, with only Europe publicly opposing him.
Platini, a 1984 European Championship winner with France, has presided over Uefa since 2007.
He will now continue to focus on finalising Euro 2016 in his home country, as well as planning the pan-European Euro 2020 tournament.
"This is the decision I have made. It is about what I want to do with Uefa," he said.