Dave Hockaday: Leeds boss bemoans Luke Murphy 'madness'
Last updated on .From the section Leeds United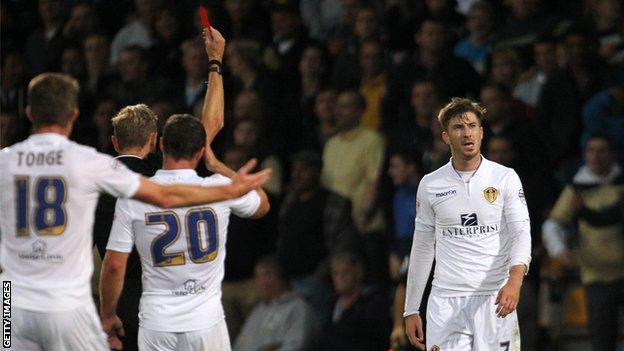 Leeds United head coach Dave Hockaday says he "cannot legislate" for moments like Luke Murphy's sending off in their
Murphy picked up two yellow cards in the opening 30 minutes, and despite then taking the lead, Leeds lost 2-1.
"I've been in football 40 years, I know what I'm doing. Tactically, we got it right," Hockaday told BBC Radio Leeds.
"It was irresponsible from Luke and he knows he didn't use his head - I cannot legislate for moments of madness."
The United boss has come under increasing pressure following a difficult start to his reign at Elland Road, with after the defeat by Watford on Saturday.
Hockaday has been in charge for just six matches, winning two and losing four, but Leeds have failed to finish with 11 men in half those games.
"The players gave everything, but we're giving ourselves mountains to climb every other week," Hockaday added.
"We very nearly climbed that mountain when we went ahead with not long left but at the moment we're not quite good enough to hold on.
"I can't get wrapped up in all the emotions of being criticised, I have to be calm and keep doing my job.
"That's not the hard bit, it's hard when someone does something out of character that you don't understand."