England friendly against Norway to attract lowest Wembley crowd

By Richard Conway
BBC Radio 5 live sports news correspondent
Last updated on .From the section England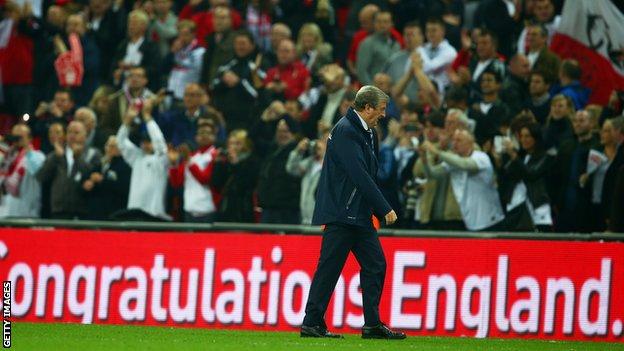 England's friendly against Norway next week will be watched by the lowest crowd for an international fixture at the new Wembley.
Football Association general secretary Alex Horne said: "We have work to do. We have to rebuild trust with fans."
The FA has announced England will play friendlies against France, Spain, Italy and Germany over the next two years.
The average crowd for home England internationals since the new Wembley opened in 2007 is 79,000.
But the attendance is likely to be less than half that number when Roy Hodgson's team face Norway in their first outing since exiting the World Cup at the group stage without winning a game.
England's last five home friendlies
30 May 2014, England 3 Peru 0 (83,578)
5 March 2014, England 1 Denmark 0 (68,573)
19 November 2013, England 0 Germany 1 (85,934)
15 November 2013, England 0 Chile 2 (62,693)
14 August 2013, England 3 Scotland 2 (80,485)
Even Wayne Rooney's appointment as England's new captain seems unlikely to boost the gate.
"It will be the lowest crowd we have had at Wembley and it is disappointing," admitted Horne.
"We have incredibly loyal supporters - 5,000 went to Brazil - and we are working hard on what we can give them to make them feel part of the England experience."
The previous lowest crowd for an international at Wembley was the 48,876 for a friendly against Sweden in 2011.
In a bid to get more fans through the gates, the FA has relaunched the England Supporters' Club and finalised home and away matches against France, Spain, Italy and Germany.
These will be played alongside England's Euro 2016 qualifying campaign, which begins with a trip to Switzerland on Monday, 8 September.
"It makes more sense to prepare for a European tournament by playing the bigger European countries, so we have put less of an emphasis on non-Europeans over the next two years," added Horne.