Man Utd need new faces to make formation work - Robbie Savage
Last updated on .From the section Football

New £59.7m forward Angel Di Maria is exactly the sort of player Manchester United needed but, if they want to finish in the top four and get back into the Champions League next season, they need to make at least two more big signings before the transfer window shuts at 23:00 BST on Monday.
Di Maria will make a big difference in attack with his pace, skill, hard work and versatility but, defensively, United are going to continue to have problems until their manager Louis van Gaal brings in the players he wants.
The key to a successful 3-4-1-2
Van Gaal has already signed Marcos Rojo since the start of the season, but he needs another top-class centre-half and a central midfielder too. Whether he gets them or not might dictate what happens to his 3-4-1-2 formation.
If it doesn't work, he will change it - as he did at half-time of their opening-day defeat by Swansea when he switched to a 4-2-3-1 shape - but he will stick with it for now, because he has not been able to use it with the players he wants yet.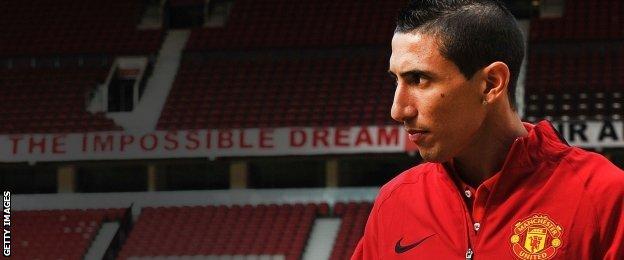 Going forward, Van Gaal has lots of options. Di Maria, Juan Mata, Wayne Rooney, Robin van Persie and Adnan Januzaj will not all be able to play at the same time but, whoever is in the team, there will be stacks of quality there.
That is not enough on its own, though. The key to making 3-4-1-2 work is down to the strength of your centre-backs and the discipline and creativity of your two holding midfielders.
Despite spending £200m in the last calendar year - more than any other English club - those are the areas where United are lacking, which is why they have struggled so far.
But Van Gaal needs to sell, not just buy.
What United's 4-0 defeat by League One side MK Dons in the Capital One Cup told me was that the senior players involved in that game looked like they knew they had no future at the club.
The likes of Javier Hernandez, Anderson and Danny Welbeck were almost feeling sorry for themselves, and that was never going to help the young kids who were in their second-string team.
Wing-back could be Di Maria's first role
It is not immediately obvious where Di Maria is going to fit in to United's current favoured formation if, as expected, he makes his debut at Burnley on Saturday.
At the World Cup, he was used on the left of midfield as Argentina played in a 4-3-3 shape.
He can play in the middle as well, but I don't see him being able to play as one of the two holding midfielders in the centre of United's four-man midfield, which would be a waste of his attacking abilities in any case.
Equally he is not at his best in the hole behind the front two, and he definitely cannot play at centre-forward.
Savage's Man Utd team to face Burnley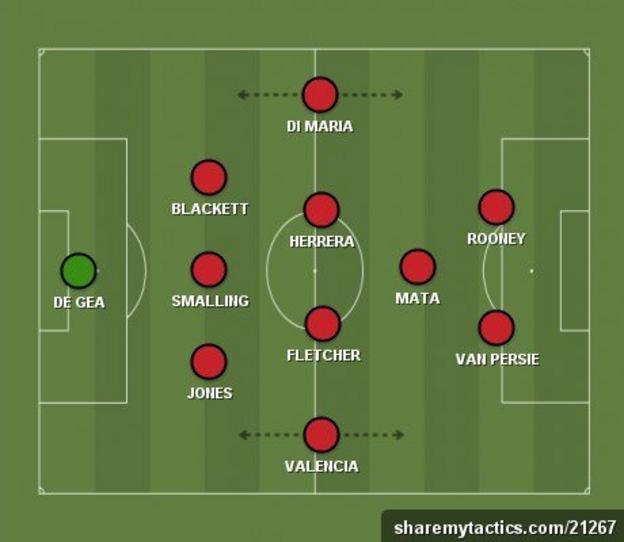 So, at least until Luke Shaw is fit to play, Di Maria could come into the United team as left wing-back. He certainly has the attributes you need to play in that position.
It does not matter that Di Maria is first and foremost an attack-minded player. I played as a wing-back for the first year of my career at Leicester and you do not really have to do much defending.
You have got the three players at the back and the two holding defensive midfielders who will play as a pair and, between them, cover the width of the field to stop attacks.
Rather than defending, the wing-back role is actually all about mobility, because what you need is the legs to get back and fill space down the flanks when you lose the ball rather than being expected to win it back yourself.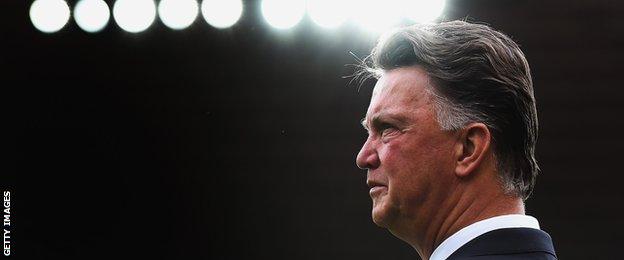 I can see why Van Gaal likes using that system so much, because his teams have always been quick and highly disciplined when it comes to winning the ball back.
But I would describe a wing-back as one of the hardest positions to play if you are not used to it, because you are not being asked to be a full-back and you are not being asked to be a winger.
I've heard it described it as a modern-day full-back but that is not the case because if your team is playing 4-3-3 the left-sided midfielder will come out and help and, in a 4-4-2, the winger will support you.
As a wing-back in a 3-4-1-2 like United use, however, you do not really have any support.
You cannot hide, because there is nobody in front of you, or behind you. When the other wing-back goes forward you have to cover defensively but also get forward to try to beat a man.
It is a specialised role and you need to be supremely fit and extremely quick. It is also a role where you will get found out very quickly because, if you cannot create, your team will have no threat from wide positions. And if you cannot defend, more times than not you will be in the wrong position.
I did not have a trick to try to beat my marker but I could at least put a decent ball into the area. What I was not so good at was the defensive side of things. I needed a lot of help from my right-sided centre-back.
That is where United have been found out in the first couple of games this season when they have asked wingers like Ashley Young, Antonio Valencia and Jesse Lingard to play as wing-backs.
What United do not have at present is a strong central trio in defence - they do not have a leader in there with the authority to organise them and the players around them.
Until they do, they will continue to leak goals at the back.
Arsenal unwise not to sign another striker
Another team who need to strengthen are Arsenal, but for some reason their manager Arsene Wenger seems unwilling to do so.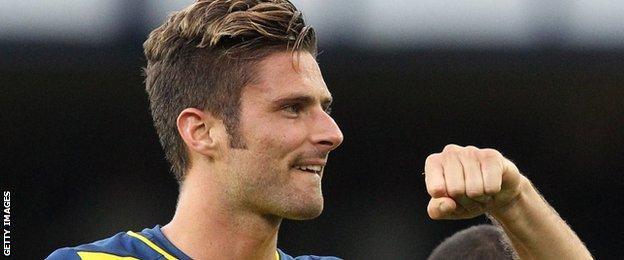 I thought the Gunners needed another striker when Olivier Giroud was fit - as a back-up and to give him some competition for his place - but now the Frenchman is out injured until the new year, I find it hard to believe Wenger will still not buy.
We saw in their draw with Everton last weekend what a massive miss Giroud is when he is not there to lead their line.
Alexis Sanchez can stretch defences with his pace but I think his best position is down the right and, as Alan Shearer pointed out on Match of the Day, he only touched the ball once in the Everton box during the first half at Goodison Park.
Touches for Arsenal v Everton

Alexis Sanchez

Olivier Giroud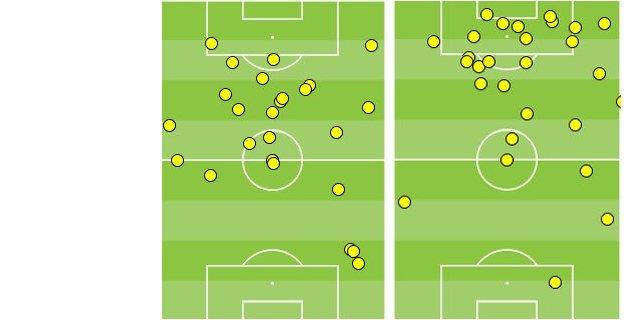 Giroud replaced him at half-time with the Gunners 2-0 down, got on the end of things in the area eight or nine times and, eventually, scored their equaliser.
He is not a faultless finisher by any means, but he is the sort of striker Arsenal need, to hold up the ball for their fast forward runners and also give them something to aim for when they put balls into the opposition box.
Yes, Wenger has other strikers available in the short term, and Theo Walcott will soon be fit too, but there is nobody else at the club with Premier League experience who can replace Giroud as a target-man.
Arsenal's available strikers and their Premier League record

Player

Podolski

Sanchez

Sanogo

Campbell

Games played

53

2

9

1

Minutes played

3,171

145

133

21

Goals

19

0

0

0

Mins/goal

166.89

-

-

-
In fact, I think Arsenal are two players away from being title contenders - as well as a striker, they also need a defensive midfielder. Even when Mikel Arteta is fit I have my doubts over his mobility in that position and they rely too heavily on Mathieu Flamini.
Without a new frontman and midfield enforcer, how do the Gunners expect to change things in the big games away at Manchester City, Chelsea and Liverpool, who all hammered them last season and finished above them?
Liverpool have signed a striker this week - and for £16m it was a no-brainer for their manager Brendan Rodgers to bring in Mario Balotelli, despite his disciplinary problems.
I was at Etihad Stadium on Monday to see Liverpool play Manchester City and was really impressed with the Reds in the first half - the way they kept getting back into their defensive shape was brilliant, and their 4-5-1 left no space for David Silva to play in or for Yaya Toure to burst into.
Rodgers had to improve his defence over the summer, because errors at the back cost his side the title last season, but they have to be careful that more errors do not cost them this time around too.
City took the lead because of a mistake and Liverpool switched off when they conceded their third goal too.
I like the look of Liverpool and some of the players they have signed over the summer but, unless they tighten up, they will not win anything this season either.