Wakaso Mubarak happy to start new Celtic chapter
Last updated on .From the section Football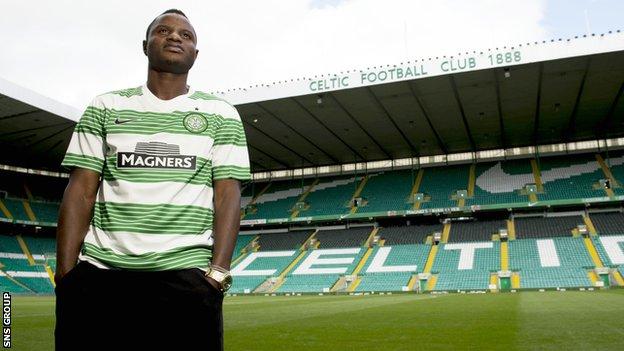 New Celtic arrival Wakaso Mubarak is not concerned about Celtic's exit from the Champions League.
The Ghana winger, 24, had hoped to sign in time to play in the play-off with Maribor but work permit delays meant that he missed the 2-1 aggregate loss.
"There is a saying that you should appreciate what you have," said Wakaso. "We have Europa League.
"We were looking forward to playing in the Champions League but we couldn't make it and it is part of football."
The former Espanyol and Villarreal forward arrives from Russian side Rubin Kazan and is manager Ronny Deila's fourth loan signing.
Wakaso, who featured in two World Cup matches, insists he is ready for the Premiership trip to Dundee on Sunday and says he only met his new boss on Wednesday.
"I know Celtic is a good team for me," he explained. "I only met him (Deila) yesterday. We haven't spoken yet and I think there are a lot of things to talk about.
"I don't really know much about his tactics and his ways of playing so there is a lot to ask him and a lot to hear from him.
"They (Celtic) spoke directly to my manager (agent) but I heard what the manager said about me.
"I want to build my career up again like I was doing in Spain and to help the team."
Wakaso revealed that Greece forward Georgios Samaras, who left Celtic in the summer and has joined West Brom, was a player he admired.
"I don't really know much about Scottish football but I know a little about Celtic because I have been watching them since I was young," he said.
"I saw the amazing supporters they have and the kind of players that pass through here makes me feel that Celtic is a great team to be at.
"One of the players I really love, for example, is Samaras.
"I have been watching him since he was at Manchester City and when he came here he was my number one player.
"He made me watch Celtic and I used to watch Celtic against Rangers. I am very happy to be here."