Samuel Eto'o: A brilliant and blemished international career
By Piers Edwards
BBC Sport
Last updated on .From the section Football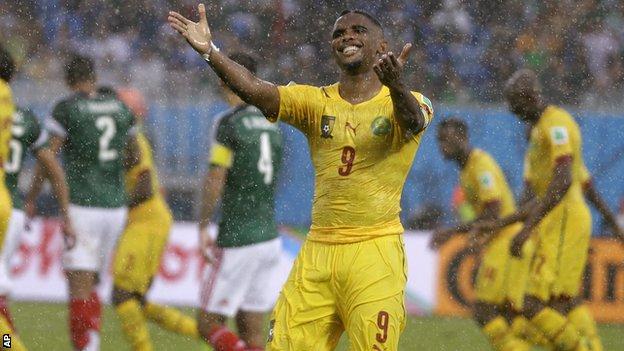 Samuel Eto'o's Cameroon career will be remembered as both brilliant and blemished.
In the intervening 18 years - more than half of his life - he experienced the highs of winning titles as part of a toothsome and dangerous pride but also deep lows in recent times as Cameroon became a ragged outfit both on and off the pitch.
As the Indomitable Lions fortunes have waned, Eto'o's reputation has taken some damaging blows - often self-inflicted as the striker's behaviour was frequently the antithesis of what was expected after he became captain in 2009.
The new Everton striker's greatest international achievements came when he was surrounded by quality players in the Cameroon side: the likes of Patrick Mboma, the late Marc-Vivien Foe, Geremi Njitap, Lauren Etame Mayer and even Rigobert Song.
In those halcyon days, the team mixed brute physical strength with tactical discipline and Eto'o's clinical finishing - he is his country's all-time leading scorer with 54 goals - helped clinch Africa Cup of Nations titles in 2000 and 2002.
Eto'o's international honours
Africa Cup of Nations winner in 2000 and 2002, Nations Cup record scorer, 2000 Olympics gold medallist, Confederations Cup runner-up in 2003, appeared at four World Cups (joint-record in Africa)
Eto'o contested six Nations Cups in all, and leaves a major mark on the tournament by virtue of being its all-time top scorer. His 18 goals, four more than the next best total, is a benchmark likely to stand for some considerable time.
In between those back-to-back titles came a stunning Olympic gold medal as Cameroon beat Brazil on the way to the final, where they overcame a Spain side boasting Xavi and Carles Puyol.
Douala-born Eto'o played a major part in defeating the Spanish, scoring the goal that brought Cameroon back to 2-2 and forced extra-time, and then slotting home his kick to help win the penalty shootout.
But as Cameroon's top talents fell away, Eto'o struggled to fill the void; not that one man, however talented, can carry a national side as Liberia's George Weah, the only African to ever be crowned Fifa World Footballer of the Year, can attest.
Mboma himself told BBC World Service programme Newsday on Tuesday: "In our time, we had four to five leaders - Foe, myself, Raymond Kalla, Song - and when we left, Eto'o was almost alone in the team."
But rather than any footballing deficiencies it was Eto'o's squabbles with team-mates - he accused them of refusing to pass to him and also had an ugly feud with Alex Song - that dented his legacy.
"Under his captaincy, Eto'o did not help his team become stronger," added Mboma. "He wasn't negative to his team-mates, but he wasn't that positive. He was more for himself rather than the whole squad, which is probably the reason why Cameroon have not won a title for a long time."
Despite being national captain, there was little love lost between Eto'o and the Cameroon Football Federation (Fecafoot).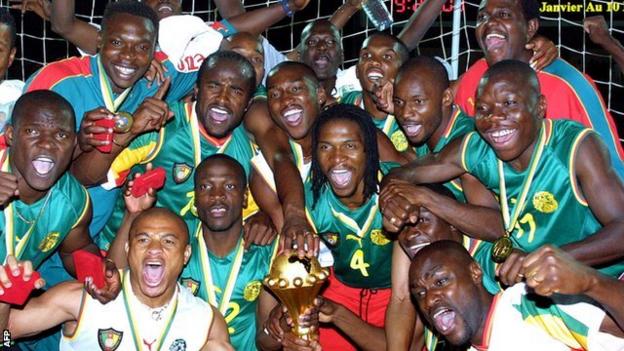 In 2011 the former Chelsea man put aside his differences with his team-mates to lead a revolt against Fecafoot - with players so tired of receiving payments late they refused to honour a friendly against Algeria.
Eto'o's actions earned him a 15-match ban that was later reduced to eight months, yet he remained in exile after his suspension ended as he railed against the "amateurish and poorly-organised" national set-up.
Rushed back into action after a meeting with representatives of the country's president, Eto'o's Cameroon failed to qualify for the 2012 and 2013 Nations Cups - an astonishing record considering they had reached at least the quarter-finals at the previous seven tournaments.
Eto'o's club honours
Three Uefa Champions League medals (2006, 2009, 2010), four league titles (three in Spain, one in Italy), four national cups (two in Spain, two in Italy), one Club World Cup (2010)
But the nadir of the four-time African Footballer of the Year's international career came in the World Cup, a tournament where he had long hoped to emulate the feats of his childhood hero, 1990 star Roger Milla.
At the tournament in South Africa in 2010 - the first edition to be held on African soil - Cameroon were the first team to leave the competition, prompting Eto'o to describe their exit after just two games as the biggest disappointment of his career.
He would play in a total of four World Cups (a joint African record), after making his debut as a 17-year-old against Italy in the 1998 finals, but never managed to help Cameroon into the knock-out stage.
Although he scored the goal that secured the 1990 World Cup quarter-finalists' last group win, when beating Saudi Arabia in 2002, Cameroon have since lost seven straight games at the finals.
The last defeat came against Mexico at this year's World Cup but marking Eto'o's 118th - and last - appearance, it did at least allow an African football icon to bow out on the sport's greatest stage.