Leeds United: David Hockaday the wrong 'watermelon' - Adam Pope
By Adam Pope
BBC Radio Leeds
Last updated on .From the section Football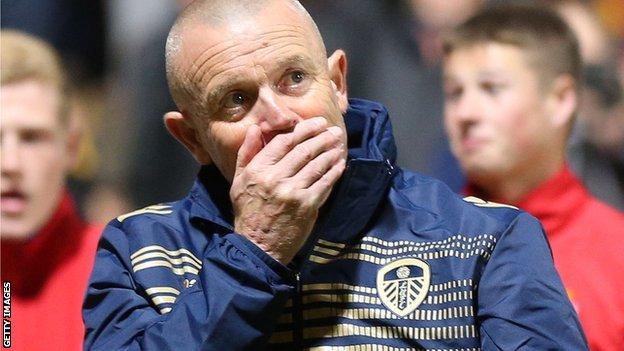 BBC Radio Leeds' Leeds United reaction
Find out more in the
BBC Radio Leeds
West Yorkshire Sport show from 18:00 BST on Friday, 29 August and then on the
BBC iPlayer.
Friday, 20 June, 2014: "Coaches are like watermelons, you only know how good it is when you open it," is what Leeds United owner Massimo Cellino said to me at his press conference for the unveiling of David Hockaday as Brian McDermott's successor as manager.
He then added: "Sometimes I haven't fired a coach because I wanted to protect my choice. That is the more dangerous thing." Well at least he kept his word.
Less than three months later, and after 70 days in charge - 26 longer than Leeds' most famous short-lived boss Brian Clough - the former Forest Green Rovers boss has gone.
Doomed from the start
The appointment of Hockaday was definitely one of the biggest shocks I've seen in football. The great mystery is how he got the job in the first place. He was immediately bookmakers' favourite when McDermott left Elland Road, so somebody, somewhere, knew something.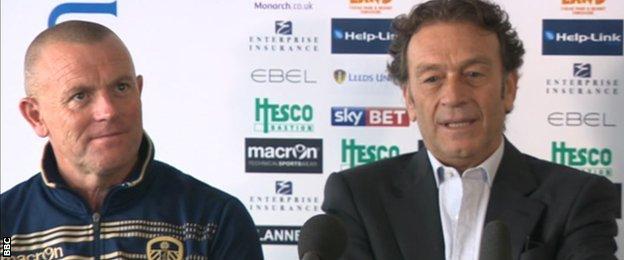 But the circumstances have never been properly revealed. Any time either Cellino or Hockaday were asked, there was an opaque explanation about calls from an Italian arranging a meeting in London, pepper pots and a five-hour chat. We'll probably never know more.
In the eyes of the Leeds supporters, from the start Hockaday was 'David who?'. It got worse when they saw him as the man who'd failed to get Forest Green promoted from the Conference, despite a big budget. They saw him as having no credentials whatsoever, a lapdog to Cellino, whom he consistently referred to as 'The President'.
It must be said that he has strong coaching credentials. Having spoken with former Leeds defender Clarke Carlisle, who worked with him at Watford, Hockaday is highly thought of from his time bringing young players through at Vicarage Road, most notably Manchester United winger Ashley Young.
But with large sections of the Leeds support he had no chance. His appointment was going to be the greatest gamble that paid off, or the experiment that was doomed from the start - it was the latter.
The Italian honeymoon
Leeds' pre-season training camp took place in the Italian mountains near Santa Cristina, where the players were training three times a day, very hard, and seemingly enjoying it.
I saw the record 16-0 win against FC Gheirdeina, who were basically a pub team. One thing defender Tom Lees, who's since left, said to me was that there was annoyance at the organisation of what the players saw as a totally pointless game.
Dave Hockaday's results at Leeds

Competition

Result

Date

Championship

Millwall 2-0 Leeds

Sat, 9 Aug

League Cup - first round

Leeds 2-1 Accrington

Tue, 12 Aug

Championship

Leeds 1-0 Middlesbrough

Sat, 16 Aug

Championship

Leeds 0-2 Brighton

Tue, 19 Aug

Championship

Watford 4-1 Leeds

Sat, 23 Aug

League Cup - second round

Bradford 2-1 Leeds

Wed, 27 Aug
Aside from that, what I saw was the beginnings of a squad bonding really well and responding to the new staff. There was no division, there really wasn't, and that surprised me. You had a former England player in Stephen Warnock praising the fact he was doing totally new things in training, and even players recently brought in by McDermott weren't grumbling.
A stay of execution
There was already an element of trepidation before the first game of the season at Millwall as there was no expectation that Leeds would win, more that they could get steamrollered like they were a few times last year. They fought but lacked any pace or penetration. I think it was quite soul destroying for a lot of fans because they realised they were facing a long, hard season.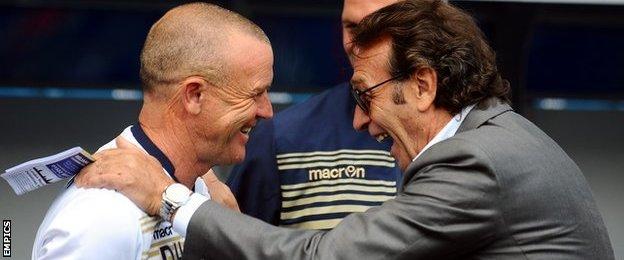 The next week will have given Hockaday some hope. In terms of the support, beating Accrington Stanley covered up nothing. No one thought it was going to be a benchmark, in fact there were worrying signs in the last 10 minutes as Leeds held on to win.
They then played a much-fancied Middlesbrough who ended last season really well. They were better than Leeds for long periods and had a goal wrongly disallowed, but then came the killer - hope in the form of Billy Sharp's winner.
Even though in reality, they looked a long way off Boro, Sharp and Liam Cooper had made encouraging debuts, and Hockaday's team did all the things he'd bang on about in a cliched fashion: put in a shift, hard work, pressing and pride in the shirt.
But in a matter of days that hope had gone. Brighton passed Leeds off the park to win easily, then any supporter goodwill was gone when Sharp was substituted in the 4-1 defeat at Watford to chants of 'you don't know what you're doing'. Those two wins were ancient history, all they'd done was drag out the inevitable.
Cellino's u-turn over sacking Hockaday following that loss was a further stay of execution but Wednesday's League Cup defeat at Bradford was the final straw.
'Il Mangiallenatori'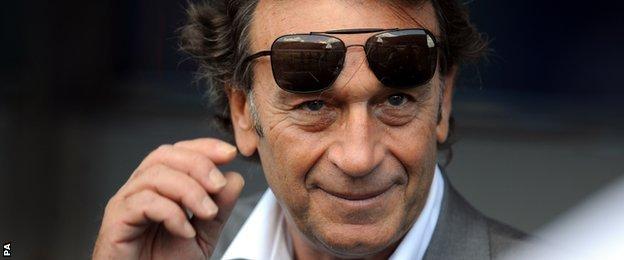 Thursday, 28 August, 2014: "The results since the start of the season have meant we needed to act," said Cellino. "After losing at Bradford I realised my decision to keep David at the club following the defeat at Watford was wrong and I had to change my mind on the coach's position."
'The manager eater' - that was what Cellino was nicknamed during his 22 years in control of Italian club Cagliari, during which time he went through 36 managers.
And he never tried to hide that. He'd said he'd need to break open his watermelon to see if it was any good. Quite honestly, although I don't think he gave this particular fruit long enough to ripen, when he appointed Hockaday, sadly I think the Italian was at the wrong market stall.