Kidderminster Harriers: Appeal by Conference club for fresh funds
Last updated on .From the section Football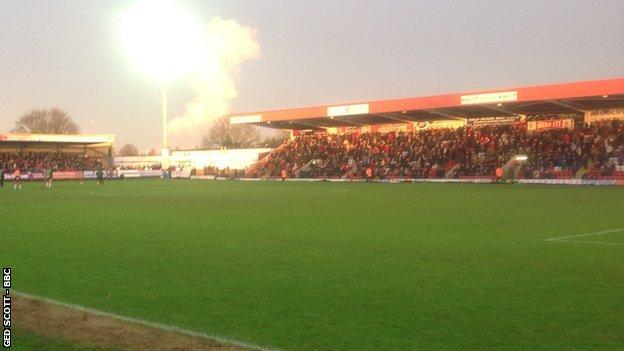 Kidderminster Harriers have warned that they may need cost-cutting measures at Aggborough if they cannot attract fresh investment to the Conference club.
Finance director Joe Hancox said: "The club has no substantial debt and no arrears of PAYE or VAT.
"But new funds will be needed if the playing squad is to remain together for the remainder of the current season.
"The directors are committed to taking whatever actions are necessary to make the financial adjustments needed."
The boardroom stakes at Aggborough
Kidderminster Harriers have no controlling shareholder. The top eight shareholders, who control 92% of the issued shares, all own more than 5% but no individual owns more than 24%.
Harriers currently stand 10th in the Conference, after an unbeaten start to the season, having lost just once in 18 games since manager Gary Whild took charge following Andy Thorn's sacking in March.
But the club are still coming to terms with the departure of previous chairman Mark Serrell in February.
Kidderminster's main benefactors, directors Ernie and Kath Lane, resigned from the board in July.
And, despite a lucrative FA Cup run last season, coupled with the sale of prize asset Joe Lolley to Huddersfield Town for a reported £300,000, Harriers say they need new financial impetus.
"We are looking for investors who want to share the journey with us to achieve our aim of getting promoted back into the Football League," said chairman Ken Rae, who took over following the departure of Serrell and his wife Ruth, also a Harriers director.
"Four directors have resigned from the club in 2014 and unfortunately that has substantially reduced new funds and monies we believed were available to us when setting this year's budgets have not as yet materialised.
"If an investor wants an active involvement in the running of the club the existing directors would welcome them on board so long as their aims and aspirations are for the long term benefit of Kidderminster Harriers."
Mindful of this summer's demise of Conference neighbours Hereford United, Harriers' current situation is nowhere near as serious as that or even when Serrell took over as Harriers chairman in December 2010.
Back then, the Worcestershire club were in dire straits, three hours from administration, needing £150,000 by the end of the month to stay afloat.