Italy's oldest footballer says he talks to his gloves before a game
By Richard Padula
BBC World Service Sport
Last updated on .From the section European Football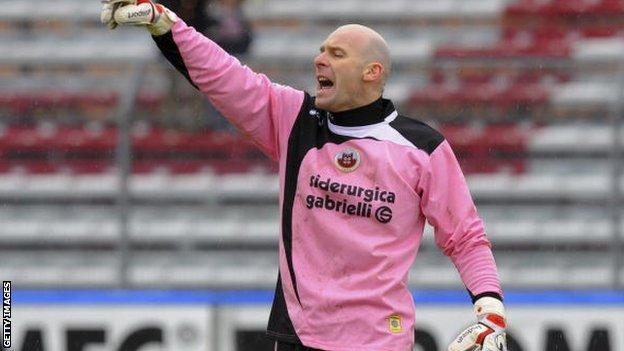 We all know that goalkeepers are the crazy ones, but perhaps old goalkeepers are crazier still.
At the age of 45 Andrea Pierobon holds the record for being the oldest professional player in the history of Italian football.
Pierobon plays for his home town Cittadella in Italy's second division (Serie B) and entered the record books last May, when he out-aged the former Lazio goalkeeper Marco Ballotta who retired in 2008 at the tender age of 44.
Pierobon's younger team-mates call him 'Nonno' - Italian for Grandad - but it's a joke which he takes with good grace.
"It's a nice thing. Many players in their twenties tell me 'I'll never manage to keep playing at your age', but the respect I feel does not only come from fellow footballers.
"Everybody pays me a lot of compliments for my long career - the managers of the clubs we play against and the referees.
"This proves that I've always been a fair and honourable person throughout all these years. That's why everybody respects me. They make fun of me, but they respect me a lot."
Andrea Pierobon career history

Year

Club

1987-1990

Cittadella

1990-1993

Giorgione

1993-1994

US Massese

1994-1995

Fidelis Andria

1995-1996

Treviso

1996-1997

Unione Venezia

1997-2005

SPAL

2005-present

Cittadella
Having spent 27 years in the game and played in more than 600 professional games, Pierobon's tireless career hasn't gone unnoticed, even among the well-paid stars of Italy's biggest clubs.
"Last season we went to Milan to play Inter in the Cup. I still have the shirt that keeper Samir Handanovic gave me. At the beginning of the game he came to me, congratulated me on my career and said 'I hope I'm also playing when I'm your age'.
"Then he asked if we could exchange shirts at the final whistle. It was a pleasure, as he is one of the world's best goalkeepers and I've kept his shirt as a lucky souvenir."
When Pierobon began his professional career at the age of 18 in the Italian lower leagues in 1987, Argentina and Napoli legend Diego Maradona was Serie A's biggest star, Ruud Gullit was the world's most expensive footballer and AC Milan, having been saved from bankruptcy by Silvio Berlusconi, were on the verge of dominating European football.
Pierobon's career has taken him to a host of clubs in Serie C1 and Serie B, most notably SPAL, in the beautiful city of Ferrara, where he made 263 appearances. He returned to Cittadella, the club where it all started, in 2005.
Pierobon says there is no secret to his longevity in the game but added he eats well, sleeps well and goes easy on the alcohol. And he also credits a strange ritual for helping him sustain a career that spans four decades.
"One thing I do before almost each game I play is to sleep with my gloves on the night table beside me" explains Pierobon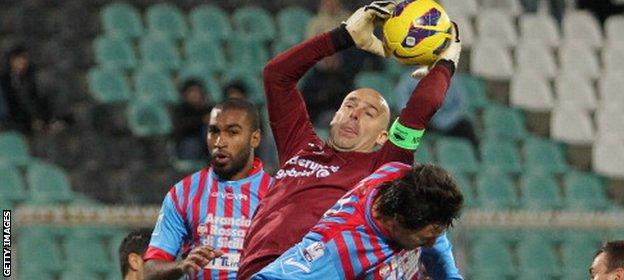 "I'm very jealous of my gloves, because they are fundamental for my job, so the night before the game I look at them, put them on, even talk to them. This might seem stupid, but it gives me confidence. I talk to my gloves, I tell them to do their job properly.
"Through them I imagine the game, the saves I'll have to make. This helps me stay focused and be confident."
He has to settle for a place on the bench these days but looking to the future he hopes to use his many years of experience by going into coaching.
So if this is his last season, has he got any regrets?
"Not having played a single minute in Serie A," he said.
"I played in all of Italy's lower divisions, and with Cittadella we almost made it to Serie A, when we qualified for the play off (they lost to Brescia in 2010).
"But at the end of the day, looking back, I wouldn't change anything. I'm a lucky person, I've always wanted to be a footballer and I've been a professional footballer for over 25 years now.
"I've had so much satisfaction both personally and with my teams, so I'm really happy about what I've achieved."
You can hear the interview with Andrea Pierobon on this week's World Football on BBC World Service radio.