Albert Ebosse: Hamza Bencherif pays tribute to former team-mate
Last updated on .From the section Football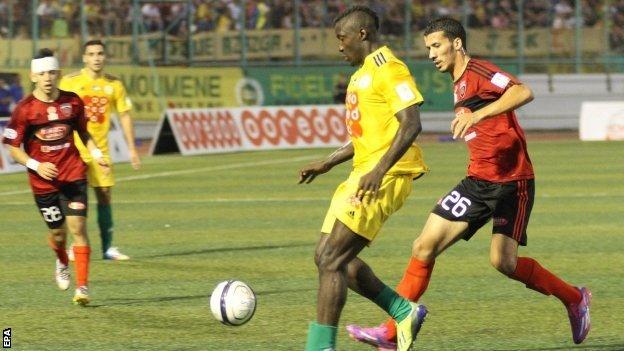 Lincoln City midfielder Hamza Bencherif has paid tribute to former team-mate Albert Ebosse who died after a game in Algeria last weekend.
Bencherif, 26, was a room-mate of the Cameroonian at Algerian side JS Kabyly.
Ebosse, 24, died after being hit on the head by a stone thrown from the crowd.
Speaking to BBC World Football's John Bennett, Bencherif said: "when you see someone that athletic, that happy to live, and to lose his life in such a tragic way, it's hard to believe."
The striker had scored in his side's 2-1 home defeat to USM Alger, and was leading goalscorer with 17 goals in the Algerian league in the 2013-14 season.
Bencherif added: "It's something that you can't believe.
"You've got to feel for his family because he was by himself in Algeria - far from his family, far from his girlfriend and his daughter - you can't lose your life for a game, especially that way."
Opponents USM Alger described the news of Ebosse's death as a "bombshell" and said it was "terrible" and "saddening".
The Algerian interior ministry has ordered an investigation.
You can listen to Hamza Bencherif talking to John Bennett or download the Sportshour Podcast. Sportshour is on the BBC World Service every Saturday at 09:00 GMT.