Sierra Leone move Afcon tie with DR Congo to Lubumbashi
By Mohamed Fajah Barrie
BBC Sport, Freetown
Last updated on .From the section Football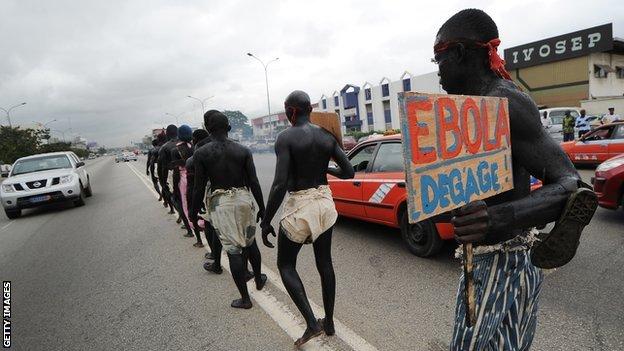 Sierra Leone are to host their 2015 Africa Cup of Nations qualifier against the Democratic Republic Of Congo in the Congolese city of Lubumbashi on 10 September.
The match, which was originally scheduled to take place in Freetown, was ordered to be played at a neutral venue by the Confederation of African Football (Caf) because of the Ebola outbreak in Sierra Leone.
The Sierre Leone FA (SLFA) had already suspended all football activities before Caf ordered the match to be relocated.
SLFA secretary general Christopher Kamara told BBC Sport he was grateful to DR Congo for their support.
"I'm pleased to state that we'll host DR Congo in their country in the city of Lubumbashi. We are thankful to DR Congo as we contacted them at the eleventh hour and they responded positively.
"But they gave us conditions - one of which is that all officials travelling from Sierra Leone must undergo tests for Ebola and then be certified as safe by the World Health Organisation."
Christopher Kamara added that other nations had also been contacted as potential hosts.
"We also approached other countries such as Ghana and Morocco but they never responded, so we are making use of what is available to us."
Meanwhile Kamara said the SLFA is insisting that their match with Ivory Coast must take place in Abidjan.
"As far as we are concerned, our match with Ivory Coast will take place in Abidjan on 6 September at 17:00 local time. We have not received any letter stating that the match will not go ahead as planned.
We have made plans for our players and officers to travel to Abidjan, and if in any case the Ivorian FA wants at this point in time to change the venue, we will not accept."
The Ivorian government has stated that it would not allow the match to go ahead leaving their football association with the options to relocate the game or forfeit it.
According to Caf regulations, once a venue has been announced and retained by both Caf and a visiting team, the organising association can only change the venue in consultation with the visiting team.
Already a 20-man squad made up entirely of overseas-based players has been named by Leone Stars coach Jonathan Mckinstry, who is currently in the UK for both the Ivory Coast and DR Congo matches.
Abdulai Bell-Baggie, of English league two side Tranmere Rovers, has been withdrawn from the squad due to injury and replaced by Sweden based Albert Kargbo.
Coach Mckinstry and the players will be travelling directly to Abidjan.