Marcos Rojo: Man United signing's debut held up by visa delay
Last updated on .From the section Football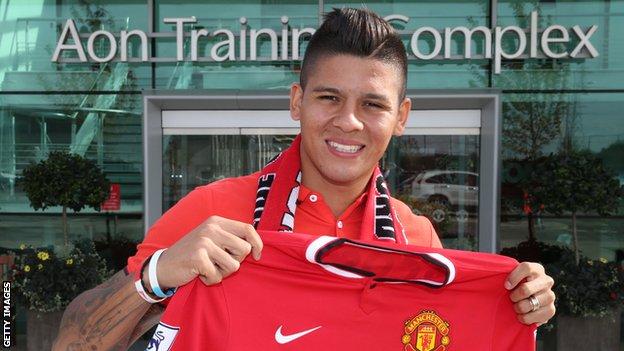 Marcos Rojo's Manchester United debut is being held up by claims of a row with a neighbour in Argentina in 2010.
However, United manager Louis van Gaal is confident Rojo will be in his squad for the Premier League match against QPR on 14 September.
It had been reported issues over third-party ownership were behind the delay.
But the Football Association has already issued his international transfer certificate and has no concerns over ownership issues.
Rojo entered the UK to complete his move to United on a tourist visa.
Immigration laws require that those entering the country to work do so with a working visa. Rojo is currently in Madrid awaiting an interview with embassy staff to secure the document. Officials will examine details of the alleged altercation with a neighbour in 2010 before issuing the working visa.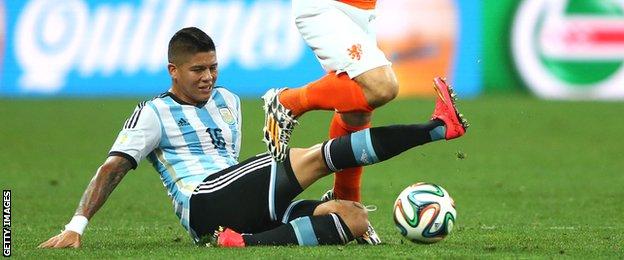 His lawyer, Fernando Burlando, told the BBC in Argentina his client had been indicted and was awaiting trial.
He said they expected to "resolve" the issue before the Argentina international, who played in the World Cup final, entered a plea.
However, he added that if Rojo were to be found guilty after a trial, the likelihood would be that he would be placed on probation and ordered to undertake community work, which would not have to be carried out in his homeland.
Burlando, famous for representing celebrity clients in Argentina, added that the pending case "will in no way affect Rojo's contract with Man United".
Since signing, Rojo has missed United's 1-1 Premier League draw at Sunderland,4-0 Capital One Cup defeat at MK Dons and 0-0 Premier League draw at Burnley.
The transfer window deadline is on Monday evening but, as the deal is done and a work permit secured, the player can be registered with the Premier League after it closes.
Before the Burnley match, Van Gaal said: "It's only a matter of time. I'm manager of the biggest club in the world, but I can't change the law."
Following the Turf Moor clash, he added: "I believe that when we play QPR he will have a [visa]."