SWPL: Glasgow City leave it late to defeat Celtic
Last updated on .From the section Football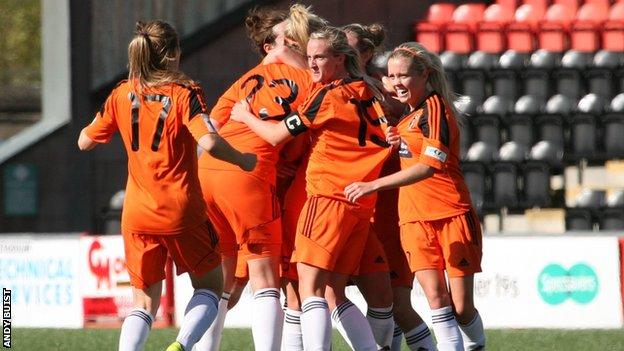 A 90 minute wonder goal by Glasgow City defender Eilish McSorley gave the champions a slim 1-0 win over Celtic at Airdrie's Excelsior Stadium.
The win extended City's lead at the top to 12 points with Rangers being held to a 1-1 draw away to Spartans.
Third place Hibernian were 2-1 winners away to Aberdeen.
Elsewhere there were home wins for Buchan and Hamilton Accies, while Inverness City won a five-goal thriller away to Hutchison Vale.
With August proving to be a tough month for Glasgow City, head coach Eddie Wolecki Black juggled his pack for the visit of Celtic.
It was a first half of few clear cut chances, but Scotland captain Gemma Fay who was the busiest of the two goalkeepers; denying Courtney Whyte and Denise O'Sullivan in particular.
Celtic's best moment came when a short headed back-pass from City was pounced upon by Abigail Harrison, but Niki Deiter did well to save twice from the young striker.
Leanne Crichton picked out a superb pass from McSorley only to be denied yards from goal by Fay, and O'Sullivan was close to finishing a few openings for the home side only to be thwarted on each occasion by the Celtic rear guard.
Abbi Grant also had a great chance in front of goal after being played in by Fiona Brown but she shot wide when perhaps she could have done better.
Celtic came close to opening the scoring through Emma Brownlie, but Deiter pulled off a fine stop to turn Brownlie's shot from the edge of the box round the post for a corner.
With full time approaching, McSorley collected the ball out on the left hand side, stepped forward and rifled a 40-yard strike into the top corner leaving Fay with no chance.
Commenting on the win, City boss Wolecki Black said: "There is no doubt we knew it was going to be a tough week, in fact it has been a tough month.
"We have had seven games as a club in August alone and if you add international games, most of our players are close to double figures. So we knew it would be difficult.
"I rotated the squad around to try and freshen things up and that was always going to affect the fluency of our play.
"It was a magnificent goal to win it. People sometimes question if City have lost the hunger and you only need to see the reaction from the players when that goal went in to see how much it means to everyone."
SWPL results:
Glasgow City 1 v 0 Celtic
Spartans 1 v 1 Rangers
Aberdeen 1 v 2 Hibernian
Buchan 2 v 1 Forfar Farmington
Hutchison Vale 2 v 3 Inverness City
Hamilton Accies 2 v 1 Queens Park