Euro 2016: Wales qualifier in Andorra will not be moved
Last updated on .From the section Football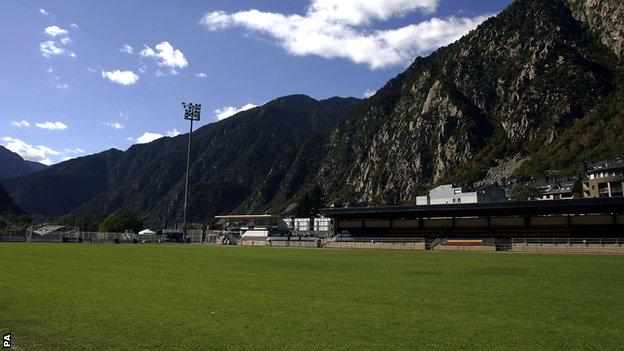 Wales' opening Euro 2016 qualifying match on 9 September will not be moved after the pitch in Andorra passed its latest inspection.
European football's governing body Uefa was unhappy with the pitch at Andorra's national stadium after previous tests showed the ball rolled too fast on the 3G artificial surface.
But the game was given the go-ahead on Wednesday.
It was feared the match would have to be played in another country.
The ground is the only venue in Andorra able to stage a Uefa game.
A switch of venue would have given Wales manager Chris Coleman and the Football Association of Wales less than a week to make arrangements for travel and accommodation.
Andorra, a small country in the Pyrenees with a population of fewer than 100,000, installed an artificial pitch as it is used by both rugby and football teams.
Laboratory and field tests were carried out on the new surface to see whether it was fit to play on.
The tests included durability, how the surface reacts to players' skin when sliding, how the ball rolls and bounces on the turf and how it absorbs the shock of a player hitting the floor when falling.
Midfielder Jonathan Williams said he is glad the issue has finally been resolved.
"We can now prepare for it and at least we know what we are playing on, so that's good," said the Crystal Palace player.
"Of course we'd like to play on grass.
"We trained at Cardiff this morning and it was great. The ball was zipping and it does make a difference when you play on a good pitch.
"Hopefully they'll water the 3G so it won't be bobbly and we'll have to see on the day."