Roy Hodgson's England team need to win their fans back

By Phil McNulty
Chief football writer
Last updated on .From the section Football1500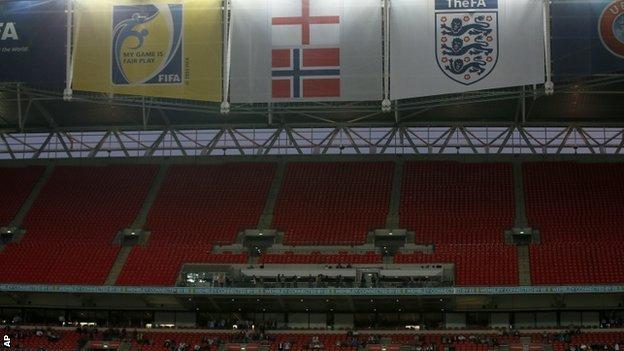 England achieved something at Wembley that escaped them during the World Cup in Brazil - they won.
It was unconvincing, uninspired and, perhaps most significantly, played out in front of an attendance that only just scraped above 40,000 against a Norway side that resides very much on world football's undercard.
The vast areas of red seats where supporters used to be was the sight of England's fans voting with their feet after the letdown of the World Cup and in sharp contrast to the packed houses that have been in vogue for years in the Premier League.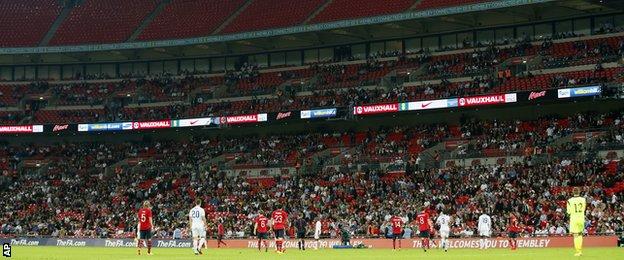 As preparation for the opening Euro 2016 qualifier against Switzerland in Basel on Monday, it served as little more than a morale-booster provided by the win.
It was a night that underlined England's current place in the nation's thoughts and why manager Roy Hodgson and his team cannot afford defeat when they take the first serious steps on the road to recovery when the Euro campaign begins.
So what were the main issues emerging from an England win achieved in a surreal and almost testimonial atmosphere inside a less than half full Wembley?
England need to win back their public
The Football Association's worst fears were realised by the embarrassing sight of thousands of empty seats in its £750m monument to the future of the game in this country - just 40,181 turning out to watch England's first match since a World Cup campaign that effectively expired after only two games.
England have lost much of the public's imagination and interest after Brazil and, almost as damagingly as anger, it appears apathy is the overriding emotion as their status as a second-tier football nation is seemingly accepted by their fans.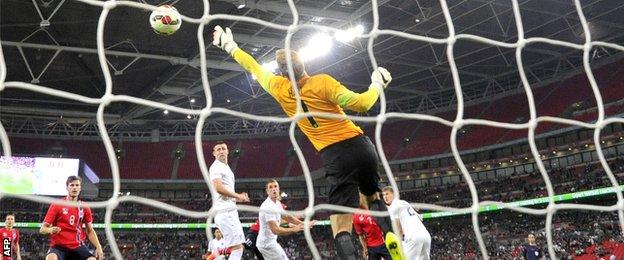 There may be mitigating circumstances, especially as Norway are not high-end opponents, but such a poor attendance is an accurate reflection of England's current standing in the national psyche.
Throughout a tepid evening, "ThingsBetterThanBeingAtWembleyRightNow" was a trending topic on Twitter - and certainly the evidence of those empty spaces suggested plenty had found more attractive alternatives.
An attempt to raise the atmosphere with a brass band playing Michael Jackson's "Thriller" outside Wembley's main entrance before kick-off smacked more of irony than entertainment given the low-key build up and the fare that followed.
The looming danger for the FA is that England's first Euro 2016 qualifier against Switzerland in Basel next Monday is their most dangerous fixture and the home games against San Marino, Slovenia, Estonia and Lithuania are hardly the sort to entice many more than turned out here on a balmy night.
England's group, Switzerland apart, is very favourable but without the sort of opponents that would allow the team and the FA to create a spark again. The days of a packed out Wembley, given the current position of the team, may be some time away and a match with only two shots on target did not get the pulses racing.
What a contrast to the packed houses guaranteed in the Premier League with the arrival of elite players such as Angel Di Maria and Radamel Falcao at Manchester United while one of England's brightest late performers - substitute Danny Welbeck - was effectively pushed out of the door of Old Trafford by their arrival.
Tom Cleverley was another England player who suffered the same fate. Premier League giants would love to fulfil FA chairman Greg Dyke's wish of producing homegrown players to bolster the national team - but Sir Alex Ferguson once described Manchester United as "the bus that waits for no-one". The likes of Welbeck, a fixture in England's squad, had to hop aboard another.
England's all-time leading goalscorers

Goals

Caps

Sir Bobby Charlton

49

106

Gary Lineker

48

80

Jimmy Greaves

44

57

Wayne Rooney

41

96

Michael Owen

40

89
The priority for fans is the Premier League, and Hodgson faces a tougher fight than ever to change that. It looks like a fight he will never win. The FA and England will know their place.
The poor attendance was also the FA picking up the price on the ticket of the World Cup failure and also for Wembley.
If ever there was a game that was a perfect fit for the days of not so long ago when England hit the road, this was it. Wembley, however, has to be paid for and the admission has been made that it will be eight or nine years before a choice other than the national stadium is on offer.
This was a sobering night for England and the FA. This was not how it was meant to be when Wembley was built and opened amid such fanfare but the early departure from Brazil and a Euro 2016 qualifying group that is free of anything approaching box office means they might have to get used to them.
Hodgson under pressure?
England's manager was in brusque form in his post-match briefing, particularly when it was pointed out - correctly it should be said - that his team had only had two shots on target against a decidedly average Norway side.
"Two shots on target? Don't give me that," was Hodgson's tetchy response.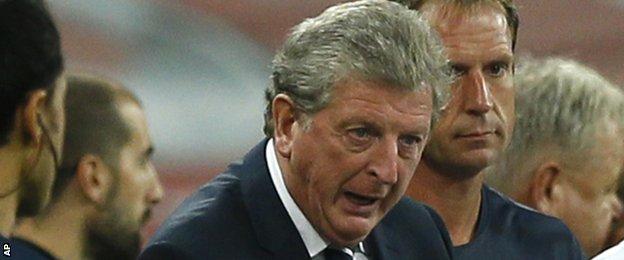 The apathy that has been draped around this England team in recent months was not just evident from Wednesday's attendance but also when they were applauded off by their supporters after a goalless draw against Costa Rica in Belo Horizonte in a meaningless third group game at the end of a winless World Cup campaign.
It was almost as if England's supporters had been hypnotised by a lack of expectation.
Hodgson, however, cannot afford any more slip-ups in the Euro 2016 group games and while there is not the slightest appetite for change at the FA (nor will there be change) the mood of the public could alter towards England's team and manager should they fail in Switzerland.
Given the scale of their failure in Brazil, England and Hodgson have been given a remarkably easy ride. There is the sense, though, that they are only one bad result away from seeing that reservoir of goodwill run dry.
Hodgson's Swiss dilemma
Hodgson has had change forced upon him by the retirement of two stalwarts in former captain Steven Gerrard and Frank Lampard - so the line-up against Norway was another new aspect of the post-World Cup era.
Former England winger Chris Waddle on BBC Radio 5 live
"I wasn't impressed with the 4-4-2 system but I liked Daniel Sturridge's movement although I thought Wayne Rooney was very quiet. Whether it was the pressure of the armband, he just didn't get in the game. Norway had no quality whatsoever and England caused their own problems with poor decision-making."
England started with Wayne Rooney and Daniel Sturridge up front with Henderson and Wilshere as the central midfield partnership. Raheem Sterling and Alex Oxlade-Chamberlain played in wide positions but with a licence to roam. It was a variation on 4-4-2 but the system was fluid.
Sterling, the man of the match, was particularly mobile but he looked even more effective at the tip of a diamond when a change in formation followed a spate of late substitutions.
This is surely where the Liverpool youngster is most effective and will give Hodgson food for thought ahead of the meeting with Switzerland on Monday.
England will face a tough examination from the Swiss and Sterling will be central to Hodgson's gameplan.
A lively display from Welbeck as a late substitute, in a week when he made a £16m move to Arsenal from Manchester United, will also put him firmly in Hodgson's thinking.
Captain Rooney needs to relax
Wayne Rooney's obvious pride and determination to succeed after being handed the England captain's armband following Gerrard's retirement was evident in the moments before kick-off when he visibly encouraged his team-mates.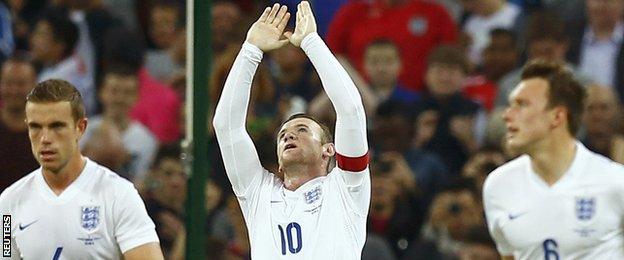 After that, however, he almost seemed to be trying too hard to make an instant impact - hardly a fault but something this fierce competitor will need to watch as he assumes such a heavy responsibility in an England team under reconstruction.
There was one pass at the end of the first half that flew wildly away from any intended target but he relished stepping up to hammer home the penalty that gave England the win and Rooney his 41st England goal, lifting him to fourth in the all-time rankings and only eight behind record holder Sir Bobby Charlton.
No matter what debate surrounds Rooney, and there invariably is at least one, Hodgson will count heavily on him in Switzerland.