Darren O'Dea: Ex-Celtic player leaves war-torn Ukraine behind

By Richard Wilson
BBC Scotland
Last updated on .From the section Football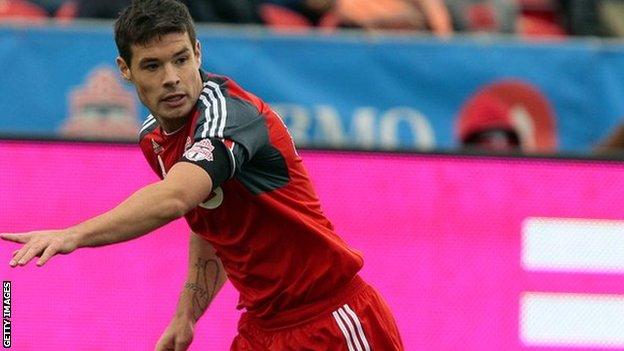 The unrest in Ukraine was never far from Darren O'Dea's life as he tried to progress his career in the country.
During the second half of last season, it was safer for him and the other foreign players at Metalurh Donetsk to live at the club's training ground, but when he moved back into the town it was to a place half a mile from the government buildings.
O'Dea, 27, knew which side held the upper hand in the conflict each day because either the Russian or the Ukrainian flag would be flying above the building when he drove past.
Football tried to retain its normal routines last season, but it became increasingly difficult. On one journey to a game in Crimea, the Metalurh team bus was stopped by pro-Russian troops who had claimed Crimea as Russian territory. Soldiers demanded that the foreign players must have visas to enter and a five-hour stand-off ensued.
At one stage, O'Dea and some team-mates wanted to use the toilet at a restaurant across the road, but disembarking the bus and walking away from it caused soldiers wearing balaclavas to become agitated and point their machine guns at them.

"They were going ballistic," O'Dea said. "A lot of people got involved and it was hostile and intense, but also surreal."
The bus was eventually allowed through, but the situation worsened over time. When the Metalurh players were due to return for pre-season training in the summer, they could not even travel to Donetsk because the air space was closed. Metalurh are now temporarily based in a town that is an hour outside Kiev, because Donetsk has become a war zone.
The Irish defender joined up with his team-mates for three weeks last month, having spent the summer doing injury rehabilitation in Scotland.
The unrest left him with no choice but to negotiate the end of his contract, despite it being lucrative and having two years left to run with the Ukrainian Premier League club.
"Things have escalated," O'Dea said. "Where the team is now based, you could call it a holiday resort, but it's not a place where you'd ever want to go on holiday. Donetsk is a no-go place at the moment.
"The town has been completely taken over by pro-Russian forces, so as far as I know our training ground has been taken over. Lads' cars have been taken off them, whatever was left there is now the soldiers'. They go into shops and take clothes and food as they please.
"I came to a decision because I can't see how things can get much better in the near future. Metalurh understood where I was coming from, that I can't live without my family, so we came to an agreement for me to leave. They wanted me to stay, but it was impossible. It's tough enough for me to live in Ukraine as it is, but to live in those conditions made it impossible.
"The best thing to come out of Ukraine for me was the financial side of it. I've taken a risk, because I had a two-year contract in front of me, but after I'd seen the conditions and having been there, it was never in my head to stay. There are more important things in life than a contract. I'm at a stage in my life where I'm looking to get back to normality, so things maybe worked out for the best."
It has been an itinerant career for O'Dea, who left Ireland at 16 to move to Celtic. That club remains the most stable environment of his time in the game, although the final years at the Scottish club brought loan spells at Reading, Ipswich and Leeds United. O'Dea might have moved to Ukraine when he left Celtic in 2012, but decided instead to join Toronto FC.
O'Dea had turned down the higher wages on offer in Ukraine, but money became an issue because Toronto wanted to reduce their wage bill to meet the Major League Soccer salary cap.
At one stage, O'Dea was the highest paid non-designated player in the league (each club can have designated players whose wage is not counted for the salary cap), so he took a second chance to move to Ukraine in 2013.
There were challenges to overcome, particularly culturally and socially, but O'Dea was eventually joined by his wife and daughter. It was only injury, and then the unrest, that disrupted his progress on the field.
"Donetsk is a very small city, so it was tough to live in," O'Dea said. "There wasn't much to do, but the people were the plus side to it. Once you get to know them they're lovely and very friendly. Once I got used to their way, I was absolutely fine, but did I enjoy living there? I'd be lying if I said I did. I enjoyed the football and loved the experience of it."

He added: "There were a lot of things that were difficult at the time, but it's made me a more rounded person and opened up my eyes to the world. It was a different type of football. There were a lot of Brazilians and it's a fantastic league in terms of standard, but things outside of football got involved and it became a place I couldn't live in any more."
O'Dea is still completing his injury rehab, with the help of the Celtic physios, and he will train with his former club while he regains fitness. As a free agent, he can join a club at any time.
At 27 he is on the verge of a critical period of his career. O'Dea has 20 caps for the Republic of Ireland, has won two titles with Celtic and played in Europe. He made his Celtic debut at 18, then four games later was playing at the home of Italian football, the San Siro, in a European tie.
"For the last five seasons I've had regular football, it's just that I've moved," O'Dea said. "I got offered a deal at Leeds - I was looking at houses down there, it was a three-year deal and they changed their mind. It was very strange.
"Then I went to Toronto, was made captain, it was a fantastic place to play, but the way my contract was built they had to change it to fit within the salary cap, so I decided it was better to move. Then it was Ukraine and a war kicks off. The next decision I take I won't rush into.
"If I can find the right club, for a long-term thing where I can settle down, that would be ideal. If it came to it, I'd be comfortable taking a short-term thing. I've been out of sight and out of mind in the UK, which can be an issue, but if I have to prove that again so be it, I'm hungry to do that."