Sheffield Wednesday: Hafiz Mammadov takeover breaks down
Last updated on .From the section Sheff Wed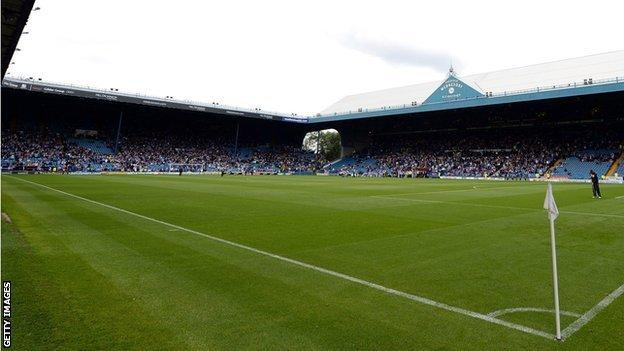 Azerbaijani businessman Hafiz Mammadov's proposed takeover of Championship club Sheffield Wednesday has broken down.
The Owls announced the change of ownership had gone through on 10 June, but chairman Milan Mandaric has confirmed the deal is no longer on.
"Our supporters were extremely excited when the takeover was announced," Mandaric told the club website.
"Like me they believed Mammadov offered a great opportunity for the club."
He added: "In hindsight my desire to please our supporters probably clouded my decision to grant further time for him to complete the process."
Sheffield Wednesday takeover timeline
14 December 2010: Milan Mandaric completes takeover of Sheffield Wednesday
9 June 2013: Mandaric announces Wednesday are losing £5m a year and that he is looking for a buyer to invest in the team
25 October 2013: Mandaric reveals no offer for Wednesday has been made despite reported interest from businessman Sammy Yu
3 June 2014: Azerbaijani businessman Hafiz Mammadov is reportedly close to completing a takeover deal for Wednesday
10 June 2014: Wednesday announce Mammadov completes his takeover of the club
4 September 2014: Mandaric reveals the proposed takeover by Mammadov has broken down
Mammadov, founder of the Baghlan Group, also owns Azerbaijan side FC Baku and French top-flight club Lens.
Former Portsmouth and Leicester owner Mandaric, who took over in December 2010, had been openly looking for someone to buy him out for some time, but always insisted he would only sell to someone who could invest in the team.
"Whilst I hope that Mammadov will very quickly overcome his difficulties in Azerbaijan, I cannot allow this continued speculation to continue."
Mandaric will now continue his three-and-a-half-year spell as Owls owner but will still be on the lookout for a potential investor.
"The club as always will attract people who are interested in acquiring a top English football club.
"I will explore every serious possibility and if I believe that there is someone who can accelerate our plans to return this club to the Premier League then I will do all in my power to welcome them to Sheffield."