Brazil v Colombia: Dunga faces tough challenge as new boss
Last updated on .From the section Football
International friendly: Brazil v Colombia
Venue:
Sun Life Stadium, Miami
Date:
Saturday 6 September
Kick-off:
02:00 BST
Tostao, a great player in the 1970 World Cup-winning team and the wisest voice in Brazil's football media, was baffled by the choice of Dunga to replace Luiz Felipe Scolari as coach of the Brazilian national team after the World Cup.
"It left me perplexed and surprised," he wrote. "I could not understand anything."
The reappointment of Dunga, World Cup-winning captain in 1994 who first coached Brazil between 2006 and 2010, was certainly a bolt from the blue.
Other, far more qualified candidates were available - especially the impressive Tite, who took Corinthians to victory over Chelsea in the 2012 Club World Cup. Why take a step backwards?
Many had assumed that Brazil's extraordinary 7-1 collapse against Germany in the World Cup semi-final would be the catalyst for a decisive move in the other direction, a thorough overhaul of the country's game.
The most likely explanation is that Dunga was chosen precisely in a bid to slow the bandwagon in favour of radical change.
There is far more to the 7-1 defeat than an unhappy 90 minutes in Belo Horizonte. Brazilian football is currently operating absurdly short of its potential. Organisation is chaotic, the domestic calendar a disgrace - it is clogged up with outdated competitions and meaningless games, so many that it cannot stop for dates allocated for international fixtures.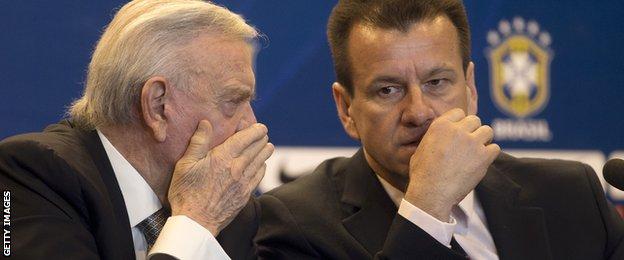 Power structures rarely change willingly. The boss of Brazil's football association (CBF), Jose Maria Marin, is an octogenarian with a background in far-right politics.
He clearly saw Dunga - with his calls for more commitment and patriotism - as a safe pair of hands. The new man was rushed into the job - appointed in mid-July even though Brazil do not have a competitive match until next June - in an apparent bid to switch the focus of the debate; trying to make people rally round the flag instead of dwelling on structural changes.
So far - before a ball has been kicked in Dunga's second spell in charge - this has been relatively successful.
Dunga was by no means a popular choice.
Apart from his previous time with Brazil, Dunga's only coaching experience was a mixed few months in charge of club side Internacional last year. Former great Zico, with widespread experience in Europe and Asia, said that Dunga's appointment showed a lack of respect for coaches who were prepared to put the hours in and learn their trade.
Who were the other contenders?
Former Corinthians boss
Tite
was the obvious contender to take over as Brazil boss and has revealed his frustration that the call never came. Sao Paulo coach
Muricy Ramalho
has his supporters, although he turned down the job four years ago. In the wake of the 7-1 thrashing by Germany, the idea of a foreign coach was bandied about with more force than ever before - but this is something CBF boss Marin is firmly against.
But from the day that Dunga named his first squad ahead of friendlies against Colombia this weekend and Ecuador in midweek, the level of criticism died down a little.
There is an easy trick here - call up a few domestically based players. Seven were included (along with 10 survivors from the World Cup), with the opportunity given to Everton Ribeiro, Cruzeiro's left-footed attacking midfielder proving especially popular. Some early victories will clearly strengthen Dunga's position.
In the wake of the World Cup humiliation, Brazil's planning has changed to place more emphasis on short-term results.
The original idea, championed by Alexandre Gallo - the head of Brazil's youth set-up, was to start the post-World Cup cycle with a mixed squad, half made up of established players, the other half under-21 players being groomed for the 2016 Olympics.
After the defeat by Germany, though, it was concluded that Brazil needed a quick injection of prestige, and so two entirely separate squads have been named - the under-21s are in the Middle East, where they beat Qatar 4-0 on Wednesday, and Dunga's men are in the United States for games against Colombia and Ecuador.
For public relation reasons, then, results are important. In strict footballing terms, however, they are less significant.
The remainder of this year, the first in the build-up to the World Cup in Russia in 2018, is the silly season for South American national teams.
The competitive cycle restarts next June with the Copa America in Chile - important both in itself and as a training ground for the next set of World Cup qualifiers, which get under way straight afterwards.
Until then most of the teams seem more concerned with making money.
Over the next few months, the South Americans will be making plenty of trips to the Far East, or playing each other in the US, as is the case with Brazil's matches against Colombia and Ecuador.
The life and times of Dunga
Full name:
Carlos Caetano Bledorn Verri (Dunga translates to "Dopey" in Portuguese. Nickname given to him by his uncle, apparently with reference to his height - Dunga is 5ft 9in).
Born:
31 October, 1963 (age 50) in Ijui, Brazil.
International playing career:
91 apps, six goals. Won the 1994 World Cup, the 1997 Confederations Cup, the Copa America in 1989 and 1997 and an Olympic silver medal in 1984.
Club career:
Internacional (1980-84, 1999-2000), Corinthians (1984-85), Santos (1985-87), Vasco da Gama (1987), Pisa (1987-88), Fiorentina (1988-92), Pescara (1992-93), Stuttgart (1993-95), Jubilo Iwata (1995-98).
Management career:
Brazil (2006-2010), Brazil Under-23 (2008), Internacional (2013), Brazil (2014 - ).
Colombia barely had time to call up their squad, since negotiations over a new contract for coach Jose Pekerman dragged on for so long. And Ecuador do not even see the need to appoint a new coach - for the moment, Sixto Vizuete is in charge on a caretaker basis, with a bigger name likely to step in next year.
The results of these fixtures, then, will tell us very little about Dunga's rebuilt Brazil. Far more important in the long term is the style of play.
Dunga's 2006-10 model Brazil were hardly for the purists. They could be brutally effective on the counter-attack (they could also be brutal), but against defensively resilient opponents they showed precious little flair and invention.
The most interesting aspect of the new squad was the lack of a target-man centre-forward, with no place for the much-maligned Fred or a player of his type. The new Brazil will strive to attack with more flexibility, but one problem of old does not seem to have been addressed.
In Dunga's first spell there was a glaring lack of creative midfield passing - a problem for Brazil in the last World Cup and an aspect in which the best teams around now excel.
In recent times Brazilian football has been looking very dated. Is Dunga really the man to reverse this trend?
Has he also learned to control his emotions? He has always been fuelled by anger; Dunga is the World Cup-winning captain who transformed the act of holding aloft the trophy from an act of celebration to one of revenge - as after the 1994 final when he came out with a volley of abuse aimed at those who had doubted the side.
Such an approach can be an asset in a player, even a captain. But it is a problem in a coach. During the World Cup in South Africa in 2010, Dunga gave clear signs of being emotionally way out of his depth - clearly a factor, along with their passing deficiencies, in their second-half collapse in the quarter-final against the Netherlands.
In one post-match news conference, he developed an inexplicable grudge against one of the most popular members of the Brazilian media. Dunga spent the rest of the conference muttering and swearing underneath his breath. And in the fateful match against the Dutch, he spent much of his time walloping the dugout in frustration.
Indeed, he still seems to believe Brazil were beaten as a result of refereeing mistakes rather than his team's deficiencies.
It would be easy, then, to see coach Dunga as part of the problem of Brazilian football, and not its solution.
As a player, though, he has demonstrated a capacity to evolve.
In the 1990 World Cup he was a limited holding midfielder. Four years later, by sheer force of dedication, he had turned himself into an all-rounder, with a fine range of passing.
Perhaps Dunga the coach will prove capable of something similar - though he will need to show remarkable progress if he is to recapture Brazil's place in the hearts and minds of fans all over the world.