Blackpool: Bart De Roover claims he worked unpaid
Last updated on .From the section Blackpool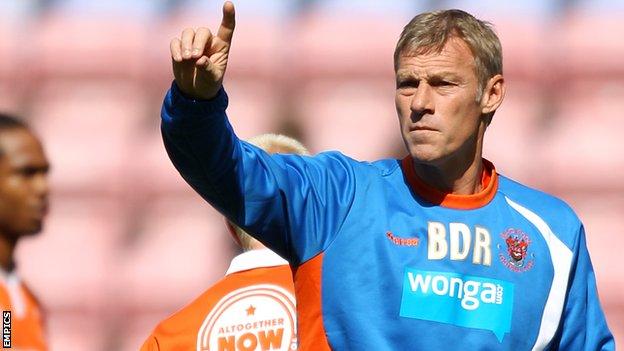 Former assistant manager Bart De Roover has claimed Blackpool failed to produce a contract for him to sign, prompting him to leave the Championship club.
The 47-year-old former Royal Antwerp boss moved to Bloomfield Road in the summer, but was never officially announced as Jose Riga's number two.
Asked by BBC Radio Lancashire whether he had been paid, De Roover said: "No. I didn't have a contract so I left."
Blackpool have said they will release a statement in response.
Belgian De Roover continued: "September was my deadline. I think that is big loyalty to Blackpool.
"I stayed for the fans, out of respect for the players and especially for Jose Riga who is not only a big gaffer, a good trainer and coach, but a good person and character.
"Jose is working like a real professional. I couldn't take any more really, for me it was enough."
Blackpool's losing start to the season
Aug 9: 2-0 v Nottingham Forest (A)
Aug 12: 1-0 v Shrewsbury Town (A) League Cup first round
Aug 16: 2-1 v Blackburn (H)
Aug 19: 2-1 v Brentford (H)
Aug 23: 1-0 v Wigan (A)
Aug 30: 2-1 v Millwall (A)
Blackpool sit bottom of the Championship table after five league matches, without a point, and were also knocked out of the Capital One Cup by League Two Shrewsbury Town in August.
De Roover said the contract situation was only one of three major concerns, with preparations stunted by the quality of their training facilities and a late influx of players.
Blackpool have had a hectic start to the season, with only nine players eligible on the morning of their match at Nottingham Forest.
With only eight professionals under contract two weeks before their trip to the City ground, the Seasiders signed 12 players in 12 days and eventually managed to name four substitutes for the season-opening defeat.
"For the first league game we were looking for players to put on the bench. Come on, are we are working for a professional club?" said De Roover.
"Don't blame the group at the moment, they are not totally ready, they don't know each other and are not connected yet.
"Normally you need six weeks to prepare. Why do most professional clubs start at end of June or first week of July? To have some preparation.
"We didn't have any preparation so you start your preparation now, but the competition is already five competition games old."