Scotland v Germany: The night Scotland beat the world champions

By Tom English
BBC Scotland
Last updated on .From the section Football295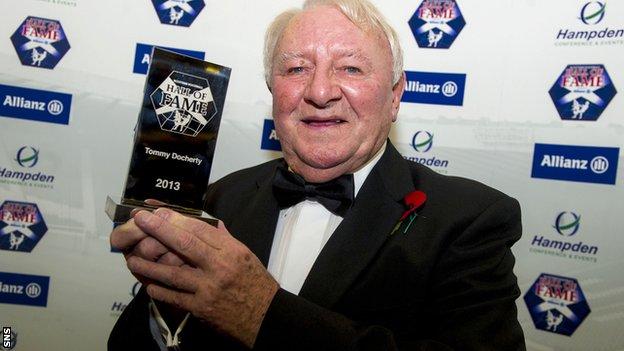 The way Gair Henderson told it in the Glasgow Evening Times, the West Germans weren't happy that May week in 1957, not happy at all.
Henderson was the newspaper's football correspondent, their man on the spot in Stuttgart in the build-up to Scotland's first international match in Germany, in a stadium that began life in 1933 as the Adolf Hitler Kampfbahn but was now simply known as the Neckarstadion.
Upon landing in the city, Henderson took a stroll, ending up in a cafe talking football with the locals.
"The moment they discovered that I was from Scotland they gathered round the table in a rush," he wrote.
Henderson explained to his new friends that the Scots were unlikely to field their strongest side in the friendly, given that they had a critical World Cup qualifier against Spain only five days later.
His audience didn't take it well. "Half a dozen tickets, with prices varying from £2 down to three shillings, were brandished in my face. 'Ve are der Vorld Champions' they said. 'It is not fair for Schottland to play reserves against us," Henderson continued.

But 57 seven years on, the scene is a comedic one as Scotland open their Euro 2016 qualification campaign in Germany
Now, as then, Germany are champions of the world, but that's about the extent of the comparisons between the eras.
No German football fan is going to hang on the word of a Scottish journalist this week in Dortmund. No German football fan is going to be bothered about who is in or out of Gordon Strachan's team. And no German football fan, barring a miracle to end all footballing miracles, is going to see their team soundly beaten by the Scots, as they had to all those years ago.
The Scots won at a canter in 1957. Bobby Collins of Celtic scored the first after 21 minutes and the third after 55. John 'Jackie' Mudie of Blackpool got the one in between. They were 3-0 ahead and coasting before the Germans got into the game and scored. Far too little, far too late. It ended 3-1 and the home team exited against a backdrop of vitriol.
Collins and Mudie are no longer with us. Indeed most of that team have passed away. There are only a couple still alive and there's no better place to start in the telling of this story than with the captain, Tommy Docherty.
He was 29-years-old back then and he's 86 years young now. He has a million memories of a long football life and yet 1957 is still as fresh as can be.
He talks about the match like it only just happened. The underdog spirit. The noise in the stadium. The sense of pride he felt when he walked off the pitch at the end.
"We weren't expected to turn up, never mind to win," he said. "All the papers were saying we'd no chance, not a prayer against the world champions. We'd played against Switzerland the previous weekend and we'd won, but we didn't play great and we got a real kicking in the media.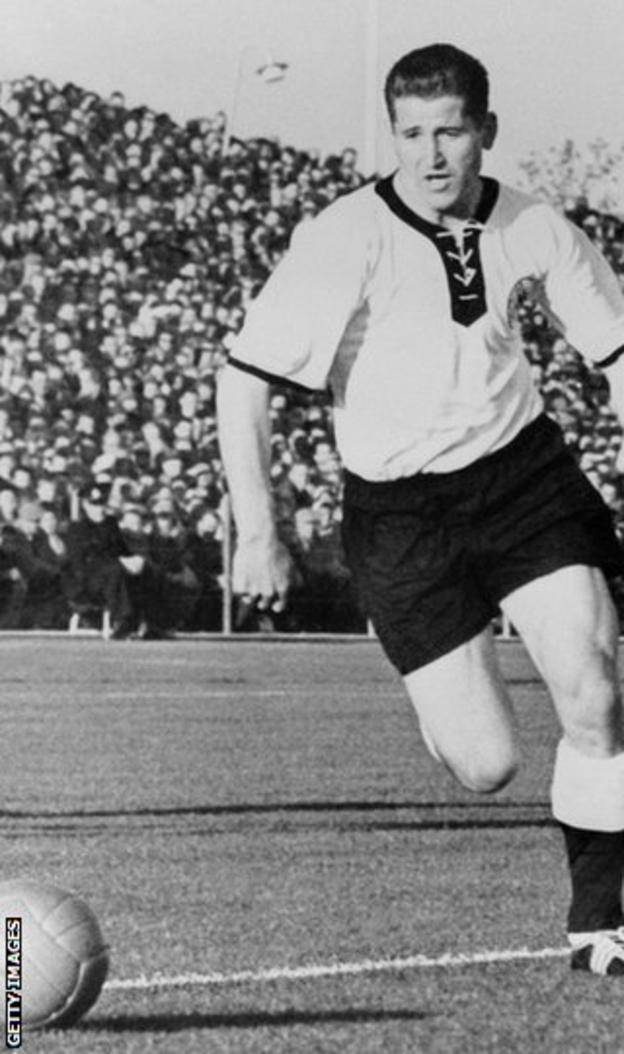 "So nobody thought we'd beat West Germany. I was made captain that night. It was the greatest honour you could get but, you took the ball out and tossed the coin and that was it. We didn't even have a manager. We had a sponge man who gave us a bit of a chat. 'Tommy, take that Helmut Rahn out of the game'. 'What, today or forever?' We knew we were good, though. That was a nice Scottish team."
Three years into their reign as world champions, the country was still in thrall to the national team even though it had changed profoundly since their heroics in Switzerland.
They were a side in transition. Five of the World Cup-winning team had left the international football stage and five others were unavailable.
Rahn, the colossus who scored the goal that overcame the Hungarians in the Miracle of Bern in 1954, was the lone World Cup winner in the team that night in Stuttgart, the rest of the side forming the nucleus of the team that made the semi-finals in 1958 - Hans Tilkowski, Erich Juskowiak, Georg Stollenwerk and Horst Szymaniak.
Respected players. Winners. Too good for Scotland, that was the feeling.
"They were a fine side," says Docherty, also known as The Doc. "Rough or smooth, whatever way you wanted it they would accommodate you. But there was nothing wrong with our team. I could name it for you now.
"Tommy Younger in goal. Bulky. A big strong man. The original football Dracula, never liked crosses. I used to say to him, 'Tommy, you're like the crocuses, you come out once a year'. Made some great saves that night, as I recall.
"We had Eric Caldow, Glasgow Rangers, an over-lapping full-back, a very elegant player. And John Hewie from Charlton. Born and bred in South Africa but when he put a blue shirt over his head he was all Scottish. Ian McColl from Rangers. Good tackler, a long-striding player, a lovely passer of the ball. Bobby Evans from Celtic. Ran for a year, did Bobby. A Rolls Royce engine, switch him on and he was away.
"Who else was there? Aye, Alex Scott, Glasgow Rangers, a good winger, a terrific crosser of the ball. Wee Bobby Collins. We called him Lester after Lester Piggott. He should have been a jockey instead of a football player. He was a hard little bugger. Hard tackler, quick over short distances and a ferocious shot in his right foot. Scored two that night. A brilliant player.
"You see, this was where we got the confidence from. If you've got the likes of Bobby Collins in your team then you're not in bad shape. We had Jackie Mudie, a great little goalscorer, very elusive. Sammy Baird from Celtic was in there. In later years, we called him The Manuel. There was a serial killer in Glasgow called Peter Manuel in the late 1950s and that's how Sammy got his name. Sammy would kick everybody. Never mind the ball. He just whacked you.
"We had Tommy Ring, an old-fashioned left-winger. Played for Clyde at the time and went to Everton after that. Good player. And then there was me. Oh aye. Sublime. A very talented wing-half. I had to watch Rahn. And he ran, by the way. He ran and ran every time I went near him."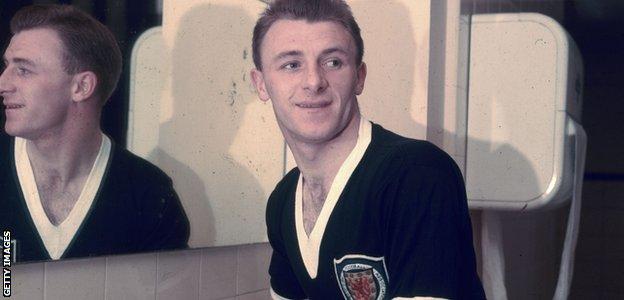 The difference in eras didn't just begin and end with the football. The reporting was stark, too. Amid the plaudits of beating the Germans there was an unmistakeable disapproval of their inability to turn three goals into four, five and six. Such were the standards of the day.
The Scots were criticised in the Glasgow Herald for their "easy osie" attitude when leading 3-0. The Express took a similar line. "Confident in their lead and with the wind in their favour, they started the second half in exhibition mood. They lost touch and rhythm by over-elaboration."
The Evening Times went further. "There is no doubt that the selectors sitting in the president's box at the stadium were squirming in their seats for quite a long time during that second half," it reported.
Docherty laughs at the memory of it. Getting some stick for only winning 3-1 in Germany. How times have changed.
"I don't know if I'll watch it at the weekend," he says of the game in Dortmund on Sunday.
"Football as I remember it is dead. The money killed it. But I wish the boys well. It'll be a great occasion for them. Funny, isn't it? World champions then and world champions now. We'd take 3-1 again, wouldn't we? We'd definitely take it."
Germany v Scotland, Euro 2016 Qualifying
Venue:
Signal Iduna Park, Dortmund
Date:
Sunday, 7 September
Kick-off:
19:45 BST
Coverage:
Live text commentary on the BBC Sport website and live commentary on BBC Radio Scotland.