Russia 2018: World Cup boycott an empty gesture, says Caborn
Last updated on .From the section Football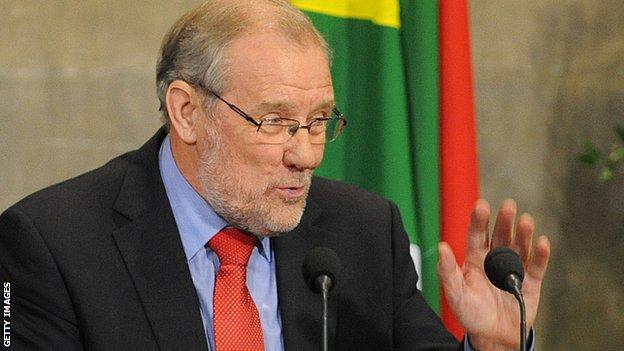 Former Sports Minister Richard Caborn says it would be an empty gesture to boycott the 2018 World Cup in Russia.
Caborn highlighted the 1980 Moscow Olympics when the United States were absent but a British team competed.
"You'll end up having the world split down the middle, and that is the worst of all worlds," said the 70-year-old.
"No one condones what is going on in Ukraine but it would be merely empty-gesture politics from those that did boycott the World Cup."

Caborn, minister for sport between 2001 and 2007, was a leading voice in the sporting boycott of South Africa during apartheid but believes similar action against Russia would be ineffective.
"Politicians often think they can institute a boycott but that can end up as being a show of weakness, not of strength," he added.
"The sporting boycott of South Africa worked because there was a total consensus between sports and politicians - but there is not over Russia."
Fifa president Sepp Blatter has said that the world governing body will not move the 2018 World Cup.
Sporting boycott of apartheid in South Africa
Suspended from Fifa in 1963
South Africa did not compete at the Olympic Games between 1964 and 1988 and were expelled by the International Olympic Committee in 1970
England cricket tour in 1968 was called off after SA refused to admit mixed race all-rounder Basil D'Oliveira into the country
Rugby Union tours to SA continued into the 1980s but they were barred from the 1987 and 1991 World Cups