James McFadden: Free agent holds out for offer from 'right club'
Last updated on .From the section Football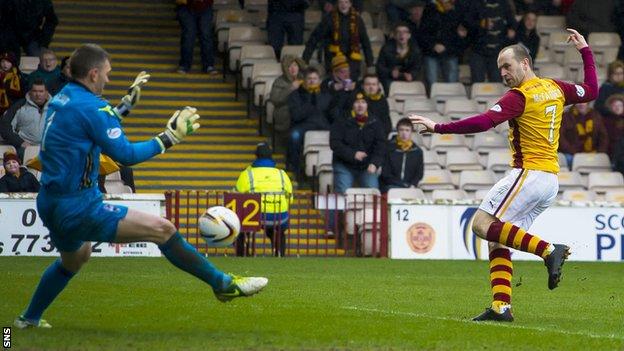 Scottish forward James McFadden is "waiting for the right offer" as he seeks a return to football.
"I'm still on the look-out for a club and keeping myself fit," said McFadden, who has 48 Scotland caps.
"There's definitely a lot more football left in me and if I'm ever asked then I'm ready."
James McFadden's clubs

2000-04: Motherwell, 32 goals

2004-08: Everton, 22 goals

2008-11: Birmingham City, 10 goals

2011-12: Everton, 0 goals
2012-13: Sunderland, 0 goals

2013-14: Motherwell, 10 goals
McFadden revealed he has had offers from home and abroad.
"I've had a few offers here, there and everywhere," he explained on BBC Radio Scotland's Sportsound programme.
"I'm just kind of weighing them up and seeing what the best one is for myself football-wise but also my family as well, I've got to take them into consideration.
"I've spoken to a couple of teams in Scotland. For one reason or another, it's not been the right thing for me. I'll keep my options open and hopefully make my decision soon.
"Most of the offers have been from abroad but they've not excited me too much and I'm quite indecisive so I'm holding off for something that will excite me.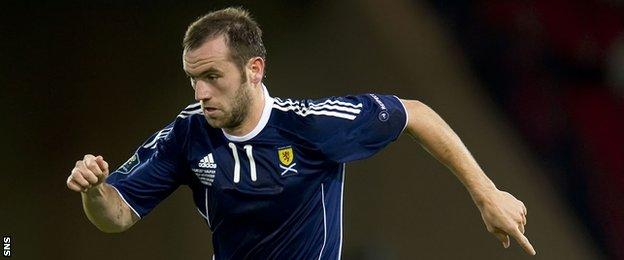 "I'm going to have to get back playing. I miss playing. I'm training away and I feel really good so the sooner I get back playing the better but I don't want to rush in to something that I might regret."
Although McFadden enjoyed his second spell at Fir Park, he felt the summer was "probably the right time to move on".
He last featured for Scotland in 2010 and has scored 15 goals for the national team.
And, when asked if he could see himself returning to the international fold, McFadden replied: "First and foremost, I need to get a club and then I need to play to the level that I can play, consistently.
"I feel fit, strong and ready to go and if I can get a good run of games, as long as I'm playing the way that I can play then you never know.
"I'll just have to take it one step at a time."