Jack Wilshere welcomes Robbie Savage's 'constructive criticism'
Last updated on .From the section Football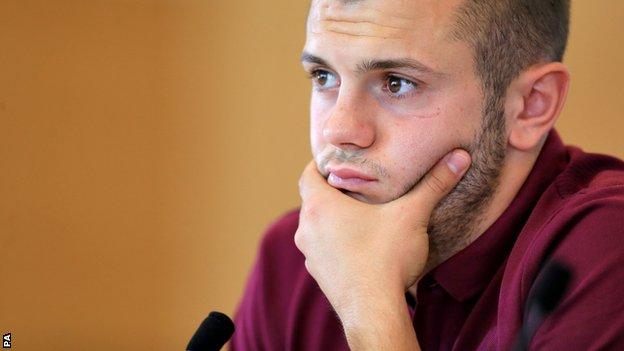 Arsenal and England midfielder Jack Wilshere believes Robbie Savage is the first former footballer to offer him constructive criticism.
Wilshere has been publically criticised by former England players Paul Scholes and Jamie Redknapp in recent seasons.
But Savage backed the 22-year-old on Match of the Day, saying that he needed a run of games to rediscover some form.
"I heard what Robbie Savage said and that was constructive criticism," said Wilshere. "I respected that."
When asked if it hurt more to receive criticism from ex-players as opposed to members of the media, Wilshere replied: "It doesn't hurt me as much. It probably disappoints me a little bit more.
"It's easy to go on TV and say: 'He's got to do this or that', 'If he's not fit he's not in the starting line-up and he's got to get fitter'. That's the easy way out.
"I'll take criticism. I know that's part and parcel of football. But when it's just reckless and aggressive, I don't listen."
Last month, former Liverpool and Tottenham midfielder and now Sky Sports pundit Redknapp accused Wilshere of not performing, saying he had to improve if he wanted to stake a claim in the Arsenal midfield.
And last season, ex-Manchester United player Scholes voiced the opinion that Wilshere had not improved since first emerging onto the Premier League scene five seasons ago, which prompted the Arsenal player to contact his critic for an explanation.
This summer, Wilshere came in for further criticism when he was pictured smoking during a holiday in Las Vegas, something the player admitted was "unacceptable".
"If I smoked 20 a day and scored 20 a season, it wouldn't be a problem," claimed Wilshere.
"I don't smoke. I've been caught a couple of times. But I'm not a regular smoker. I've said that before, and whether you believe me or not is down to you.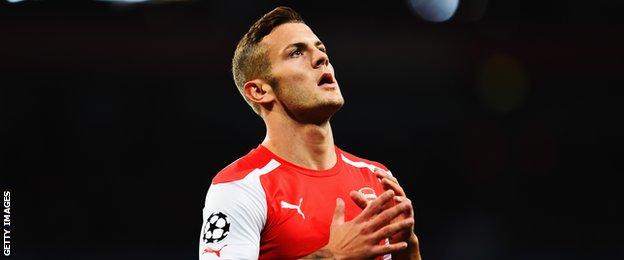 "I'm not reckless. I have two kids. I don't want them growing up thinking: 'Look at Daddy, he goes out all the time. He smokes.' I'm not one of them. It's under control. I have a good family around me and it won't be a problem."
Wilshere, who has started four games for Arsenal this season and was selected for England's friendly against Norway on Wednesday, admits he has found the responsibility of being a role model difficult in the past but says it is now something he prepared to accept.
"The only way you learn from your mistakes is by growing up, accepting they are mistakes and learning from them, and listening to the people around you who can help you," he added.