Ebola: Sierra Leone captain Kei Kamara reveals impact of outbreak
By Steve Crossman
BBC Sport
Last updated on .From the section Football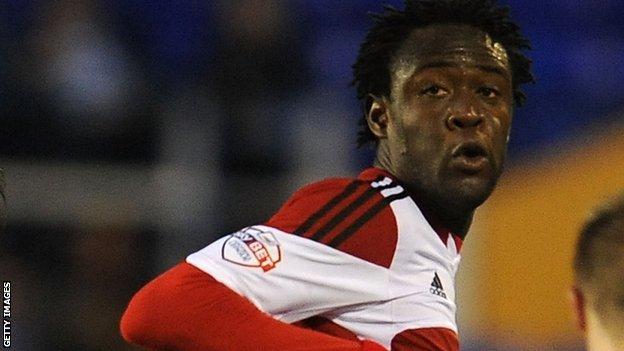 Sierra Leone captain Kei Kamara has likened the devastation caused by the Ebola outbreak in his country to "a sci-fi zombie movie".
Nearly 500 people have died in his country alone from Ebola, while another 1,600 people have perished from the virus in other West African nations.
"I was there when it broke out," the former Premier League striker told BBC World Service's Sportsworld programme.
"People didn't take it that seriously at the time - it's too late now."
The virus spreads between humans by direct contact with infected blood, bodily fluids or organs, or indirectly through contact with contaminated environments.
Symptoms include high fever, bleeding and central nervous system damage
Spread by body fluids, such as blood and saliva
Fatality rate can reach 90% - but current outbreak has mortality rate of about 55%
Incubation period is two to 21 days
There is no proven vaccine or cure
Supportive care such as rehydrating patients who have diarrhoea and vomiting can help recovery
Fruit bats, a delicacy for some West Africans, are considered to be virus's natural host
Kamara, 30, grew up in a town not far from where Ebola first struck in the country and, although personally he does not know anyone who has died from it, he is well aware of its destructive impact.
"I know seven of the nurses in the hospital where I was born have passed away from helping Ebola patients," he said. "It's a sad story and we just hope that more help will come."
Kamara played in the Premier League with Norwich City and was on the books at Middlesbrough before being released last month.
His international career is continuing but he has found that Ebola is also having a significant effect on that.
"It's really hard," he said. "The last game we were supposed to play I was the only one who arrived in the Seychelles, the rest of the squad were stopped from travelling."
Seychelles decided they would rather forfeit the match - and with it any chance of playing in the Africa Cup of Nations - than risk facing Sierra Leone.
Kei Kamara profile
Age: 30
Joined Norwich in January 2013 and scored one goal in 11 league appearances
After a brief stint in the MLS with Kansas City, he spent last season at Middlesbrough, starting 16 league games and scoring four goals
Until recently several Ebola-affected countries did not know if they would be allowed to continue their qualifying campaigns.
World Health Organization certificates for the coaches and a squad assembled entirely from European-based players were both factors in allowing Sierra Leone's match in the Ivory Coast to go ahead, but Kamara knows even that has not entirely satisfied everyone.
"At the moment we're in Ivory Coast and when we say we're from Sierra Leone all they can say is Ebola," he added.
"People are staying away from us, even though we live in Europe and play there. When we say where we're from they are scared to be close to us."
Now at the group stage of qualification, Sierra Leone will play their "home" matches in the Democratic Republic of Congo.
"We are supposed to be at home," Kamara said. "We didn't know if CAF (Confederation of African Football) was going to suspend us.
"We don't want to withdraw. We've been working for years to make people not think only about civil war when they think about Sierra Leone."
Download the latest episode of the BBC World Service's Sportsworld programme.