Gibraltar face Poland in their competitive European debut
Last updated on .From the section Football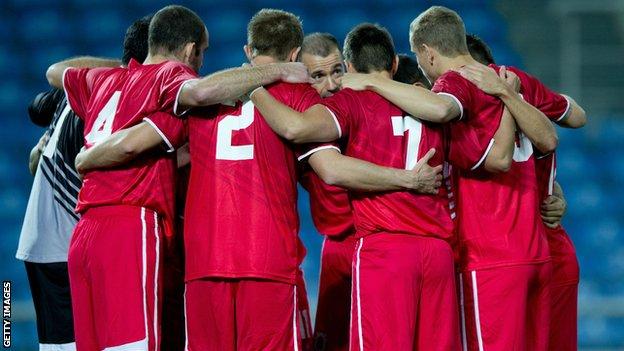 Gibraltar captain Roy Chipolina says he is "living the dream" as his side prepare for their competitive debut against Poland in a Euro 2016 qualifier tonight (Sunday).
Uefa's newest member, with a population of around 30,000, is made up largely of amateur players.
But defender Chipolina said: "Any game I play for Gibraltar is extra special.
"If anyone told me two years ago I'd be facing Robert Lewandowski I'd have told them they were mad."
Gibraltar's Euro 2016 qualifiers
Poland (h) Sunday, 7 September 2014; (h) 7 September 2015
Rep of Ireland (a) 11 October 2014; (h) 4 September 2015
Georgia (h) 14 October 2014; (a) 8 October 2015
Germany (a) 14 November 2014; (h) 13 June 2015
Scotland (a) 29 March 2015; (h) 11 October 2015
The minnows face a massive challenge to qualify from Group D after being drawn alongside World Cup winners Germany, Republic of Ireland, Scotland, Georgia and Poland.
Having beaten Malta in June for their first win since being accepted by Uefa, Gibraltar coach Allen Bula insists his side will give a good account of themselves.
"Obviously we will be defending tactically but there is a gameplan in place," he said.
"My players give that extra by playing with the heart. Sometimes when you play with the heart you can achieve many things.
"The Polish team, on a good day they can beat any team, on a bad day they can lose many points. Our aim is the play-offs."
Gibraltar were admitted to Uefa in May 2013, following a 14-year battle during which they faced fierce opposition from Spain.
Long-running political tension over sovereignty means they cannot play in neighbouring Spain and will hold their home matches in the Portuguese town of Faro until their new stadium is completed.
The Gibraltar squad includes Farsley striker Adam Priestley and Preston defender Scott Wiseman.