Nigeria avoid a global football ban from Fifa
By Oluwashina Okeleji
BBC Sport, Lagos
Last updated on .From the section Football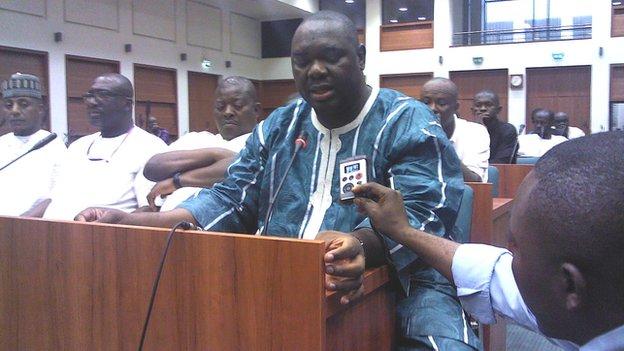 Fifa has confirmed that African champions Nigeria have avoided a ban from global football.
The threat of suspension was lifted after Aminu Maigari was allowed to continue as president of the Nigeria Football Federation (NFF).
His position has been questioned by Chris Giwa, whose election last month Fifa refused to recognise.
"Conditions in our correspondence of 3 September have been complied with and the NFF is not suspended," said Fifa.
However, Fifa warned that further complications in holding elections will lead to a ban.
Did you know?
Nigeria's shock 3-2 loss to Congo in Calabar on Saturday in 2015 Africa Cup of Nations qualifying was their first competitive loss at home for 33 years. They lost the 2000 Africa Cup of Nations final to Cameroon in Lagos but that was on penalties.
Maigari's main task now is to plan for elections to be held as soon as possible for the NFF presidency and board members.
"We inform you that should the electoral process be affected by any interference or mishap, the case will be referred again - and without prior notice or warning - to the appropriate Fifa bodies for immediate suspension of the NFF until the next Fifa Congress," the letter stated.
Fifa's next congress is in May 2015.
Giwa had claimed to have been elected NFF president on 26 August but Fifa did not recognise him and gave him a deadline of Monday morning for him to step aside.
He failed to appear at the NFF offices on Monday and a case has been taken to the Court of Arbitration for Sport on behalf of Giwa's committee.
A Fifa suspension could have led to Nigeria missing Wednesday's Africa Cup of Nations qualifier in South Africa.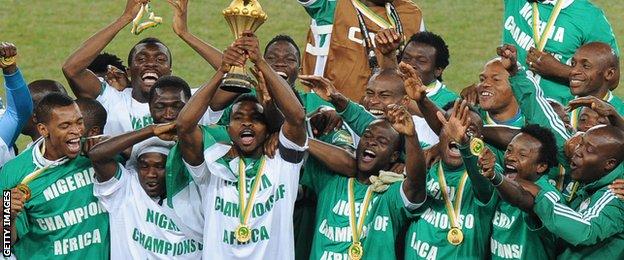 The Confederation of African Football said last week that the Super Eagles would be kicked out of the 2015 qualifying campaign if they failed to play the fixture.
The first person back into the NFF headquarters in Abuja to resume his duties was general secretary Musa Amadu resumed work at the federation's offices in Abuja on Monday.
"It has been a difficult time for our football but everything is over now," Musa Amadu told BBC Sport on Monday.
"Our attention should shift towards moving our football forward because the country's football has gone through a tough period.
"The next step is to have an extra-ordinary assembly that will set a date for elections for the new executive committee.
"It is important to emphasise that this will not happen beyond 25 September, as directed by Fifa."
Nigeria were banned from global football for nine days in July for government interference in the running of the football federation when Maigari was forced out of his post by a court ruling.
After his reinstatement, he was voted out of office by the NFF's executive committee a few days later. However, Fifa did not accept this and Maigari was once again back as president in August.