Danny Hylton: Oxford United boss Appleton surprised by forward
Last updated on .From the section Football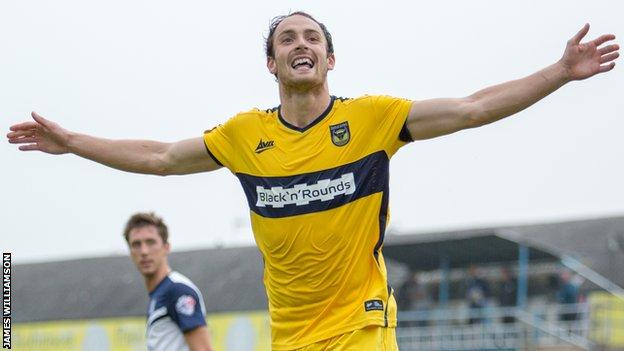 Oxford United manager Michael Appleton says he has been surprised by Danny Hylton after the forward scored another crucial goal for the club.
Hylton, 25, joined Oxford in June and has netted six goals in nine games, including against Southend on Saturday.
Oxford, who are still without a league win this season, were trailing to Southend before Hylton's penalty.
"He took responsibility and that's what I found most impressive," Appleton told BBC Radio Oxford.
"He was a talisman for us and stepped up to the plate. Everyone took belief from that."
Hylton's career record
Aldershot 2006-2013: 209 appearances, 48 goals
Rotherham 2013-2014: 2 appearances, 0 goals
Bury 2013-14 loan: 9 appearances, 2 goals
AFC Wimbledon 2014 loan: 17 appearances, 3 games
Oxford 2014-present: 9 appearances, 6 goals
When asked if the former AFC Wimbledon striker's willingness to shoulder the responsibility had surprised him, the Oxford boss replied: "Massively and I told him that. I will look you in the white of your eye and be honest. He has surprised me in a good way and he has really responded to that."
Appleton revealed he gave his players a rollicking at half-time after a poor start to the game.
"It shouldn't need me to lose my temper for the players to put in a performance," he said, "It's the first time I've lost my patience with the players. The second half was as good a half I've seen while being at the football club.
"I have a philosophy and I want to change the DNA and culture of the football club. It might take longer than we want, I hope the fans will stay patient as it will be good to watch."
The U's lost midfielder Michael Collins before the game because his child was ill and Appleton is also expecting to dip into the loan market after a couple of injuries.
"Losing Michael Collins wasn't great, but puts everything into perspective from my point of view especially having kids," he added.