Scotland can take heart from second half against Germany

By Alasdair Lamont
Senior football reporter, BBC Scotland
Last updated on .From the section Football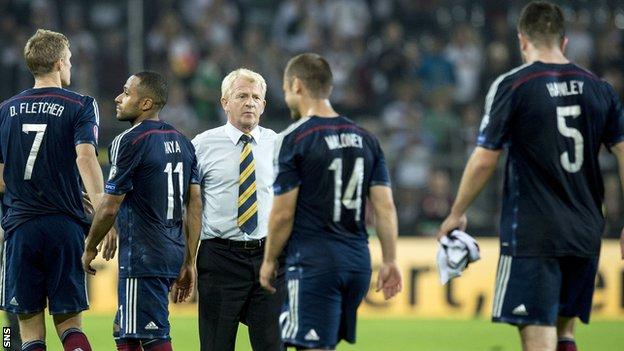 As a gauge of how a team has performed or how a match has gone, the post-match "mixed zone" and the number of players willing to stop and speak to the media provides a pretty accurate measure.
Waiting journalists can often be frustrated in the wake of a defeat by players' unwillingness to discuss why the desired result wasn't achieved.
Equally, a positive outcome generally makes for more plentiful post-match material for supporters to watch and read the following day.
So when practically every Scotland player involved in the 2-1 defeat by Germany stopped to share their thoughts in the depths of the Signal Iduna Park on Sunday night, one sensed that despite the loss, there was little despondency emerging from the visitors' dressing room.
And nor should there be, save for a sense that the pride in a vastly improved second-half performance could genuinely have been supplemented by a point or - as Gordon Strachan believed - even three.
It was in that second period - probably as a result of some half-time words of wisdom from the manager - that the Scots showed the type of self-belief and positivity that has come to be a trademark of their play under Strachan.

It was strangely lacking in the first half.
The Scotland players seemed to afford their World Cup-winning opponents too much respect and as a result found themselves pinned back for much of the opening 45 minutes.
In truth, Germany could have been out of sight by the break and this would therefore be a very different analysis, but goalkeeper David Marshall repaid the faith shown in him by his manager to ensure there was still much to play for after the interval.
Scotland could have been level earlier than they were, with Steven Naismith scraping the outside of the post, but the subsequent introduction of Steven Fletcher and James McArthur lifted the Scotland performance further.
McArthur brought greater energy to the midfield, with Darren Fletcher still feeling his way back to the demands of international football before being replaced.
And Steven Fletcher - his superb assist for Ikechi Anya's wonderfully composed equaliser apart - linked to excellent effect with Naismith and the Scotland midfield, though he might have expected to connect better with a point-blank header that was blocked.

Strachan stressed afterwards that these kind of options available to him are cause for optimism and he will hope to soon be able to call upon Scott Brown again to add to his strength in depth.
The area where that is least evident is in central defence and though the goals conceded in Dortmund were - as Strachan pointed out - scored by a "machine" in Thomas Muller, both could and should have been avoided.
Russell Martin and Grant Hanley have more often than not served Scotland well since Strachan paired them, but neither is a truly commanding presence in the mould of a Richard Gough or Alex McLeish.
On a positive note, they will face few attacks as effective as that of the world champions in the course of this campaign, though the challenge posed by Poland's Robert Lewandowski is another formidable one.
Ultimately, then, Scotland emerged from their most difficult match of the group with precisely what the vast majority of us expected in terms of points.

Anything more than a defeat would have been, as the cliche goes, a bonus.
But the real bonus from the match was that, after a fashion, Scotland showed they could live with some of the best players in the world and, for a while at least, had them worried. If Muller and company ever get worried.
So, as long as the Scots can hit the same levels of performance as they did in the second half when they play Georgia and Poland next month, they should be able to put points on the board and further increase the belief that Strachan has the national team back on track.