England coach Roy Hodgson finds sweet solace in Switzerland

By Phil McNulty
Chief football writer
Last updated on .From the section Football646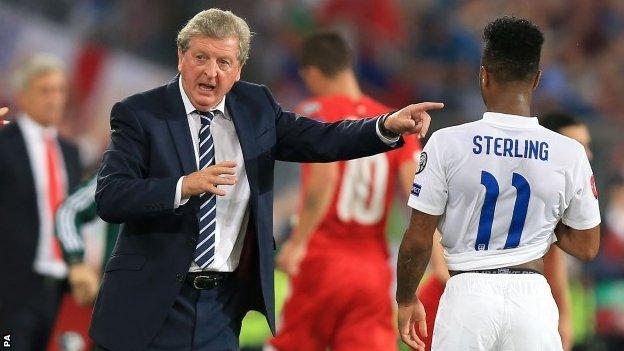 England manager Roy Hodgson and his players finally enjoyed that winning feeling once more after a winless World Cup in Brazil as the Euro 2016 qualifying campaign started with victory in Switzerland.
It was suggested, not in jest, after this 2-0 win that England have effectively qualified for France with nine games still to play after negotiating what was regarded as the most dangerous game in a favourable group that also contains San Marino, Estonia, Lithuania and Slovenia.
So as Hodgson punched the air with delight at Danny Welbeck's decisive double and as England's players smiled again after a victory which brought both relief and elation, what were the main issues to be taken from a morale-boosting win?
Relief for Roy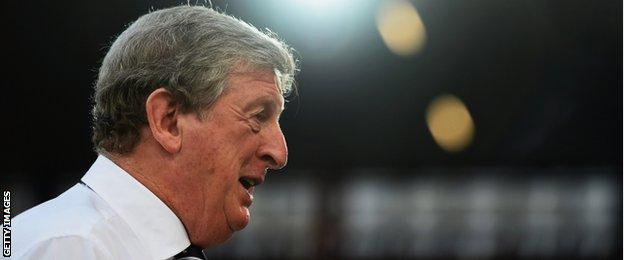 Roy Hodgson was at pains to point out that he was still a coach of his time, able to utilise younger players and deploy them in a system that suits them. He did that here in Basel.
He rails at his reputation for conservatism and this was a bold selection as he left out Alex Oxlade-Chamberlain to use Jordan Henderson and Fabian Delph as, in his words, wing halves with Raheem Sterling as the attacking point of the diamond and Jack Wilshere holding.
It was a tactic of positive intent and worked, both from a defensive and attacking perspective. Wilshere was solid without being spectacular in a role that does not come naturally to him (it is questionable whether he is the long-term solution here) while Delph's energy was a real plus. He played with a vigour that marked him down for future inclusion - once he realised that there was no mileage in recklessly flattening a succession of Switzerland players.
Roy Hodgson's England record
P
33
W
17
D
11
L
5
Hodgson was surely persuaded to use this system, and use Sterling as its focal point, by the way it worked once he put it into operation with success in the latter stages of the friendly win against Norway at Wembley. It must be here to stay because it gives Sterling the perfect platform while the unsung industry of his Liverpool team-mate Jordan Henderson is also a vital element.
And, like all managers would wish, he has been handed a wonderful problem by Danny Welbeck's success as the two-goal replacement for the injured Daniel Sturridge. Welbeck may not be as mercurial as Sturridge, but is a less selfish player, which appeals to Hodgson's sense of team. He has put his hand up for another chance with this display, which not only creates a nice dilemma for Hodgson but will also have delighted his new Arsenal manager Arsene Wenger.
In the context of Hodgson's reign, this must rank alongside his most important wins. Anything less than a convincing result and performance here would have seen the World Cup failings revisited, so this was vital on a personal as well as professional level for the 67-year-old England manager.
Super Sterling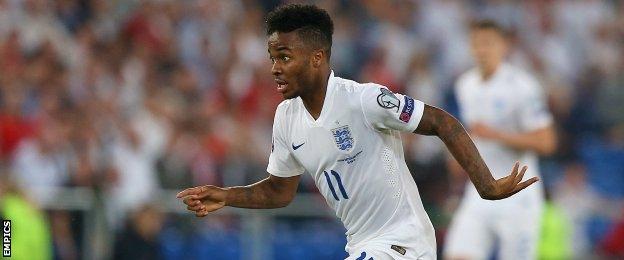 Liverpool's prodigious 19-year-old is rapidly developing into England's most important player, especially in the diamond system manager Hodgson employed here in Switzerland.
Gone was the antiquated 4-4-2 and Sterling's presence at the tip of that diamond is a perfect fit for the player and England's future.
Sterling's pace frightened the Swiss and his part in both goals carried great significance. He demonstrated his speed and ability to deliver a perfect cross to set up Welbeck's first and was then involved as England hit a desperate home side on the break in stoppage time, playing in Rickie Lambert to deliver another goal for Welbeck.
Sterling yet to break duck
Raheem Sterling has yet to score in nine appearances for England.
Not 20 until December, Sterling gave another demonstration of why Wayne Rooney publicly announced he will be a vital presence for England over the next decade.
And as part of England's learning curve, this was another example of why Sterling must never again be restricted to the margins on the flanks. This is a rare talent England and Hodgson are lucky to have - a player who can score goals, create goals and whose slight figure hides surprising strength.
Responsible Rooney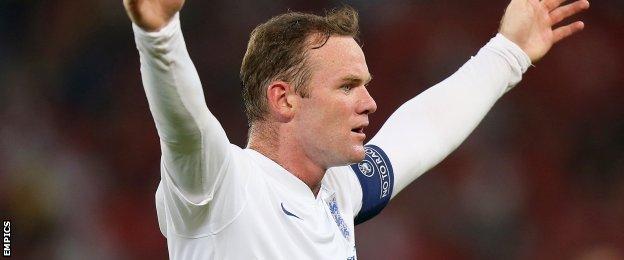 England's new captain has once again been questioned in recent days - but here he rendered suggestions this side might somehow be better off without him nonsensical.
Rooney worked tirelessly to link the midfield formation and attack, playing his part in England's opening goal and always encouraging his colleagues.
This also looks like the sort of side in which he can flourish, surrounded by willing runners and pace that allows him to do his work in the attacking third of the pitch as well as dropping deep to receive possession.
Rooney rules
Wayne Rooney has won his first two games as England captain.
It was England's captain who led the break on Switzerland that created Welbeck's crucial first goal and he fully deserved the standing ovation he received from the travelling fans when he was substituted late on.
He is publicly relishing the captaincy and this showed he was prepared to take responsibility on the pitch as well. Rooney may not be the explosive talent of his youth but he can still make an impact at international level.
Rooney's glittering past at club level means he is almost inevitably judged by higher standards than others - and he judges himself by the highest standards - but no case has ever been convincingly made to back up any argument that he is not worth his place in the team.
Defensive vulnerability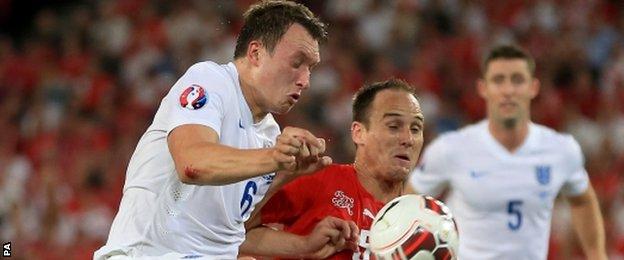 England's defence was exposed at the highest level in Brazil and the signs were still worrying here at times.
Manchester United's Phil Jones has edged ahead of Phil Jagielka after his disappointing World Cup, but he did not make his case to be given a lengthy run in the side before going off injured.
Careless in possession and prone to error, he was lucky to be rescued by keeper Joe Hart in the first half and carried an air of uncertainty throughout.
Gary Cahill played his part with a vital goalline clearance while Everton's Leighton Baines did well. Baines's Goodison Park team-mate John Stones must have his display judged in the context of a youngster pressed into service in an unfamiliar position in a vital game.
Euro 2016 qualification process
Twenty four teams will play at the finals in France.
Fifty-three teams will chase 23 places, with the hosts taking the other spot.
The winners from eight groups of six and one group of five, runners-up and the best third-placed team will reach the finals.
The eight remaining third-placed teams will contest two-legged play-offs to determine the last four qualifiers.
He struggled at times but he is a player of huge potential who will eventually provide the answer to England's problems in the centre of defence and this will have helped his development.
Cahill is assured of his place but there is a worrying soft centre to England. It is fortunate their Euro 2016 qualifying group is not a serious test against high-calibre opposition. They may be able to get away with mistakes that would be punished by other teams and the games may actually give Hodgson time to tackle what is a pressing problem.
One important note though - after somewhat frantic World Cup performances, goalkeeper Hart was absolutely faultless in Basel, handling immaculately and producing the important saves when required.
Disgrace if England do not qualify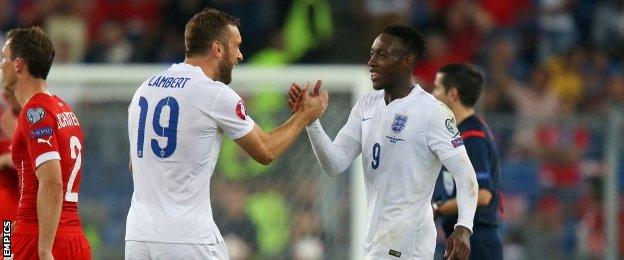 England can rightly celebrate this win but it must now be placed in the context of the future.
It will be a matter of national sporting shame should England not qualify from Group E. They have accomplished their toughest mission before upcoming matches against San Marino and Estonia in October.
England's Euro 2016 qualifiers
Switzerland (a) 0-2; (h) 8 September 2015
San Marino (h) 9 October 2014; (a) 5 September 2015
Estonia (a) 12 October 2014; (h) 9 October 2015
Slovenia (h) 15 November 2014; (a) 14 June 2015
Lithuania (h) 27 March 2015; (a) 12 October 2015
There can be no room for complacency because Hodgson will know he will not be cut much more slack from poor results - but a group alongside San Marino, Estonia, Lithuania and Slovenia with the top two to qualify for France is as close as it gets to a bye that required fixtures to be fulfilled.
Should they not take their place in France in 2016, the ramifications for everyone involved do not actually bear thinking about. Even given the uncertainty surrounding England's current status, it will surely not come to that.
If Switzerland really are England's toughest opponents in the group, then Hodgson can rest easy about Euro 2016 qualification on this evidence in Basel.