St Johnstone to appeal against Uefa fine for Palestinian flag

Last updated on .From the section Football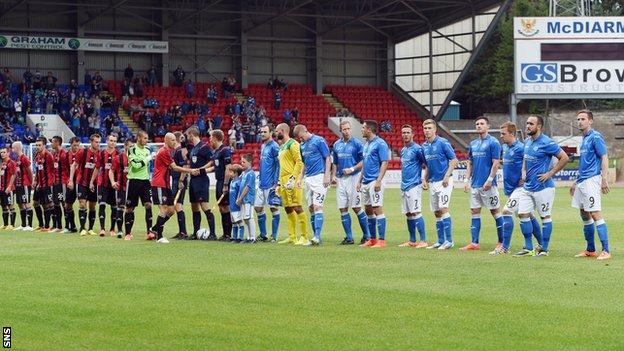 St Johnstone say they will appeal against Uefa's decision to fine the Perth club 18,000 euros (£14,400) after a supporter waved a Palestinian flag.
The flag appeared during Saints' Europa League qualifying match against Spartak Trnava on 31 July.
And St Johnstone are still waiting for the written reasons for the judgement.
"Once we receive the reasons we have three days to appeal, but we will appeal it," a club spokesman told BBC Scotland.
"Eighteen thousand euros is a lot of money."
Saints wrote to Uefa for a second time last week seeking the reasons for the decision but have so far only received an acknowledgement that their letter has been received.
Spartak won the first-leg match 2-1 and completed an aggregate victory with a 1-1 draw in Trnava.
St Johnstone were sanctioned for infringement of Article 16 (2) (e). The Uefa Disciplinary Regulations on Order and Security states: "All associations and clubs are liable for the following inappropriate behaviour on the part of their supporters and may be subject to disciplinary measures and directives.
"The use of gestures, words, objects or any other means to transmit any message that is not fit for a sports event, particularly messages that are of a political, ideological, religious or provocative nature will not be tolerated."